One-Piece Foundation Insulation and Finish System
FoundationPro from Progressive Technologies has all the advantages of exterior insulation plus it protects from UV radiation and weed whacking.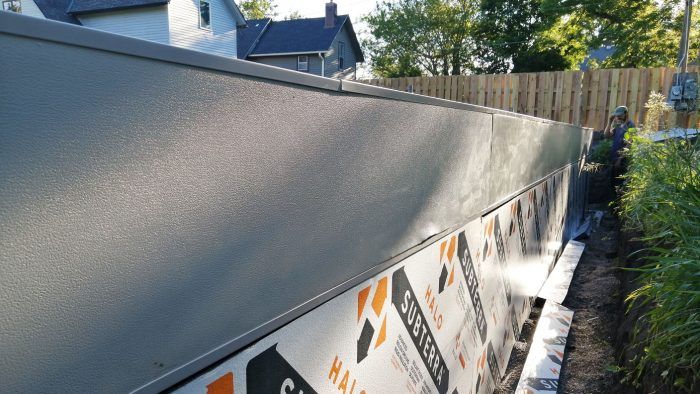 Exterior insulation places the foundation wall within the thermal envelope, which offers several advantages over insulating the interior face. For one, continuous exterior insulation avoids thermal bridging and protects a basement's exterior waterproofing. It also reduces moisture from condensation by raising the foundation temperature above the dew point. Finally, it won't reduce the interior basement floor area. It has one drawback: It needs to be protected from UV radiation and string trimmers above grade.
Enter FoundationPRO, a one-piece insulated foundation insulation and finish system by Progressive Foam Technologies. The manufacturer laminates Neopor, a graphite polystyrene foam insulation, with a PVC cover, a "thick polymeric shell" attached with adhesive. This combination makes the FoundationPRO resistant to damage from string trimmers and other tools.
The first step is installing the bottom rail to support the foam with 1-in. powder-actuated fasteners spaced every 12 in. to 16 in. It's easiest to start covering the foundation at the corners and then fill in the middle. I used a circular saw for both straight cuts and corners. I cut outside corners with the blade raised just shy of cutting through the panel. This left the vinyl cover intact, so I could bend the panel around the corner.
I used PL-300 foam adhesive on the back of each panel and clamped corners with small bar clamps. The panels lock together at seams. I give the system high marks for easing the most challenging pain-point when it comes to installing foundation insulation: finishing and protecting the above-grade portion.
The system comes in three R-values, including 1-in. R-5; 1.5-in. R-7.5; and 2-in. R-10. Sizes run from 1 ft. to 12 ft. in length and panels run about $2.85 per sq. ft.
Photos by Fernando Pages Ruiz, except where noted.
---
RELATED LINKS