Podcast 424: Low-Maintenance Black Trim, Foundation Efflorescence, and Roof Outsulation
Andrew, Kiley, and Patrick hear from listeners about PEX tubing and upsizing electrical circuits before taking listener questions about long-lasting black trim, masonry efflorescence, and insulating foundation walls.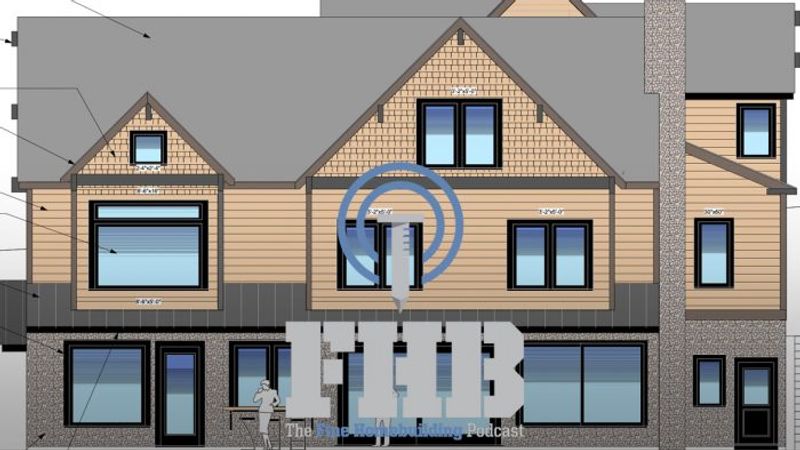 ---
Follow the Fine Homebuilding Podcast on your favorite app. Subscribe now and don't miss an episode:
Help us make better episodes and enter for a chance to win an FHB Podcast T-shirt:
www.finehomebuilding.com/podcastsurvey
Austin shares his experience using PEX-a and PEX-b. James talks about why he prefers to run 12-ga. wire for all his household receptacles. Dana asks for a low-maintenance black trim. Keven wants to know what's on his basement wall. Flint inquires about his insulation strategy. Derek asks if foam roof outsulation is a good approach everywhere.
---
Editor Updates:
---
​
Listener Feedback 1:
Austin from Columbus, Ohio writes: Hi FHB podcasters! Happy New Year! Austin from Columbus, Ohio here! It's been a while since I've written in, but I had to chime in on this one. As you know I'm a crazy DIY-er who has been working on my total gut rehab for the last 3 years. As part of that, I put in all new plumbing: waste, vents, and supply. For the supply I used both pex A and B. So, I can tell you a little about my experience with them. First pex B is exclusively crimp on. It's the stiff, red or blue stuff that most people use. The tool is cheap; it's easy to use, and the fittings are readily available. Pex A on the other hand, is expansion OR crimp on (I don't know about Uponor, but the Sioux Chief stuff from Menards has it printed right on the pipe that it can be used both ways). I got all the pex A and expansion fittings off the shelf from both Menards and Lowe's (Menards had a better selection)—everything I needed was there, but it was less prominently displayed. I used a manual expansion tool. It was about $100, and it worked great for both 3/4 and 1/2" tubing.
I chose pex A to avoid pressure loss at the fittings (unnecessary) and because everyone talks up the fact that it is always trying to shrink back down to its original size, so people have a lot of confidence in the connections. Well, let me tell you, I found it very unreliable. We were very meticulous when installing our pex A, expansion fittings, and I would estimate that at least 25% of them leaked. By comparison, we didn't have a single crimp fitting leak. By the end of the project, we stopped using the expansion fittings altogether, and crimped everything.
On the whole, I do think I liked the pex A pipe better. It's a more flexible and a little easier to work with, plus you have the option of expansion or crimp fittings. I would just use crimp on fittings for the most part. What is nice about the expansion, however, is that the work time is great for tight spaces. If you can't fit a tool in somewhere, you can expand it, then get everything in place, then just push it together. It saved us quite a few times.
Related Link:
---
Listener Feedback 2:
James writes: Hey podcast crew, I personally prefer running 20A/12ga to all my receptacles because it reduces the number of unique configurations of parts in my electrical system and eliminates opportunities for human error. By using 20A/12ga for all the receptacles and 15A/14ga for all the light fixtures, I can wire almost the entire house with two kinds of breakers and one kind of receptacle. It makes wiring the panel up pretty easy too:
– If the cable has a white sheath, it's fed by a standard 15A breaker.
– If the cable has a yellow sheath, it's fed by a 20A GFCI/AFCI combo breaker.
– Use 15A tamper-resistant receptacles everywhere that you can.
With the 2020 code, there are hardly any receptacle locations that don't require some kind of protection and the AFCI/GFCI combo breakers didn't cost any more than the AFCI-only or the GFCI-only when I ordered mine. Similarly, I didn't see any significant pricing difference between 15A/20A breakers, so you're only saving money on the wire when you run 15A to a receptacle.
As for Mark's argument about a 15A breaker being safer when you have a short: the trip curve of your breakers are more complicated than that. The nominal current is the level at which the breaker is supposed to not trip. If you look at the trip curves on Square D's QO breakers, the 20A and 15A breakers are both specified to trip after .03 seconds at ~220A (~11x rated current and ~15x rated current, respectively). If you have a short, the variance within manufacturing tolerances is going to make more of a difference than whether your breaker is rated for 15A or 20A. I've attached the trip curve sheets to this email if you want to have a look.

Related Links:
---
Question 1: Are there any black finished trim boards that are time proven?
Dana writes: Patrick, Our design stage stalled for a while, but now has resumed. Our architect is about to develop structural drawings. His last drawings were "bid" or "presentation" drawings, and here's what the lake-facing side of the house looks like (so far) in those "bid" drawings:

As you can see, we're hoping to use black-trimmed windows and then match other features to that black window casing.  I'm wondering if you and your colleagues might be able to answer this question:
Are there any black finished trim boards that are time proven?  We want minimal maintenance on our new home and hope to incorporate all black trim, casings, corner boards and rakes. Essentially, we're just hoping to accomplish the look, pictured above, while also incorporating the most maintenance-free and moisture-resistant products.  So far, I've found this online:  HDPE MARINE BOARD SHEET | BLACK – 12x24x0.500 Know anything about that product? Thanks much!  Happy New Year! Dana
Related Links:
---
Question 2: Is the white substance growing on my basement wall efflorescence and will a deeper perimeter drain fix it?
Kevin writes: Happy holidays FHB Podcast crew. I am a relatively new listener and look forward to your weekly discussions. I recently listened to #417, Pro Talk with Bob Kelly and that discussion prompted this email to you guys for some advice, and motivated me to hopefully take care of this problem once and for all. I live in the northern Adirondacks of New York state, in a rural community outside Lake Placid. My home is a 2-story with a walk-out basement, built in the early 80's. One side of the house (in my case the north side) is built into the hillside, which is typical of the homes in this community. I have lived in the home for 15 years and since the day I bought the house there has been an issue with efflorescence occurring on the north basement wall. At least that is what I think it is. It is a white powdery substance that "grows" on the wall. I have cleaned the wall but it comes back. I don't think it is mold. My plan is to clean the wall with TSP and then paint the wall with a Drylok product. From what I understand efflorescence is an indication of water intrusion. My basement is bone dry and this issue is only occurring on the north wall and starts at the point just below grade. The soils are sandy with rocks. Very easy digging. I have attached a picture for reference. Based on some renovation work I have done, I believe there is a perimeter drain roughly 12" below grade but, from what I saw, it is clogged with roots and debris. A couple of questions:
• Is this efflorescence?
• Do I need to install a perimeter drain deeper than the current drain?
• If so, does the drain need to exit to grade or can it terminate at a buried dry well?
Any information or advice on how to correct this problem would be greatly appreciated. Keep up the good work.
Related Links:
---
Question 3: Should I remove the existing drywall in my basement before adding polyiso sheets and new drywall?

Flint writes: In a home just purchased I have a CMU basement that is finished with a walk out. Half the walls are above ground.     There is a plastic vapor barrier against the CMUs some lath about ½" and then drywall and paneling. My guess a 2-3 R value at best.  I want to add some insulation and finish the entire basement in a nicer drywall finish (get to R10-13).
I am leaning toward some polyiso sheets topped with a drywall but am concerned about the existing drywall trapped between two impervious layers in case any moisture gets through.  Should the old installation be removed back to the lath or to the naked CMUs?
The minimum I would do is to try to at least remove the paneling and see if any mold is in the drywall. It might then be safe to just add polyiso sheets over the drywall with maybe a drying space with bug screens….or not? Any advice from the bloggers?  Climate zone 4, air conditioned and heated space.
Related Links:
---
Question 4: Questions about roof insulation

Derek writes: Hi, Patrick—if you've already responded to my questions below then I missed it (and therefore apologize)—however, after reading Kiley's article in the new issue ("Energy-Smart by Design") I have even more questions:
Is continuous roof insulation (i.e.—rigid insulation on top of roof sheathing) preferable in all climate zones?

In general, it seems continuous insulation is an important component of all high-performance exterior assemblies (wall and roof) IOT combat thermal bridging
A previous FHB article (I believe by Martin) about this showed how a roof with just interior rafter insulation could result in frost lines on the roofing bc of this
However, the roof assembly in Kiley's article that Peter Pfeiffer designed after 40 years of trial and error and Matt Risinger installed has NO continuous insulation
Interestingly, the roof assembly Matt used for his own house that he is currently building has 4" of polyiso

If roof insulation is used, does it always need a weather barrier on top of it (e.g.—Sharkskin), or if it has an air space above it similar to Peter's design is the weather barrier not necessary (because it can dry out)
Does the underside of galvalume metal roof panels act as a significant radiant barrier regardless of color (assuming there's an air space under it)?

If so, forget my question about foil-faced polyiso below
Also interesting that on Matt's house he still draped radiant barrier over his 1×4 battens prior to installing metal roof panels; however he chose black which may be why
The house is in Tennessee (zone 4)—I chose ICFs (for now) because the house will be built into the side of a hill so I'll need concrete walls for the basement anyway. There's only one story on top of that (top level is cathedral/built out attic) so I figured why not continue with ICF. I like the thermal mass, R-value of the assembly and strength. The south face will have some large windows (they're shaded by a large porch) and I think concrete will make it easiest to span those (and not worry about deflection over time).
ICF roofs are not nearly as common so I've opted for I-joist rafters instead. Roof will be sloped at 9:12 to get the optimum angle for solar panels.
Thoughts?
Related Links:
End Note:
Mastered in a Minute videos.
---
Check out our latest Project Guide: Siding & Exterior Trim!
Check out our FHB Houses:
Visit the Taunton Store  •  Magazine Index  •  Online Archive   •  Our First Issues   •  All Access
---
Help us make better episodes and enter for a chance to win an FHB Podcast T-shirt: www.finehomebuilding.com/podcastsurvey
---
If you have any questions you would like us to dig into for a future show, shoot an email our way:

[email protected]

.
If we use your question we'll send you a FHB Podcast sticker!
---
FHB Podcast T-shirts!
Represent your favorite podcast! Available in several styles and colors. Made from 100% cotton. Find the Podcast t-shirt and more cool products in the Fine Homebuilding Store.
---
Fine Homebuilding podcast listeners can now get 20% off anything in the Taunton store, including Insulate & Weatherize.
Use the discount code FHBPODCAST to take advantage of this special offer.
---
We hope you will take advantage of a great offer for our podcast listeners: A special 20% off the discounted rate to subscribe to the Fine Homebuilding print magazine. That link goes to finehomebuilding.com/podoffer.
The show is driven by our listeners, so please subscribe and rate us on iTunes or Google Play, and if you have any questions you would like us to dig into for a future show, shoot an email our way: [email protected]. Also, be sure to follow Fine Homebuilding on Instagram, and "like" us on Facebook. Note that you can watch the show above, or on YouTube at the Fine Homebuilding YouTube Channel.
The Fine Homebuilding Podcast embodies Fine Homebuilding magazine's commitment to the preservation of craftsmanship and the advancement of home performance in residential construction. The show is an informal but vigorous conversation about the techniques and principles that allow listeners to master their design and building challenges.
Other related links