Make Smooth Cuts in Housewrap
Create a hassle-free cut starting in the middle of the roll.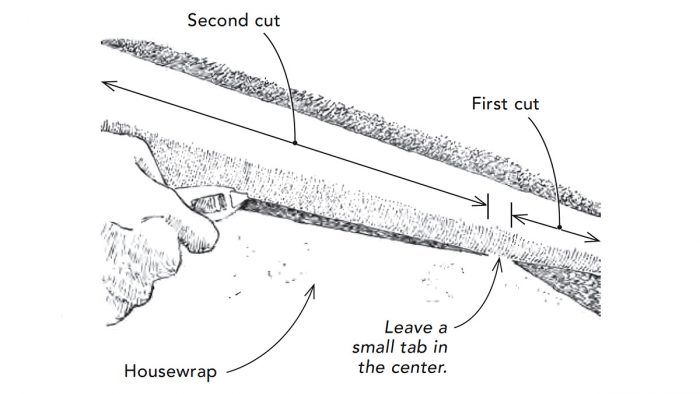 As a siding contractor, I've literally cut miles of housewrap. I've cut it while the roll is on the ground, I've cut it against the wall, and I've cut it in preposterously windy conditions. I've always found that cutting away from a portion of the housewrap that is still attached to the roll is best, and that starting in the middle of the roll also helps to create a smooth cut with less hassle.
What I do is start in the middle of the roll and rip one half. I leave a little tab attached in the middle and then rip the other way. I finish by cutting the tab in the middle, or sometimes I just tear it. Also, utility knife blades are cheap, so I keep a bunch on hand and change them often.
—Mark Petersen, Waco, Ky.
Edited and Illustrated by Charles Miller
Published in Fine Homebuilding #308
---
RELATED STORIES