Why I Love Carpentry
Former editor Kevin Ireton describes his passion for the craft and the joy he finds when working out complex projects and creating something both useful and helpful.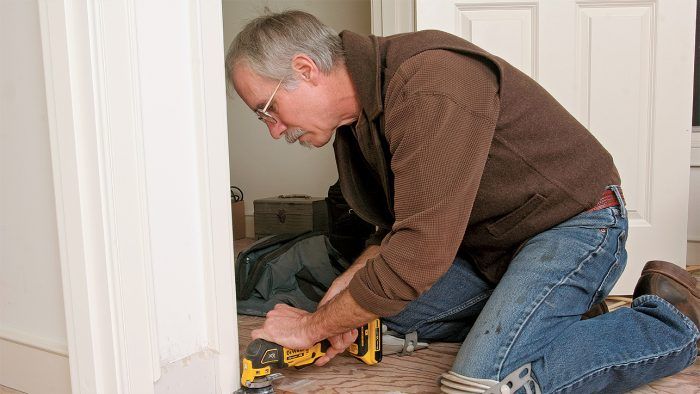 People who know I used to be the editor of Fine Homebuilding magazine ask me, "What are you doing these days?" I tell them, "I run a small nonprofit." Then I wait a beat and add, "Yeah, I'm a remodeling contractor." Not everyone gets the joke.
Why I returned to this work, in my mid-50s, after a successful career in publishing, is harder to explain. Or rather, it's hard to explain to anyone who has never framed a roof on a fall afternoon and peacefully taken in the view while the cut man trims a piece of plywood to the dimensions you just shouted down. I do this work because I love it, and I love it for lots of reasons—some big, and others as small and fleeting as a moment on a roof.
As I've already suggested, I don't make a lot of money, but I like working for an hourly wage. It connects me to the value of things in a concrete way. When my wife and I go out to dinner, I think, "I had to work two hours to pay for this meal." Whether it was worth it or not, the math is easy. With an annual salary, the equation isn't simple, and as a result, I don't value things the same way.
Taped on the door of the beer cooler at my local liquor store is a cartoon from The New Yorker. It shows two guys sitting at a bar, one of them saying, "The other thing I love about drinking is that you can't do it online." I feel the same way about carpentry. It's real. It's tangible.
It's also practical. You won't hear a carpenter talk about the need to respect "innovation on a go-forward basis," as the CEO of Microsoft did once in an interview. You will hear a carpenter say, "Let's get the plywood on the roof before it rains."
It feels good to do something useful. A few years ago I built a staircase for a family whose Victorian had been turned into a two-family home years before. The original stairs were removed to make room for a downstairs bath. But when Janis and Dietrich's son Cade turned 10, extra space became more important than rental income. By the time I got there in late November, the renters had moved out and the family was trekking outside several times a day to go up and down the rickety back stairs.
Carpentry is gratifying in direct proportion to its challenges. Easy can be fun, but it's seldom deeply satisfying.
I almost didn't take this project because I couldn't figure out how to shoehorn a code-compliant stair into the tiny space where the original stairs had been. But with the help of some talented subs, I got it done. And nearly every morning, Janis brought me homemade banana bread and told me she felt blessed for my help.
I also love carpentry because of how often it demands my complete attention. On my best days, I move from one task to the next like a good pool player moves around the table, having already worked out all the shots ahead of time. I'm not thinking about an argument with my wife, or whether I have enough saved for retirement. I'm thinking that the oak flooring on the landing is only 3⁄4 in. thick as opposed to the 1-in. stair treads and reminding myself to take that into account when I calculate the risers. I'm anticipating where the newel posts will go and how the handrail will terminate into the plaster wall.
Of course, if you watched me most days, you wouldn't think that I love what I do. Often I'm scowling. Sometimes I'm swearing—though I try not to throw things anymore. Carpentry is filled with little frustrations. A cedar clapboard splits as I tap it into place. The head of a deck screw strips before I sink it home. The chop saw flings the mitered return into the next county.
Weather adds to the frustration. Last summer I did a small roof job during the three hottest days in August. By noon my eyes were stinging from sunscreen and sweat. I couldn't stand on the shingles without leaving footprints. I complained about the heat every day, but I've bragged about the accomplishment ever since.
With this work, the frustrations are part of the reward. Carpentry is gratifying in direct proportion to its challenges. Easy can be fun, but it's seldom deeply satisfying.
In the end, I don't know why I like working on houses and other people don't. But I count myself lucky to have found an occupation that brings in a little money and that resonates in my soul—an occupation that makes a hot shower feel good and a cold beer taste better. More than anything, I like going to bed at night thinking that maybe I made life a little better for Janis, Dietrich, and Cade.
Kevin Ireton, editor-at-large, is a writer and remodeling contractor who divides his time between Connecticut and Arizona.
From Fine Homebuilding #309
---
RELATED STORIES