Podcast 496: PRO TALK With Construction-Fastener Experts Dave Ellis and Mark Guthrie
In this Pro-Talk podcast Patrick talks to Dave Ellis and Mark Guthrie of FastenMaster.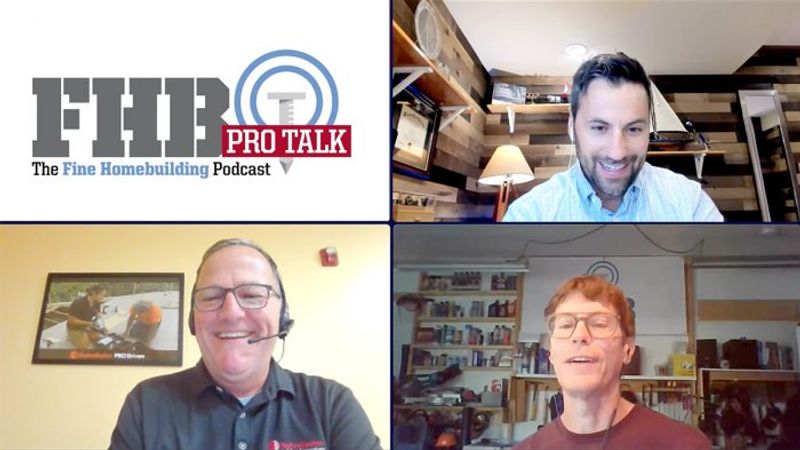 ---
Follow the Fine Homebuilding Podcast on your favorite app. Subscribe now and don't miss an episode:
Patrick, Dave and Mark talk about the evolution of structural fasteners, how fasteners are tested to ensure they work as intended, and common mistakes when using them. They also talk about how the pandemic led to a boom in business and disrupted supply chains, as well as the importance of paying attention to your customers' needs.
Related links:
---
If you have any questions you would like us to dig into for a future show, shoot an email our way:

[email protected]

.
If we use your question we'll send you a FHB Podcast sticker!
---
FHB Podcast T-shirts!
Represent your favorite podcast! Available in several styles and colors. Made from 100% cotton. Find the Podcast t-shirt and more cool products in the Fine Homebuilding Store.
---
This episode of the Fine Homebuilding podcast is brought to you by Loctite's TITE FOAM.
The best builders take weatherization seriously. When they need to seal a gap that's too small for insulation but big enough to create a draft, they reach for Loctite's TITE FOAM. With three formulations for everything from small cracks to the biggest gaps, there's a TITE FOAM product for every job, including a low-expanding product designed to seal the rough opening around windows and doors. The high-density foam forms a tenacious bond to most common building materials, stays flexible to prevent cracking when materials move, and keeps air, moisture, and pests out of the house. Builders who care about energy efficiency, comfort, and durability choose TITE FOAM. Visit Loctiteproducts.com for more information.
---
Fine Homebuilding podcast listeners can now get 20% off anything in the Taunton store, including Pretty Good House.
Use the discount code FHBPODCAST to take advantage of this special offer.
---
We hope you will take advantage of a great offer for our podcast listeners: A special 20% off the discounted rate to subscribe to the Fine Homebuilding print magazine. That link goes to finehomebuilding.com/podoffer.
The show is driven by our listeners, so please subscribe and rate us on iTunes or Google Play, and if you have any questions you would like us to dig into for a future show, shoot an email our way: [email protected]. Also, be sure to follow Fine Homebuilding on Instagram, and "like" us on Facebook. Note that you can watch the show above, or on YouTube at the Fine Homebuilding YouTube Channel.
The Fine Homebuilding Podcast embodies Fine Homebuilding magazine's commitment to the preservation of craftsmanship and the advancement of home performance in residential construction. The show is an informal but vigorous conversation about the techniques and principles that allow listeners to master their design and building challenges.
Other related links