Tools & Materials
Makita's Cordless Biscuit Joiner
If you're looking for a more convenient biscuit joiner, Makita's cordless version is a viable option with some differences from the corded model.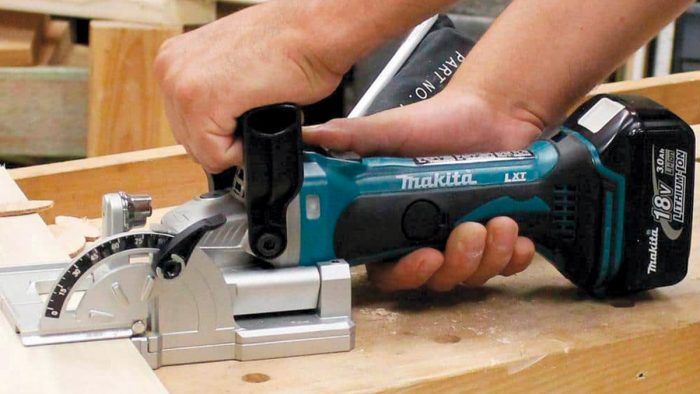 My corded Makita plate joiner has been a valuable part of my toolkit for years, and the cordless model (XJP03Z) is very similar, with a few exceptions. The cordless version does not cut as quickly as the corded tool, and if you plunge too fast it will stall, requiring a reset. This is a minor problem that is fixed by changing your plunge speed; it's made up for by the lack of a cord. The handle is also shorter than that on the corded model, and I found my hand hitting the motor housing. The most comfortable way for me to hold the joiner is to grasp its back end and use the battery as a handle.
Makita claims you can get 300 plunges from a 3-Ah, 18v battery; I've never had to make more biscuit slots than a fully charged battery delivers in a day. Dust collection is good, but the supplied bag fills quickly. It empties by sliding off a clip—an improvement over finicky zippers.
I used the joiner to cut slots to repair the casing of a round-top window. Biscuits rode down into the slots as a piece of casing was tapped into place, allowing me to keep the original casing on both sides of the new piece. I also used the tool to add biscuit slots to a head casing installed on an exterior window. Not having to drag a cord up a ladder was a plus.
I've found this joiner ($250) to be as useful as, and more convenient than, the corded version.
– Brian Campbell, carpenter
From Fine Homebuilding #311
---
RELATED STORIES