Podcast 505: Dirty Band Joists, Taping Roof Sheathing, and Affordable High-Performance Windows
Winterizing foundations, lazy additions, air-sealing band joists, and good windows at a reasonable price.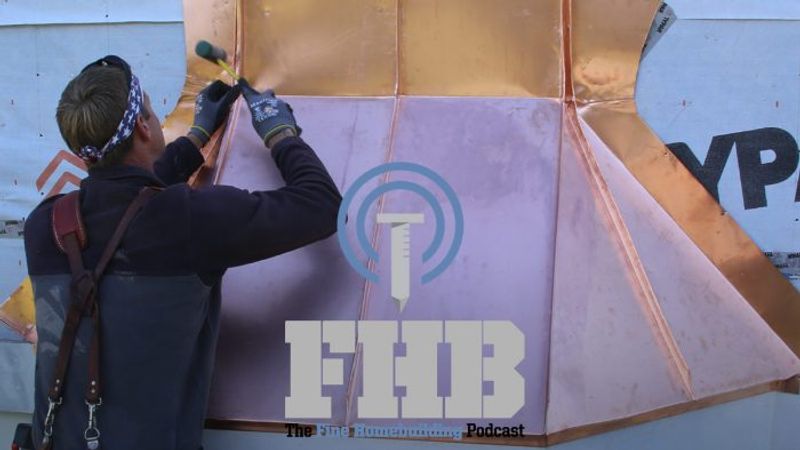 ---
Follow the Fine Homebuilding Podcast on your favorite app. Subscribe now and don't miss an episode:
Help us make better episodes and enter for a chance to win an FHB Podcast T-shirt:
www.finehomebuilding.com/podcastsurvey
Josh describes how his company protects a foundation over the winter. Michael provides an update on his poorly built addition. James asks how to insulate and air-seal the dirty framing in his basement. Jim asks about sealing the seams of roof sheathing with tape. Cedar wants to know if there are any affordable high-performance windows out there. Jason needs help flashing a problem roof detail.
---
Editor Updates:
---
Listener Feedback 1:
Josh writes: I know I'm late to the party but books have taken over my podcast listening time so I'm behind. In reference to Jay's question in episode 489 about long builds. When we are getting builds ready for winter and spring work, we will do footings and foundation but not the concrete floor. This at least lasts through the winter in South Dakota without having to heat all winter.
Related Links:
---
Listener Feedback 2:
Michael writes: Hello podcast team, I was honored to hear you talk about my humble snake highway on the podcast. I'll take you up on your offer to help and I'd like to emphasize that all visitors who come with tools are entitled to free beer. I'm taking the day off work this Wednesday and Thursday to rip up the roof, so come on by 🙂
You guys more or less nailed my personality—I sadly am "not afraid to do some demo." I've sometimes thought about writing the word "Consequences" on my sawzall with a Sharpie.
I appreciate your technical advice, of course, but I most appreciate that you provide a forum that unites professionals and amateurs on the notion that a craftsperson can be a professional or a DIY'er. We all bring our own experience and passion for the craft of home building and renovation.
I'd be happy to join you on the after show, but I have to say that our renovation story may not be the happy one it was intended to be. The reality is that our family has seen our dream of a quiet country house become somewhat buried by the emotional and financial costs of a major renovation. We will have to sell our house. So now I find myself working for a future owner, and not for my own family, which changes the mindset a bit. I still love what I'm doing, and I have come far enough in the project to start seeing the finished product, but I will have to wait for another opportunity sometime in the future to know what it's like to live in a house I've worked on.
Thank you for keeping craft alive!
---
Question 1: How can I effectively clean my joist bays before insulating?
James writes: Hey podcast crew, I've been thinking about upgrading the air-sealing and insulation along my rim joist, but I'd need to clean the surfaces inside the 110-year-old joist bays in order to get any sealant to stick and it seems like there's always more dirt and dust no matter how long I hit it with a wire brush. Some of the joist bays are especially difficult because the joists were used as forms for the foundation and some of them have a thin coating of concrete. Any tips for how I can get these areas cleaned up in a reasonable amount of time?
Related Links:
---
Question 2: What alternatives are there to tape roof seams other than Zip System?
Jim writes: I don't think I've ever heard you guys talk about roof seam taping except with Zip System. In the case described in this Weather Channel video it's applied under the felt on conventional sheathing. This seems topical with hurricane Ian hitting Tampa right now.
Related Links:
---
Question 3: Are super-efficient windows always custom?
Cedar on GBA writes: Hi All, I'm currently designing my house and trying to take a simple and budget approach. I have no problem designing my house with a stock window size (all 3'x5′ for example). But it seems like super efficient windows are (always?) custom. Is this true? I realize there would be some inefficiency in having stock efficient windows because you might have to pick just one type of glazing that wouldn't be as efficient on the north wall as the south wall for example. But it seems like maybe there is a place for stock efficient windows in a "budget" build.
Anyway, just curious. I'm in west coast marine 4C.
Related Links:
---
Question 4: How do I flash this wall-to-roof intersection?
Jason on our FHB Discussion Forum writes: I'm needing advice on how to properly flash the lower wall to roof intersection. Ripped out the rotten wood siding, planning on adding some OSB, rigid foam, then vinyl siding. This rot was under the old vinyl. Which was obviously not really flashed at all.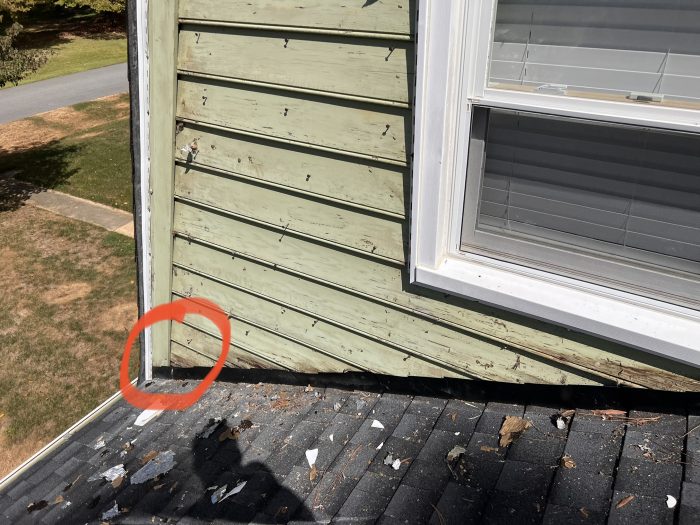 Related Links:
---
END NOTES:
Members-only Aftershow Podcast 505: Patrick, Mike, and Andy talk about roofing and flashing details and what it's like to have a clumsy FHB editor/photographer looking over your shoulder while you're trying to get stuff done.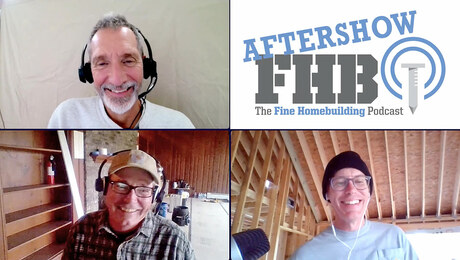 ---
Check out one of our Project Guides: Siding & Exterior Trim!

Check out our FHB Houses:

Visit the Taunton Store  •  Magazine Index  •  Online Archive   •  Our First Issues   •  All Access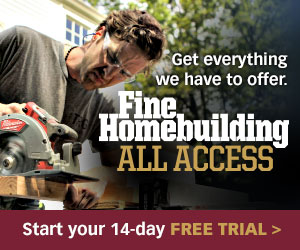 ---
Help us make better episodes and enter for a chance to win an FHB Podcast T-shirt: www.finehomebuilding.com/podcastsurvey
---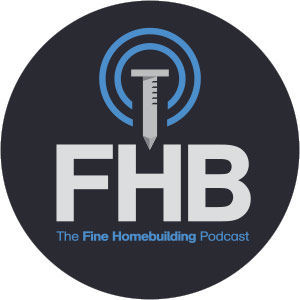 If you have any questions you would like us to dig into for a future show, shoot an email our way:

[email protected]

.
If we use your question we'll send you a FHB Podcast sticker!
---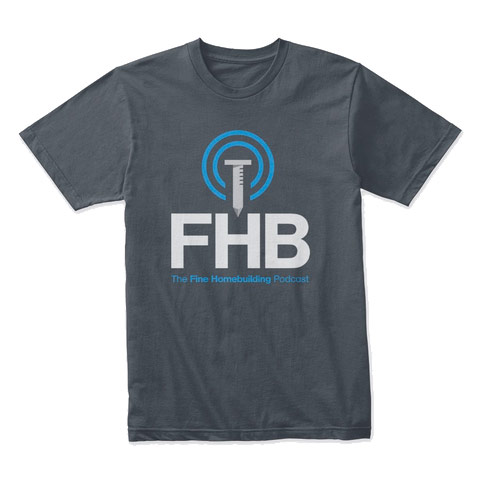 FHB Podcast T-shirts!
Represent your favorite podcast! Available in several styles and colors. Made from 100% cotton. Find the Podcast t-shirt and more cool products in the Fine Homebuilding Store.

---
This episode of the Fine Homebuilding podcast is brought to you by Loctite's TITE FOAM.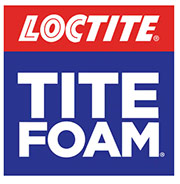 The best builders take weatherization seriously. When they need to seal a gap that's too small for insulation but big enough to create a draft, they reach for Loctite's TITE FOAM. With three formulations for everything from small cracks to the biggest gaps, there's a TITE FOAM product for every job, including a low-expanding product designed to seal the rough opening around windows and doors. The high-density foam forms a tenacious bond to most common building materials, stays flexible to prevent cracking when materials move, and keeps air, moisture, and pests out of the house. Builders who care about energy efficiency, comfort, and durability choose TITE FOAM. Visit Loctiteproducts.com for more information.
---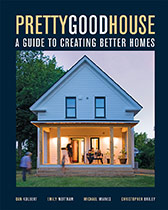 Fine Homebuilding podcast listeners can now get 20% off anything in the Taunton store, including Pretty Good House.
Use the discount code FHBPODCAST to take advantage of this special offer.
---
We hope you will take advantage of a great offer for our podcast listeners: A special 20% off the discounted rate to subscribe to the Fine Homebuilding print magazine. That link goes to finehomebuilding.com/podoffer.
The show is driven by our listeners, so please subscribe and rate us on iTunes or Google Play, and if you have any questions you would like us to dig into for a future show, shoot an email our way: [email protected]. Also, be sure to follow Fine Homebuilding on Instagram, and "like" us on Facebook. Note that you can watch the show above, or on YouTube at the Fine Homebuilding YouTube Channel.
The Fine Homebuilding Podcast embodies Fine Homebuilding magazine's commitment to the preservation of craftsmanship and the advancement of home performance in residential construction. The show is an informal but vigorous conversation about the techniques and principles that allow listeners to master their design and building challenges.
Other related links