Podcast 511: Floor-to-Ceiling Windows, Spray-Foaming Stone Foundations, and Supporting Cast-Iron Waste Lines
Patience vs. experience, tall windows, insulating stone foundations, and holding up cast-iron waste and vent stacks.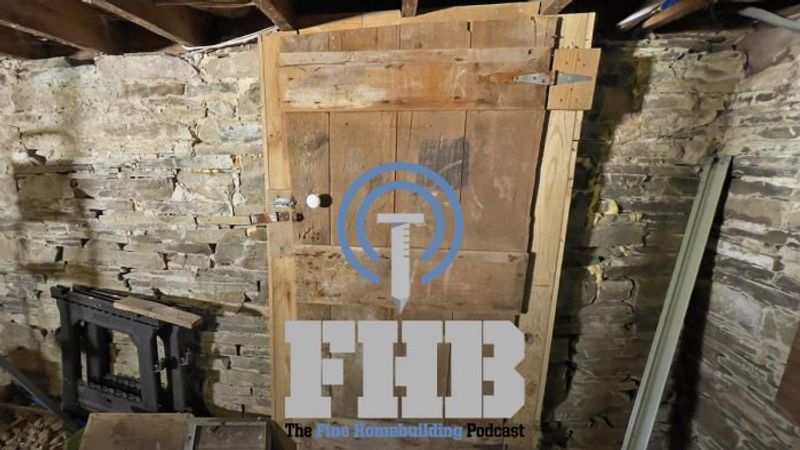 ---
Follow the Fine Homebuilding Podcast on your favorite app. Subscribe now and don't miss an episode:
Help us make better episodes and enter for a chance to win an FHB Podcast T-shirt:
www.finehomebuilding.com/podcastsurvey
Dave has thoughts on what it means to be a conscientious tradesperson. Steve wants to build a house with floor-to-ceiling windows. Doug asks us to weigh in on his insulation strategy for his stone foundation. Brian wants to know how to hold up his home's cast-iron waste stack when he splices in PVC. Tom is looking for heat-resistant insulation to install behind his gas fireplace.
---
Editor Updates:
---
Listener Feedback 1:
Dave in Vermont writes: Ian made an interesting distinction between patience and experience. I have heard it said that mastery of a craft means you've made every mistake at least once (and presumably learned from it). But in this instance, I'm not sure how you parse the two—patience and experience would be birds of a feather when it comes to working methodically. I see lots of folks who I know know better but decide, maybe unconsciously, to skip steps to get to the part they want to do more. What do you think?
Related Links:
---
Listener Feedback 2:
Josh writes: Hey folks, South Dakota has/can have wet spring, summer, falls. With that said we have cold and dry winters, our snow crunches. Even MN visitors in winter mention how it is dry. So, for us once the footings and foundation are done there is very little liquid water until we thaw out. When it does, we pump out and dehumidify. I have had to shovel many a foundation full of snow though soo 🤪.
PS: Gravel/pea gravel is rough graded and back filled in and around as well
---
Listener Feedback 3:
Dan Kolbert at Touch a Trade says: Soda blasting is the way to clean dirty framing for air-sealing.
---
Question 1: What are the structural considerations for windows framed flush to ceiling drywall?
Steve writes: Home builder interested in having windows framed flush to ceiling drywall with floor-system integrated headers. I really like this aesthetic, but what are the structural considerations for doing this?
I know Mike covered this previously in a 2014 Q&A but any new insight or details would be appreciated.
Thanks, and love the podcast, Steve
Related Links:
---
Question 2: What do you think of this insulation strategy for my stone foundation?
Doug writes: Hi FHB crew! I'm gearing up to hire a contractor to apply 3 inches of closed-cell spray foam inside the rubble foundation of my 1850s farmhouse. I'm curious to hear your opinion on some of the prep work I'm considering doing first, and whether you think it's necessary. I'm in Upstate NY, Climate Zone 5.
First, I'm thinking about installing 4″-thick panels of EPS foam on the inside face of the sill beam, sealed around the edges with canned spray foam. This would be more labor-intensive than just having the contractor shoot the spray foam directly up into the cavities, but my thought is that the vapor permeability of the EPS would allow for the beam to dry to the inside, and it would also allow for easy removal for any future work.
Second, I'm wondering whether it's necessary to repoint the stone walls, which have very little mortar and lots of gaps. Finally, I'm wondering whether I should apply a membrane to the entire foundation wall before applying the spray foam. On this question, I'm getting conflicting advice. Both Joe Lstiburek and Steve Bazcek use a membrane. But on GBA's community forum, a knowledgeable user advised me to apply the spray foam directly to the stone to minimize air pockets where mold will grow. Both approaches seem to have their advantages, and I'm curious to know which you would favor.
Thanks so much for your help. I've been loving the podcast!
Related Links:
---
Question 3: Will PVC fittings support a cast iron stack vertically?
Brian writes: Hey Patrick, Brian again (I had the question about footing drains feeding into a municipal sewer that Guy Deverges answered a few months ago). Hope all is well! Had another question for the show.
Upsizing Basement Laundry Room DWV
I have a '56 Cape and my basement laundry room (slop sink and washer) was originally connected to my cast iron main stack via a 1.5″ fitting. I have since replumbed the rest of the room's DWV lines with 2″ PVC, but used a reducer at the end to fit the existing 1.5″. I did this with plans to cut out a section of the old stack to insert PVC when I had more time, and I now have more time and am getting started on this.
Will PVC Support a Cast Iron Stack Vertically?
I have what I believe I need for the work (Carbide recip saw, Shielded Couplings and necessary PVC fittings), but I have a question around supporting this. The section to be replaced is vertical so the weight of the cast iron stack rests on it which is obviously very heavy. It is currently supported with clamps at various points from the basement to the attic, but I am worried about whether the PVC with fittings will offer the same amount of support? Should I plan to add support to remove any weight off this point, or do I really need to replace it with cast iron in a situation like this?
Fitting I am Planning to Use
Here are the fittings I am planning to use if this makes a difference, or if you would recommend something else.
Thanks again Patrick, your show and emails have been crucial for info and motivation to finish the "6 month renovation" I told my wife about 3 years ago when we bought our house.
Related Links:
---
Question 4: What insulation is best for a basement fireplace?
Tom writes: Hey, Pod people. Second question about our basement fireplace install. Seems like it would be best to put some form of insulation behind the fireplace, against the basement wall. That space will be boxed in with an inlet and outlet and a blower to help circulate the hot air. I am thinking the concrete wall will act as a huge heat sink.
Can you recommend any insulation board for high heat environments?
Basement is poured concrete, 9.5ft tall.
Thanks!
Related Link:
---
END NOTES:
Members-only Aftershow Podcast 511: Fall Cleanup — Ian, Mike, Jeff, and Patrick talk about cleaning gutters, changing furnace and heat-pump filters, and changing smoke detector batteries.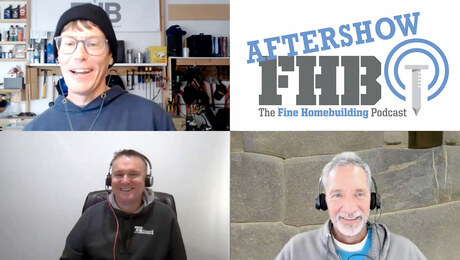 ---
Check out one of our Project Guides: Siding & Exterior Trim!

Check out our FHB Houses:

Visit the Taunton Store  •  Magazine Index  •  Online Archive   •  Our First Issues   •  All Access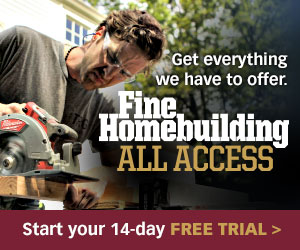 ---
Help us make better episodes and enter for a chance to win an FHB Podcast T-shirt: www.finehomebuilding.com/podcastsurvey
---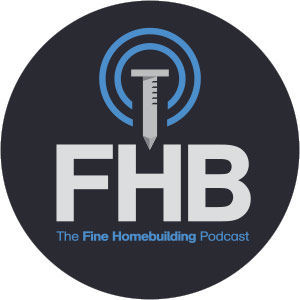 If you have any questions you would like us to dig into for a future show, shoot an email our way:

[email protected]

.
If we use your question we'll send you a FHB Podcast sticker!
---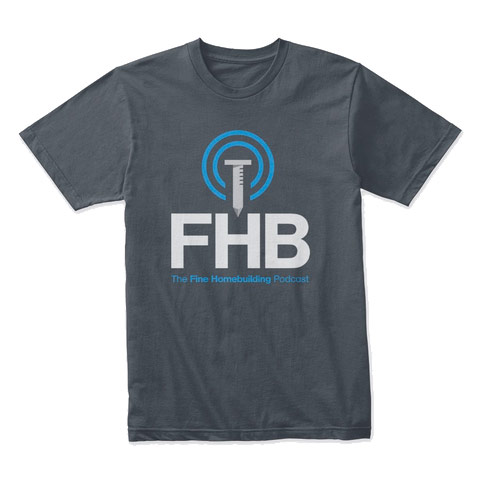 FHB Podcast T-shirts!
Represent your favorite podcast! Available in several styles and colors. Made from 100% cotton. Find the Podcast t-shirt and more cool products in the Fine Homebuilding Store.

---
This episode of the Fine Homebuilding podcast is brought to you by Loctite's TITE FOAM.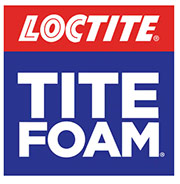 The best builders take weatherization seriously. When they need to seal a gap that's too small for insulation but big enough to create a draft, they reach for Loctite's TITE FOAM. With three formulations for everything from small cracks to the biggest gaps, there's a TITE FOAM product for every job, including a low-expanding product designed to seal the rough opening around windows and doors. The high-density foam forms a tenacious bond to most common building materials, stays flexible to prevent cracking when materials move, and keeps air, moisture, and pests out of the house. Builders who care about energy efficiency, comfort, and durability choose TITE FOAM. Visit Loctiteproducts.com for more information.
---
Fine Homebuilding podcast listeners can now get 20% off anything in the Taunton store, including Pretty Good House.

Use the discount code FHBPODCAST to take advantage of this special offer.

"Finally, knowledgeable people talking about building reasonably-sized, high-performance houses for normal people with real budgets!"
— DanD, VA, 8/19/22, Amazon.com review
---
We hope you will take advantage of a great offer for our podcast listeners: A special 20% off the discounted rate to subscribe to the Fine Homebuilding print magazine. That link goes to finehomebuilding.com/podoffer.
The show is driven by our listeners, so please subscribe and rate us on iTunes or Google Play, and if you have any questions you would like us to dig into for a future show, shoot an email our way: [email protected]. Also, be sure to follow Fine Homebuilding on Instagram, and "like" us on Facebook. Note that you can watch the show above, or on YouTube at the Fine Homebuilding YouTube Channel.
The Fine Homebuilding Podcast embodies Fine Homebuilding magazine's commitment to the preservation of craftsmanship and the advancement of home performance in residential construction. The show is an informal but vigorous conversation about the techniques and principles that allow listeners to master their design and building challenges.
Other related links