Tools & Materials
Ergonomic Tape Measure
This double-sided, high-contrast measuring tape is easy to read in all lighting conditions.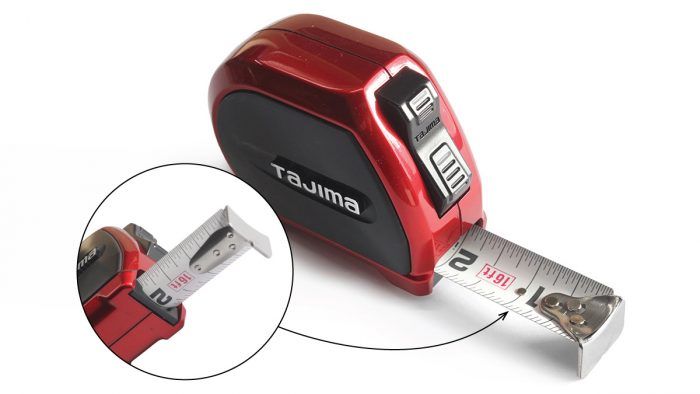 Last Christmas I received a Tajima Sigma Stop tape measure as a thoughtful gift, and since that point, it has become one of my favorite tools. The case has a rounded rectangular shape that perfectly fits in the palm of my hand. It has an automatic lock, similar to Stanley's Lever Lock design, but the thumb operation is more ergonomic and its design allows both automatic retraction and the ability to firmly lock the tape.
The blade's durable coating has held up well to constant use, and it has a standout of about 7 ft. 8 in. The hook is made from thick stainless steel that has held up despite repeated drops, unlike most of my other measuring tapes. The hook itself is sized perfectly: not too big and not too small. Versions are available with a conventional belt clip, which I prefer, or with a Tajima proprietary locking safety belt hook.
Both sides of the Sigma Stop tape are graduated; the first 12 in. has 1/32-in. markings on one side and 1/16-in. markings on the other. The 16-footer retails around $28, slightly more than its competitors, but its high-quality features make it well worth the price.
Art Henderson, MD, ER doctor and remodeler
From Fine Homebuilding #313
---
RELATED STORIES