Podcast 541: Small-Project Discrimination, Control Layers, and Air-Quality Monitors
The crew hears from listeners about ridge vents and sand separators before taking listener questions about finding a contractor to remodel a small kitchen, locating air- and water-control layers, and monitoring indoor-air quality.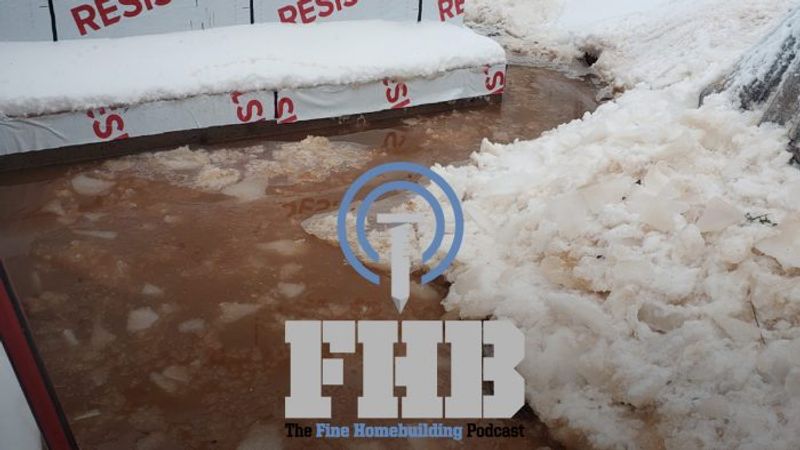 ---
Follow the Fine Homebuilding Podcast on your favorite app. Subscribe now and don't miss an episode:
Help us make better episodes and enter for a chance to win an FHB Podcast T-shirt:
www.finehomebuilding.com/podcastsurvey
Richard describes how hurricanes affect ridges vents. Zak introduces Patrick to sand separators. Jim says there is a lot to like about an old-school digital watch. Mark is having trouble finding a contractor to remodel his small kitchen. Domas shares his thoughts on control layers. Hyland asks for help deciding on an indoor-air-quality monitor.
---
Editor Updates:
---
Listener Feedback 1:
Richard writes: Another interesting podcast today. Concerning ridge vents down south, they became popular 40 years ago. A downside is when a hurricane comes and rips them off, and you find yourself on top of the roof patching this giant hole in the calm of the eye—a particularly short and dangerous time. Ever since then, no ridge vents for me. A spray foamed, sealed attic is the way to go down south.
For my money, smart watches with embedded cellular that are not dependent on a nearby phone's Bluetooth are the best smart watches. Direct cellular is limited to the more expensive Apple and Samsung watches. With my $30 phone service, a smart watch with cellular adds only $5 a month. However, I think the technology is still in its infancy. The size is a little extreme and the battery life is still short.
While I don't intend this next comment to be a direct stab, it would seem a bunch of Fine Homebuilding editors could do a better job of creating clear and concise abstracts from a reader's long and rambling questions. Just a thought.
Related Links:
---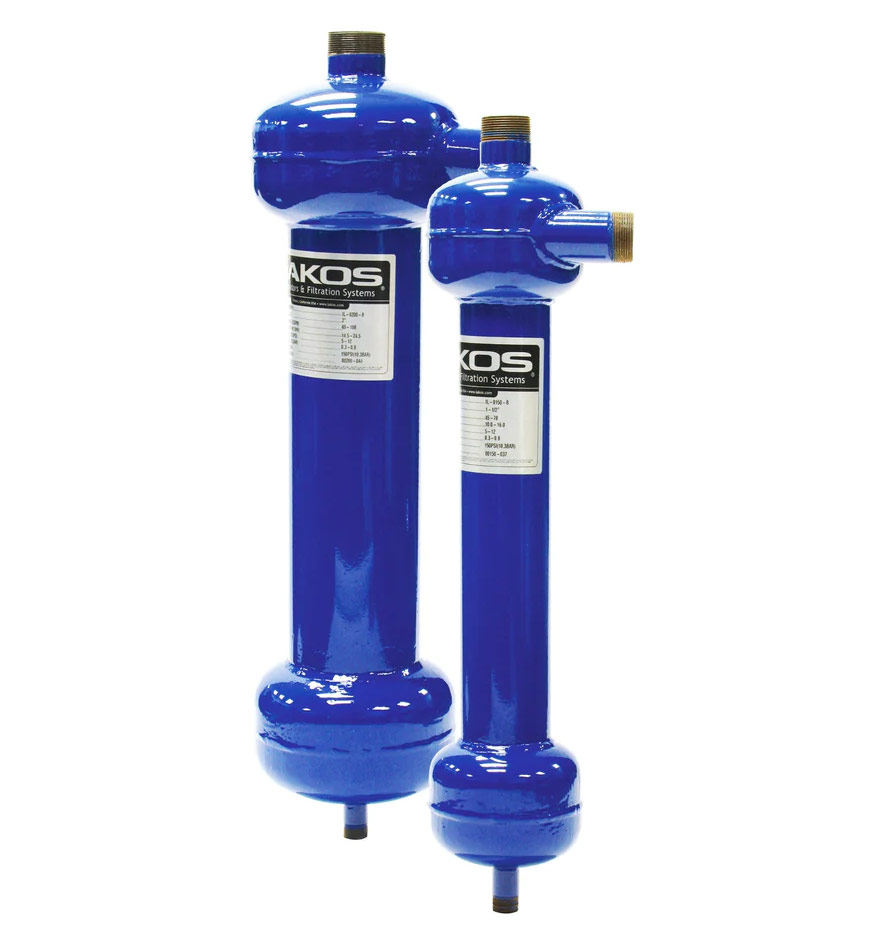 Listener Feedback 2:
Zak writes: Hi Patrick, I heard you mention on the podcast that you had your sediment filter on your well clog up. Sounds like it is a fairly regular occurrence for you. I am a civil engineer that specializes in water-utility projects, especially small water systems. In similar situations, we have installed centrifugal sand separators. As the name implies, they force the water in a centrifugal action, which separates out particles. The particles can then be flushed out via a blow-down valve. They are a little pricey, but depending on how often you are replacing filters, it may be cheaper in the long run.
Here is an example for a 4-10 gpm flow rate. This would need to go between your well and your bladder tank.
Related Links:
---
Listener Feedback 3:
Jim, Village Handyman, writes: Hello FHB Crew, I wanted to add my thoughts on phones and watches. My cell phone is invaluable, and I have used one seemingly forever to help me in my work. But watches are different. No matter how hard I try, they break. My solution is to use my watch to tell time, nothing more. I buy a cheap ($15 or so) Casio digital watch on Amazon or at Walmart. Because it is waterproof down to 50 meters, I can soak it in a Simple Green solution to remove accumulated paint. I can use a buffing wheel or leftover pads from a headlight restoration kit to clear up the face when I can no longer see the display. Typically, the watch will last a year or just a bit more. Then I buy another cheap watch and move on. It's a cheap solution that works great for me.
---
Question 1: Who will take on a small kitchen remodel?
Mark writes: We have a very small kitchen (84 sq. ft.). Most of it is original from pre-1980, except the sink, appliances, and solid-surface countertops, which were updated within the last ten years. We want to update everything else. The walls are made of fiberboard with peeling wallpaper; the ceiling has cracks in it; the lighting is horrible; and the linoleum floor is worn out. I think we want a "back to the studs" update. We went to several kitchen design stores and are faced with a few issues.
1) Some places do not even want to take on our project because it is too small of a project.
2) Others want to update everything, even though the countertops and sink are in great condition.
Is this a case of small-project discrimination?
What do we do? I don't want to have some handyman do it if they are not very experienced in a full kitchen project.
Thank you, I enjoy the podcast,
Mark
P.S. The only thing I will insist on is a range hood that vents outside, because I tend to burn most meals.
Related Links:
---
Question 2: Can you eliminate vapor condensation with insulation?
Domas writes: Hi FHB podcast, I'm a big fan of your work. Following your discussions has made me a better contractor, and I'm very grateful for that. I'm in Nova Scotia, Canada, in climate zone 6. The last discussion about vapor/air barriers has caused some frustration with this "multi-barrier" way of building. I think I get the science behind it and, like many of us, obsess about taping vs. caulking, hot side vs. cold side, vapor vs. air.
We do install 6-mil poly on the warm side and call it a vapor barrier here. I've seen that it works from experience. I'm also a big fan of self-adhered exterior membranes and very excited about how these building products are developing. So, on our projects where we build new envelopes (additions mainly), we find ourselves air-sealing twice and then controlling vapor between the two, based on the science applicable to our climate zone. Air-sealing on the inside of the envelope is a tough road to walk, and it often feels like you are one faulty acoustical-sealant tube away from a mental emergency.
All this effort is to control vapor around a predetermined constant, which is the hot-and-cold line, based on climate zone. I see that hot-and-cold line as a variable, and it is becoming more so with changing climate. How about instead of trying to control vapor around this elusive target, we eliminate the "hot and cold" by insulating on both sides of the air barrier (which we're already doing in some cases)? Wouldn't a building envelope with one airtight layer and insulation on both sides solve the issue of vapor condensation on a cold side?
If this checks out, could this lead to one national standard for airtight envelopes and then to new local codes for an insulation ratio on either side of the air barrier based on heating/cooling cycles? I think I would prefer "nerding out" about that than going down the rabbit hole of air-sealing from the inside of a house. I like the idea of being employable in any climate zone too.
Thanks for reading this, and please keep up what you're doing.
Sincerely, Domas
Related Links:
---
Question 3: What's the best IAQ Monitor?
Hyland writes: Good afternoon nerds, I am looking for an indoor-air-quality monitor not only for my family but also one that I can recommend to clients. We've had an unusually wet winter here in Northern California, and our indoor humidity is higher than typical. I am monitoring that with a few devices but would also like to monitor CO2 and VOCs. Radon is not an issue in our area.
I recall you talking about the Airthings monitor in one of your previous podcasts.
Thanks in advance, and be cool, nerds.
Related Links:
---
Question for Listeners:  Have you experienced small-project discrimination?
Let us know: [email protected].
---
END NOTES:
Podcast 541: Members-only Aftershow — Choosing Contractors and Clients
The crew talks about how homeowners and landlords can find a good contractor and how contractors can find good clients.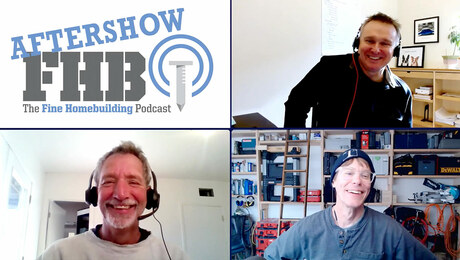 ---
Check out one of our latest Project Guides: Energy Retrofit!

Check out our FHB Houses:

Visit the Taunton Store  •  Magazine Index  •  Online Archive   •  Our First Issues   •  All Access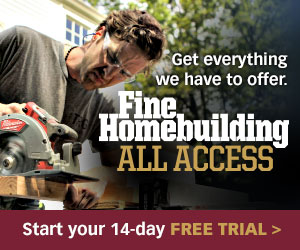 ---
Help us make better episodes and enter for a chance to win an FHB Podcast T-shirt: www.finehomebuilding.com/podcastsurvey
---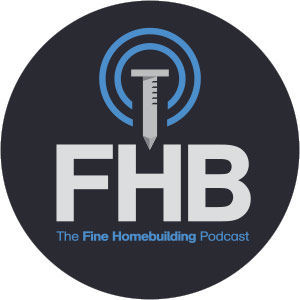 If you have any questions you would like us to dig into for a future show, shoot an email our way:

[email protected]

.
If we use your question we'll send you a FHB Podcast sticker!
---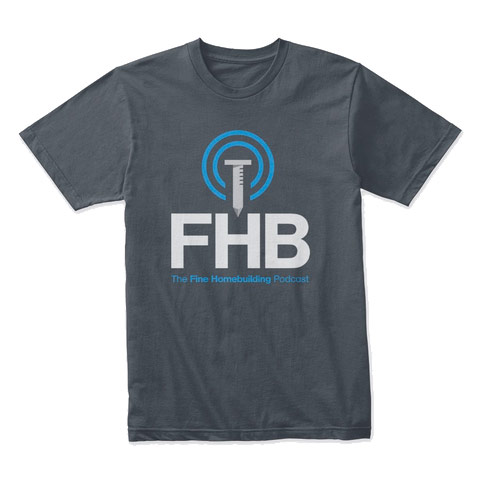 FHB Podcast T-shirts!
Represent your favorite podcast! Available in several styles and colors. Made from 100% cotton. Find the Podcast t-shirt and more cool products in the Fine Homebuilding Store.

---
Fine Homebuilding podcast listeners can now get 20% off anything in the Taunton store, including Pretty Good House.

Use the discount code FHBPODCAST to take advantage of this special offer.

"Finally, knowledgeable people talking about building reasonably-sized, high-performance houses for normal people with real budgets!"
— DanD, VA, 8/19/22, Amazon.com review
---
We hope you will take advantage of a great offer for our podcast listeners: A special 20% off the discounted rate to subscribe to the Fine Homebuilding print magazine. That link goes to finehomebuilding.com/podoffer.
The show is driven by our listeners, so please subscribe and rate us on iTunes or Google Play, and if you have any questions you would like us to dig into for a future show, shoot an email our way: [email protected]. Also, be sure to follow Fine Homebuilding on Instagram, and "like" us on Facebook. Note that you can watch the show above, or on YouTube at the Fine Homebuilding YouTube Channel.
The Fine Homebuilding Podcast embodies Fine Homebuilding magazine's commitment to the preservation of craftsmanship and the advancement of home performance in residential construction. The show is an informal but vigorous conversation about the techniques and principles that allow listeners to master their design and building challenges.
Other related links