Design
Japanese-Inspired Bathroom
An architect turns a boring bath into a retreat with a Far East influence.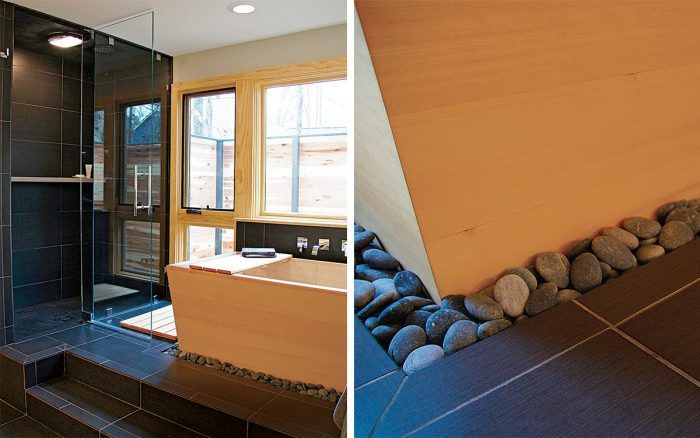 Synopsis: In this article, North Carolina architect Sophie Piesse takes the reader through a remodeled suite bathroom with a distinctly Asian feel. The design details in the new bathroom reflect Asian architecture as well as the Japanese tradition of bathing, which involves showering before relaxing in a deep soaking tub. Complemented by clean, contemporary fixtures and materials — and an innovative tub arrangement and drainage system — this new bath demonstrates an ideal balance of creativity and practicality.
---
In our early design meetings, most clients bring images of spaces that they love to help inspire me; a binder full of lights, windows, fixtures, and hardware is the norm. Cate and Dave, who were looking for a whole-house redesign but wanted to begin with their suite bathroom, were no different. Instead of a binder, though, they came with only a single photo of a Japanese hinoki soaking tub. It was this tub, they felt, that should drive the entire suite-bath redesign.
They wanted to embrace the total experience that the tub would create: deep relaxation after a long workday and commute. They wanted a functional bathroom that was well planned, but they also wanted it to be a unique space, something that would reflect who they are.
Asian aesthetics
We reinforced the Japanese-inspired design theme in the creation of the vanity. A floating vanity cabinet is modern, and bamboo is an appropriate material. Lantern-like wall sconces and shoji-style sliding doors — which are actually aluminum frames with frosted glass — are intended to reflect and complement the style established by the tub.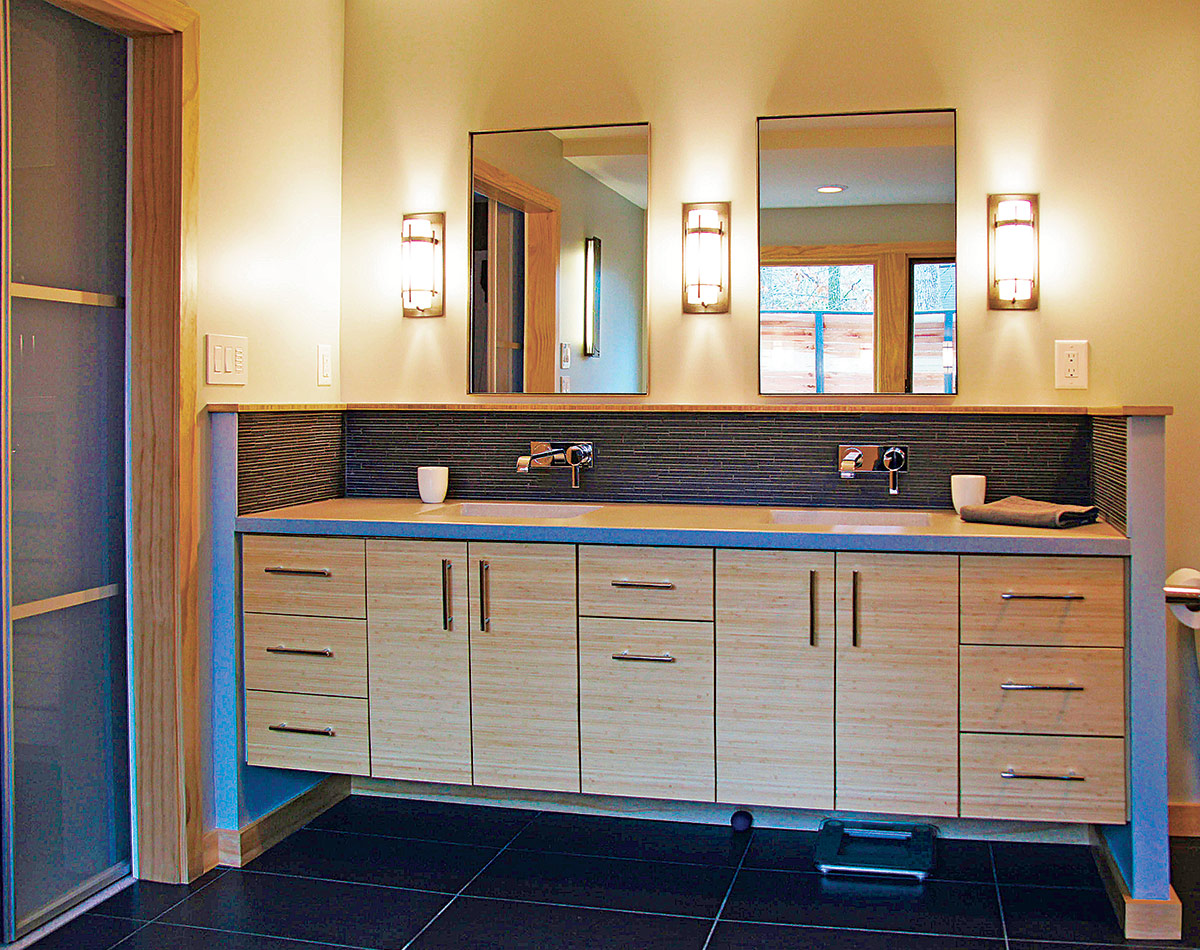 Designed by tradition
In Japanese culture, bathing is thought to have profound health benefits. Traditionally, bathers shower before entering the tub, so we designed a specific area designated for this choreographed sequence. The large walk-in shower sits adjacent to the tub, and the area is raised from the rest of the bathroom by two steps to set it apart. We also put a large window next to the tub to bring in daylight and connect the space to the outside, but in true Japanese fashion, the view is controlled. A cedar fence forms a courtyard that ensures privacy from neighbors and that provides a calming garden view while one is relaxing in the tub.
Details
Soaking tub Hinoki Kyoto 48 Ofuro, zenbathworks.com
Sinks Lacava Spring sink, lacava.com
Faucets and shower fixtures Grohe Allure, grohe.com
Tile Neostile, energieker.it 12-in. by 24-in. Graphite for main floor and walls Mosaic Graphite for shower floor and ceiling Muretto Graphite mosaic for vanity backsplash
Vanity top Concrete by Counterpart, counterpartsllc.com
Vanity cabinet Custom-made by Cabinet Creations
Wall sconces Hubbardton Forge, hubbardtonforge.com
Location: Carrboro, N.C.
Architect: Sophie Piesse, LEED AP, sophiepiesse.com
Builder: Jay Hughes, Hughes Contracting, hughescontractingnc.com
Sophie Piesse is an architect in Carrboro, N.C. Photos by the author.
View PDF
Previous:
Clever Concept for a Brilliant Bath
Next:
Steam Spa Bathroom Makeover