Design
One Bathroom, Three Ways
Three architects reimagine the same space to suit different needs.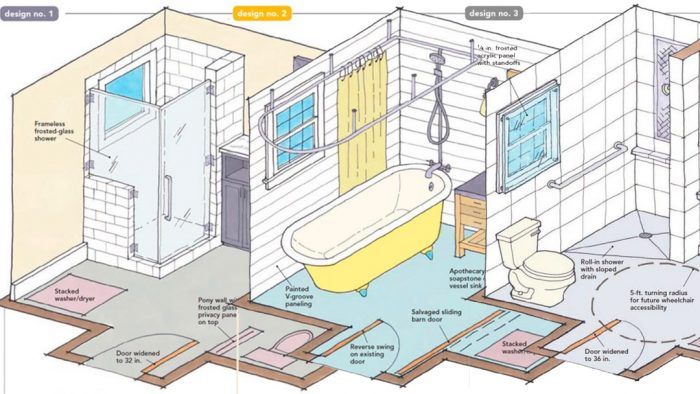 Synopsis: In this case study, three architects are assigned a set of fictional clients who have differing requests for a remodel of the same problem bath. Paul DeGroot redesigns the space for a young couple on a budget, Kathryn Rogers is tasked with an eco-minded remodel, and Holly Hall, an aging-in-place specialist, is given clients who are planning for the long term. Each theoretical remodel includes a 3D floor plan along with a showcase of products and materials, displaying the many options for remaking the same space to suit different needs.
---
When our editorial director, Justin Fink, threw out the idea of having three designers propose plans for remodeling the same room, I jumped all over it. Though he was talking about kitchens at the time—to be tackled at a later date—I had a bath in mind. My bathroom is rife with issues that include wasted space, an ill-conceived laundry closet, an eyesore view of the toilet, three clashing doors, poor ventilation, cheap and dated materials in disrepair, and a complete lack of aesthetic appeal. It makes for an ideal case study.
Because a large part of the design process happens on the front end, when designers meet with clients to discuss how they live and what they want, we needed to provide some context. Each architect was given a different scenario, whereby their fictional clients' wish lists and aesthetic tastes were laid out. We gave them before photographs and a floor plan with key measurements and pertinent details. We asked them for a fully formed design concept expressed with a new floor plan, elevation drawings, a materials list, and a "mood board"—in short, anything that would help convey what they had in mind. The results were inspired, and from them we have gleaned some great ideas and takeaway lessons.
Design no. 1: Young couple on a budget with room to grow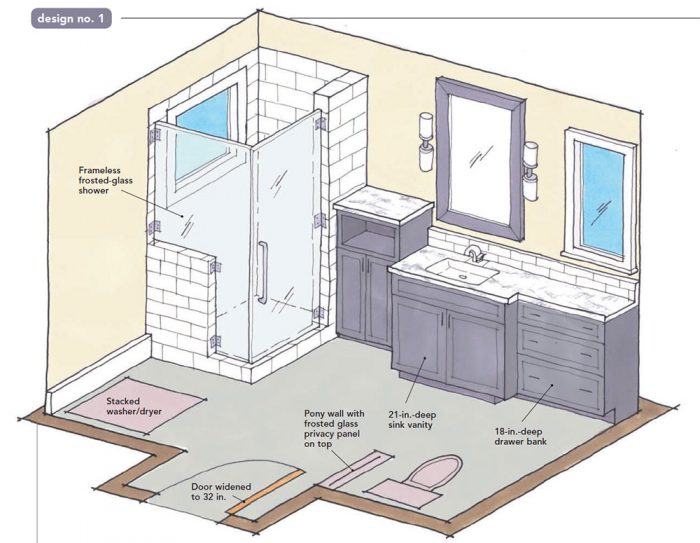 Architect: Paul DeGroot
Priorities:
Keep the budget in check
Enhance functionality for two
Plan with future remodels in mind
Create a clean, modern look
DeGroot's key move was to remove a wall separating the laundry closet from the bath to create one large room. He shuffled all elements: The toilet was moved to the south wall, replacing the dryer; a new vanity and cabinet occupy the space where the toilet once lived; the existing tub was removed in favor of a shower enclosure; and the stacked washer/dryer unit sits to the left of the shower. Of special note is the privacy wall for the toilet. Its frosted-glass panel matches the north-facing window—a thoughtful touch.
Design no. 2: Eco-minded professional with resale value in mind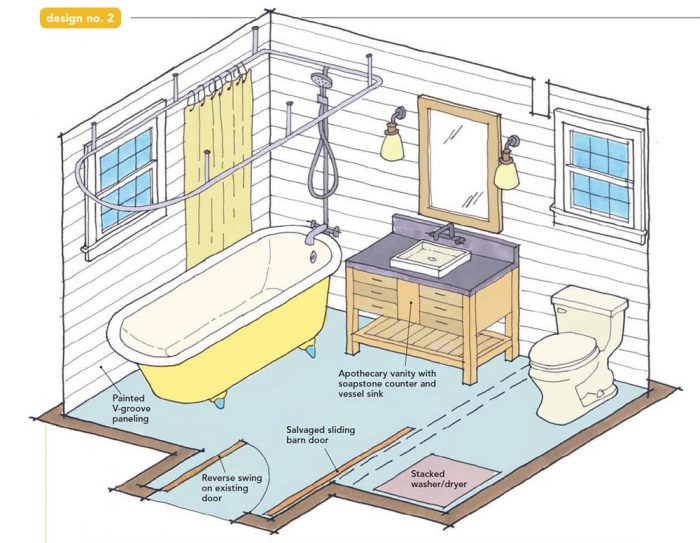 Architect: Kathryn Rogers
Priorities:
Incorporate salvaged and recycled materials
Source sustainably whenever possible
Increase resale value while keeping costs low
Evoke a rustic vibe
Rogers solved the toilet conundrum by moving it to sit beneath the existing north-facing window. Now situated behind barn-style doors, it is something of a water closet. The doors can be slid left for privacy and right to access the washer/ dryer unit. Rogers improved the functionality of the space by shuffling key elements to create more room and enhance the natural light. And she hit the nail on the head style-wise.
Design no. 3: Baby boomers aging in place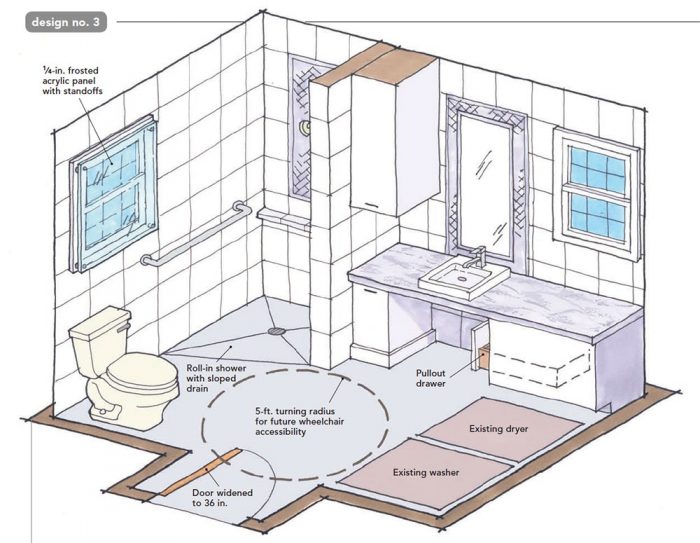 Architect: Holly Hall
Priorities:
Plan for the long term
Incorporate universal design elements
Enrich the room for mature clients
Make selections in line with conservative tastes
Like DeGroot and Rogers, Hall moved the toilet out of sight from the living room, but she chose its new location for the space around it and the ability to add grab bars later. Creating a 5-ft. turnaround radius at the center of the room was one of a few changes made to accommodate a wheelchair. She also added a roll-in shower, which required altering the floor slope, and she widened the door to 36 in. She also spec'd pull hardware and lever handles that are easier for older users to operate. The expanded and relocated vanity and the cabinetry with measurements factoring in wheelchair height contribute to the room's accessibility.
From Fine Homebuilding #287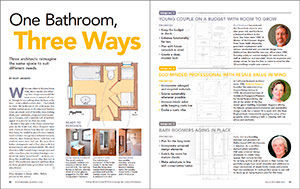 To view the entire article, please click the View PDF button below.
---
More on bathroom design:
Revamping a 60-Year-Old Bath – Interior designer John Kelsey describes the decision-making process behind a six-week gut remodel of an old bathroom in a Dutch colonial home.
Three Bath Designs in One Cohesive Style – Three of a Kind: Colors, materials, and patterns unify a new home's three distinct bathrooms.
The Seven Sins of Bathroom Design – If you err while constructing or remodeling your new bathroom, repenting can be quite a challenge.
View PDF
Previous:
Revamping a 60-Year-Old Bath
Next:
Creating Two Beautiful Bathrooms Out of One