Design
Bending Synthetic Decking for Decorative Inlays
The ability to heat-form cellular-PVC and other composite boards on site paves the way for designs that can set a deck apart.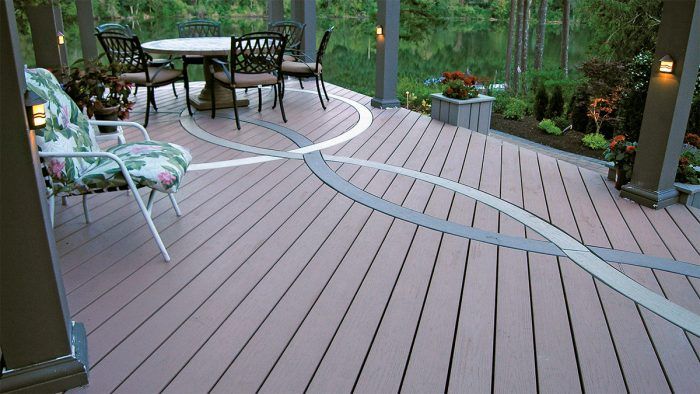 Synopsis: Although synthetic decking is becoming more and more popular, one of its advantages over wood has not been exploited much: its ability to be heated and shaped into curves. Author Kim Katwijk, a deck installer in Washington state, spent several years trying various methods of heat-forming synthetic decking. None of them worked to his satisfaction until he tried a system from Heatcon. Now he uses this system on both cellular-PVC and composite decking. In this article, he describes the steps he took in order to include a Celtic-knot design in a deck made from PVC: marking the frame, blocking the curves, building the bending jigs, heating and shaping the boards, and prepping the decking for the inlay. In a sidebar, he describes the Heatcon kit that makes this process possible, and he provides a chart that indicates the heat-forming ability of various brands of synthetic decking.
---
It wasn't long after I started building decks full-time in 1996 that I got the opportunity to create a curve. I had designed a beautiful curved deck in cambara for a client who wanted the railing cap to follow the shape of the deck. The logical solution for most deck builders would have been to laminate thin strips of cambara into a curved rail on a bending form, but I wanted to try something completely different: Heat-form composite decking to the desired curve.
Composites are made from a mixture of wood fiber and plastic. Because these plastics are not thermally stable, it's possible to heat and bend the decking.
A literal learning curve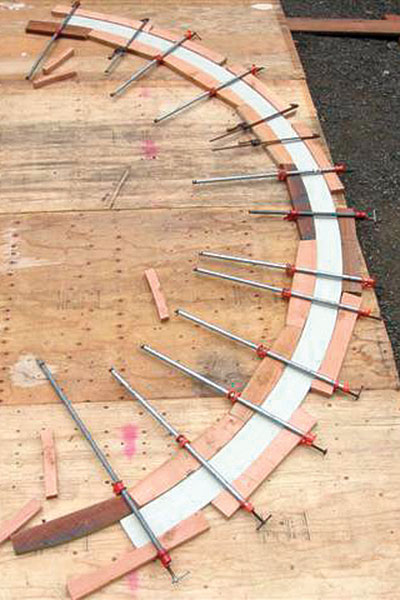 My first attempts at board-bending were with Trex. My apparatus involved a 20-ft. by 20-in.-dia. Sonotube laid on the flat with #3 rebar shoved through the sides to suspend the decking. Two kerosene space heaters forced heated air into each end of the tube. This method produced uneven heating and more failures than successes.
Next, I tried a water-bath heater. I used a 20-ft. by 12-in. schedule-40 PVC pipe cut in half. I glued four inlets into the half-pipe, then inserted a watertank heater into each inlet. I was able to heat the water to boiling. After an hour of boiling, I was able to bend a 20-ft. composite board in a very large radius—about 15 ft. To get the 5-ft. radius I needed, I had to rip the 2×6 composite boards into three strips, heat them, bend them to a 5-ft. radius, and then glue and screw them back together.
On another project, I tried to get higher temperatures by insulating the pipe and capping it with rigid insulation. This succeeded so well the tank melted.
I gave up on bending deck boards until I discovered the Heatcon bending system at a trade show. It consists of four 8-in. by 10-ft. blankets, two control units, and two temperature probes. Working with this system, I was able to bend a flat piece of 5-1/2-in. Azek cellular-PVC decking to a radius of 22-1/2 in., opening the door to new levels of artistic expression.
Warranty issues: It's worth noting that manufacturers of PVC decking have not endorsed these methods to date, although Azek worked with Heatcon to develop a heating blanket for bending trim (see the sidebar in the PDF), and offers a tutorial for trim-bending on its website.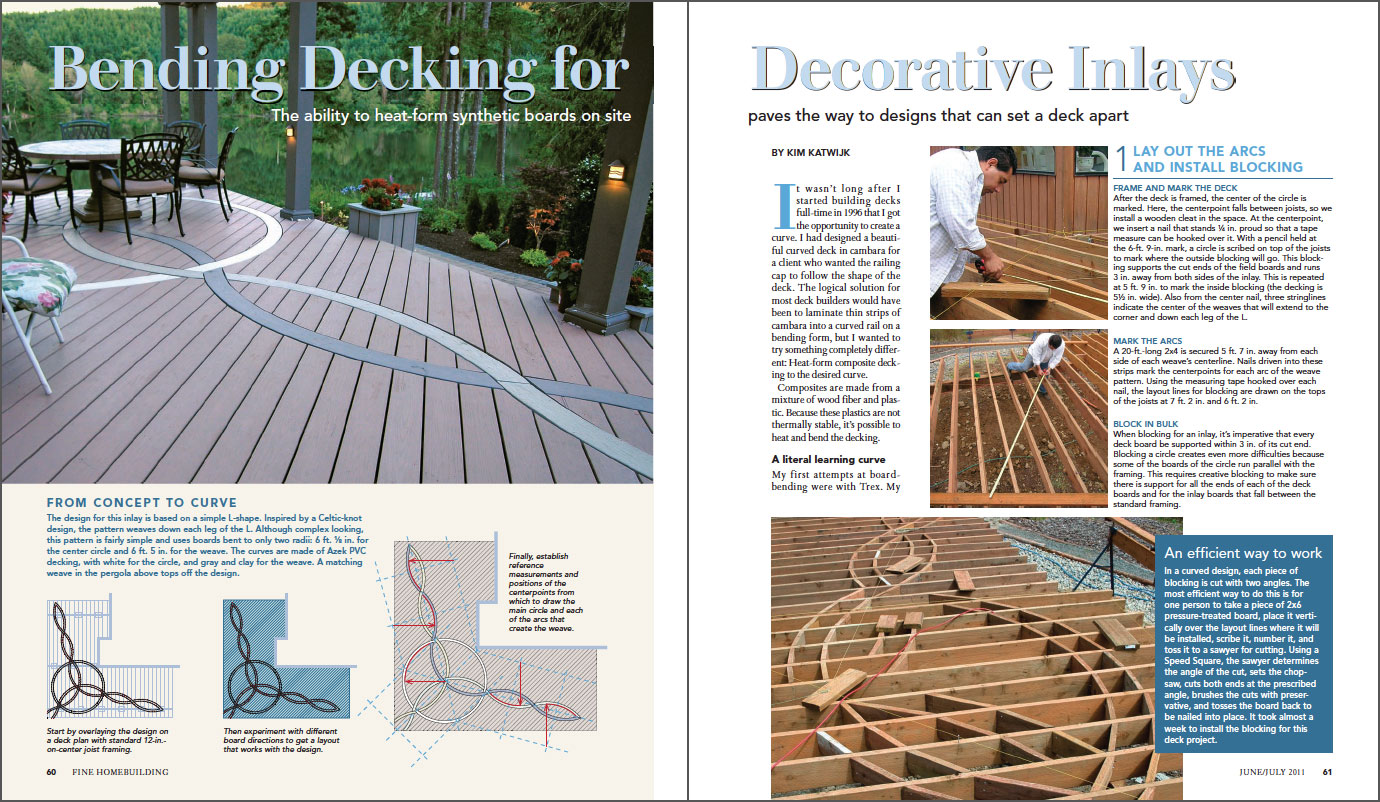 To view the full article, click the View PDF button below:
View PDF
Previous:
An Elegant Border for Your Deck
Next:
Adding a Skirtboard to a Deck