Faster Deck-Board-Removal Tools
Any one of these specialty deck-board removal tools makes demolishing a deck easier.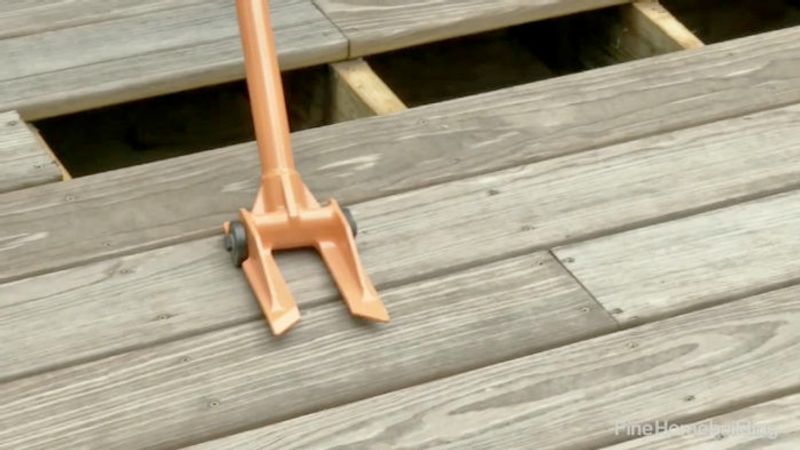 Tool Tech host Patrick McCombe shows off three different deck-board removal tools: the Duckbill Deck Wrecker, the Gutster Demo Bar, and the GreenTek Demo-Dek. The hard way to remove deck boards is with a crowbar and a hammer, but the right way to do it is with one of these tools. The Duckbill Deck Wrecker allows you to pop up the boards using a lever by straddling the joist. You can also work close to the house with this tool by rotating the head so the handle is pointing away from the house. The Gutster Demo Bar also straddles the joist and has lever action, in addition to a set of wheels that make it easier to remove strip flooring and flooring underlayments. It also has set of nail pullers on the back of the head to pull out straggler nails. The GreenTek Demo-Dek, unlike the other tools, grabs the dek board rather than straddling the joist, and according to the manufacturer, pulls out deck boards much easier than leverage tools. There is also a nail puller on the end for straggler nails, and the tool is made from laminated bamboo. All these tools make it easy to remove deck boards for replacement or complete deck removal. Check out the video to learn more.
Duckbill Deck Wrecker
Price: $75
Gutster Demo Bar
Price: $100 (48-in.); $110 (60-in.)
GreenTek Demo-Dek
Price: $120
Senior editor Patrick McCombe has been testing power tools on behalf of national publications for more than 15 years, and he regularly meets with product manufacturers to try out new introductions. In the Tool Tech series, Patrick reviews the latest tools and materials, discusses building technology, and shows time-tested techniques for better, more-efficient home building. Consider becoming an online member to watch other Tool Tech videos.e building.
Previous:
10 Deck-Building Tools You Didn't Know You Needed
Next:
The Best Deck-Demo Tool