How-To
Moving Lumber Alone
Use proper technique rather than brute strength to lift heavy deck beams and posts.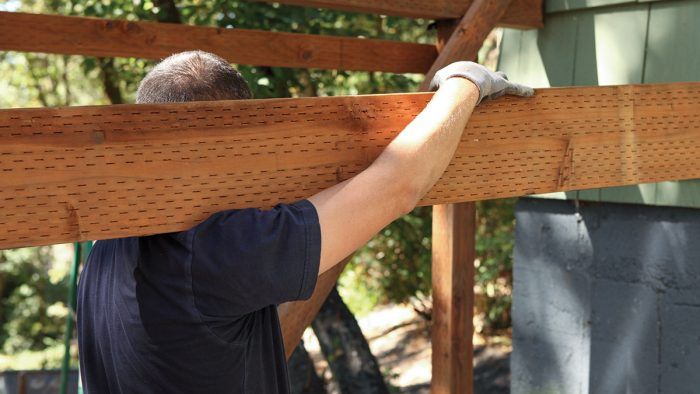 Working alone means that eventually you will be hauling lumber around on your own. Even if you are young and strong, the lumber will quickly make mincemeat of your body if you don't use proper technique. Balance is the key. Always keep your body centered over your feet and keep the lumber centered on your body. This allows you to maximize your core body muscle and avoid the torque that can so quickly cause an injury. The photos below demonstrate how to lift lumber properly.
1. Get a grip. Wrap your fingers under the lumber and make sure you have a good hold before beginning your lift.
2. Brace one end against an immovable object so the beam does not slide away from you during the lift.
3. Shift yourself to the center of the beam. Support the beam's weight as you move by shifting your grip, hand over hand.
4. With your body centered and your hands on opposing edges, carefully lift the beam.
| | |
| --- | --- |
| 5. To lift a beam to your shoulder, go back to step 2 and walk the beam up in the air until you can rest the center point against your shoulder. | 6. Bend your knees and carefully transfer the beam's full weight to your shoulder. |
| | |
7. Carry the beam by draping your arm over the top, controlling its pitch and point.
Previous:
Installing Deck Beams
Next:
Notching Deck Posts With a Chainsaw