Acute-corner drywall bullnose
Use this creative custom solution to create a rounded 45° corner.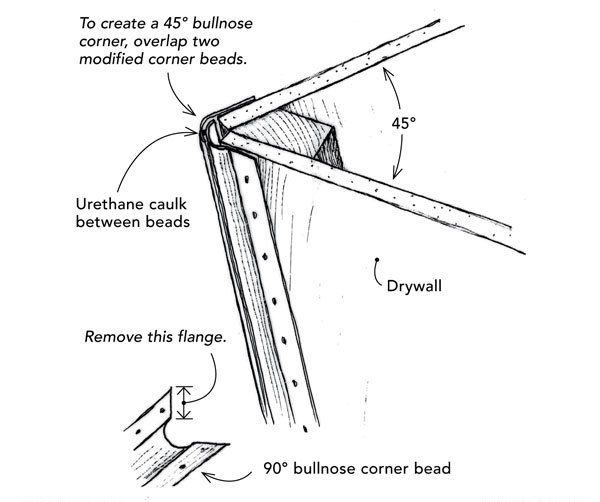 Our customers really like bullnose corners in their homes. The rounded corners are easy on the eye and soft to the touch, and we provide them for both vertical and horizontal 90° outside drywall corners. On a recent job, however, we ran into a bullnose head-scratcher. The plans called for a 45° bullnose. We searched all the likely sources but couldn't turn up a commercially available corner with a bullnose profile more acute than 90°.
As shown in the drawing, our solution was to take two pieces of plastic 90° bullnose and cut off one perforated nailing flange on each of them. We then overlapped them, put a bead of Sikaflex urethane construction adhesive between the two bullnose surfaces, and affixed the nailing flanges to the wall. After it had been finished with joint compound and painted, the corner looked great.
Paul McGee, Kihei, HI
Previous:
Aligning Drywall Corner Bead