How-To
Curved Walls and Barrel Ceilings
Depending on the radius of the curve, drywall can be applied wet or dry.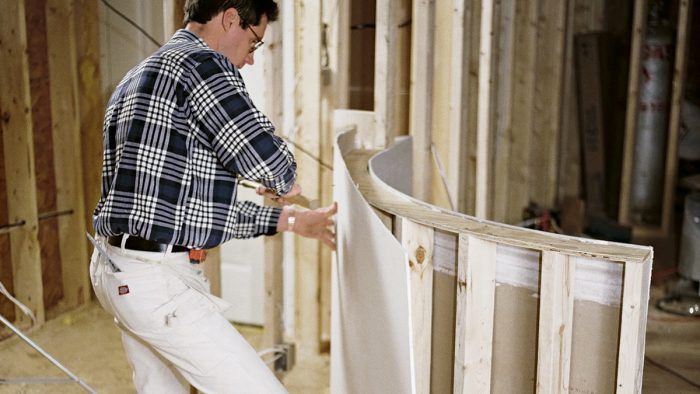 Drywall can be formed to fit almost any curved surface, whether convex or concave. The first curved surface I ever tried to drywall was a convex wall with a very short radius. At that time, the only advice I'd been given was to wet a regular 1/2-in. drywall panel and allow it to sit for a while before hanging it. Given my lack of experience, it's not surprising that I didn't have much luck with this job. I ended up having to cut the drywall, which I had wet on both sides, into narrow strips in order to get it to bend around the studs. After the narrow strips dried, I had to tape each seam and then skim-coat the entire surface.
Looking back, I realize what I did wrong. First, the wall was much too tightly curved to bend a 1/2-in. drywall panel around it. Second, I should not have wet both sides of the panel. Third, the studs were spaced too far apart for such a tight curve. If you are planning to attach drywall to a curved surface, here are a few important points to bear in mind:
To avoid creating flat areas between studs, the framing should be closer together on curved walls than on straight walls. Maximum stud spacing is 9 in. o.c. for most curves; for really short radii, a maximum of 6 in. o.c. is recommended (see the chart below). Hopefully, the builder has not built an inside curve that has a radius less than 20 in. or an outside curve with one less than 15 in. Hanging these radii would be very difficult even with wet 1/4-in. flexible drywall.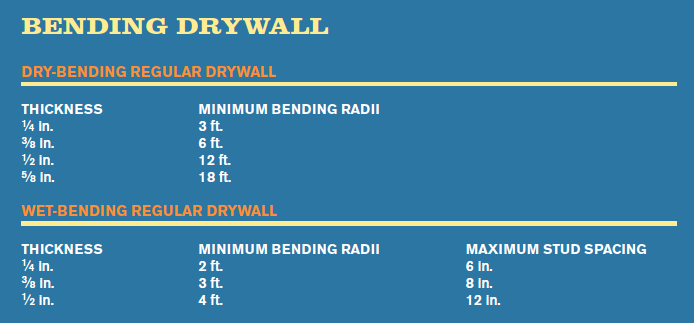 Use 1/4-in. flexible drywall on short-radius curves for both inside (concave) and outside (convex) curves. The drywall can be attached either parallel or perpendicular to the framing. Place the screws a maximum of 12 in. o.c. Two layers of 1/4-in. drywall are usually necessary for strength and to blend in with the 1/2-in. drywall used on straight sections of the wall. Apply one layer at a time, staggering the joints. If possible, avoid end joints butted on the curved surface of the wall.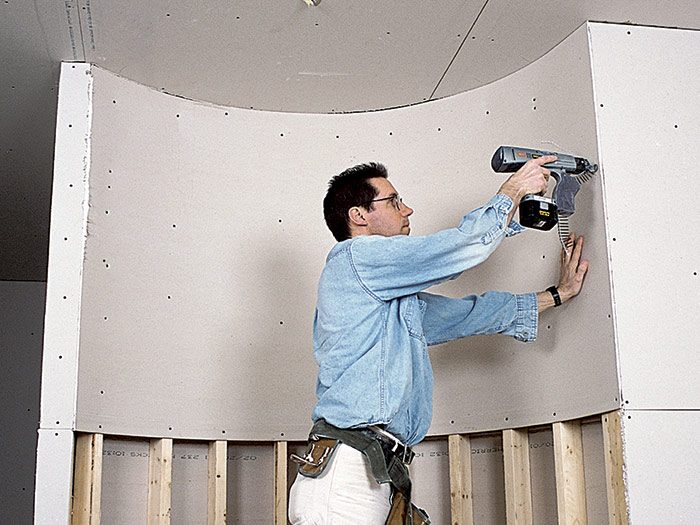 | | |
| --- | --- |
| Two ways to hang: When attached to a tight curve, drywall can be positioned either horizontally. | |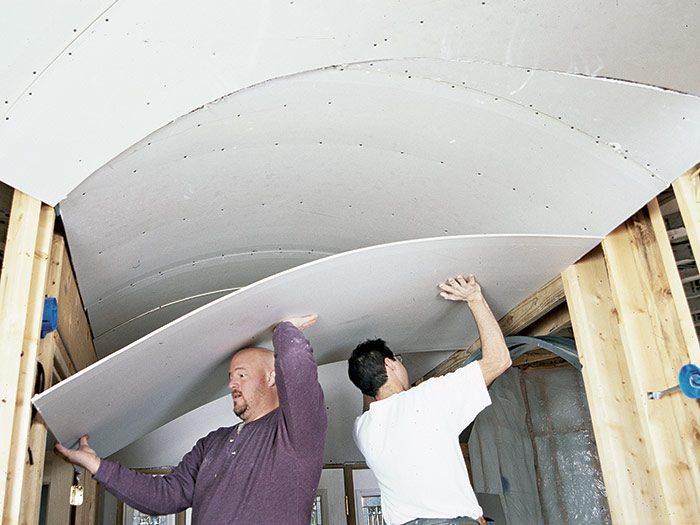 For curves with a tight radius (less than 32 in.), dampen the drywall so it can conform to the tight curve without breaking. Using a garden sprayer, a sponge, or a paint roller, apply water to the side that will be compressed around the curve (i.e., the back of the panel on convex curves). For a 1/4-in., 4×8 panel, use about 30 oz. of water (35 oz. for a 3/8-in. panel, 45 oz. for a 1/2-in. panel). Stack the panels with the wet surfaces facing each other and let them sit for at least one hour before you attach them. Covering the panels with plastic prevents the edges from drying out. When the panels dry, they will return to their original hardness.
WORK SMART: Drywall is more flexible along its length. However, it's a good idea to hang it perpendicular to the framing, because it is easier to conceal the joints when taping with the curve.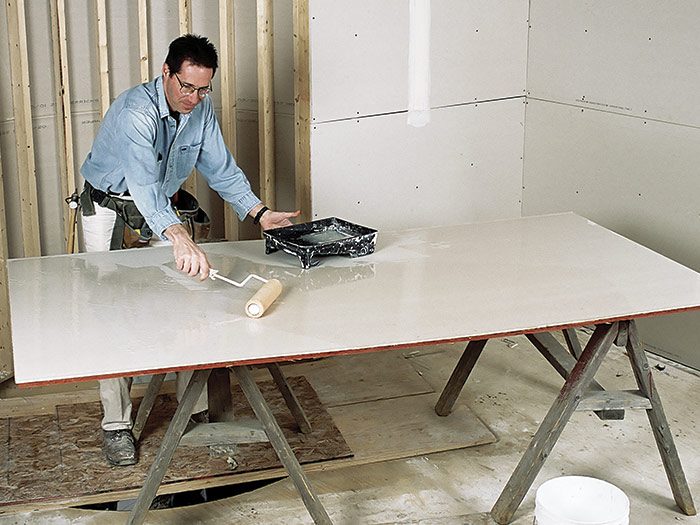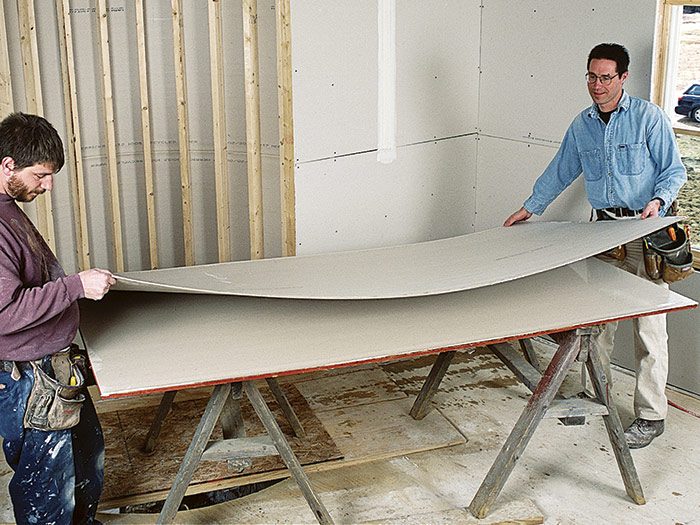 When attaching drywall to the outside of a curved wall, start at one end of the curve and fasten it to the studs as it forms around the bend. When drywalling the inside of a curved wall I was always told to start by attaching the panel at the center of the curve, but sometimes this will cause the panel to crack. I have had better luck working it over from an edge.
If the drywall is wet, allow enough time for it to dry thoroughly before taping.
When taping a curved wall you may want to finish to a level 5, because it is a very visible area.
WORK SMART: Even if the radius of a curve is large enough to apply flexible drywall without wetting it, pre-bow the panels for easier installation.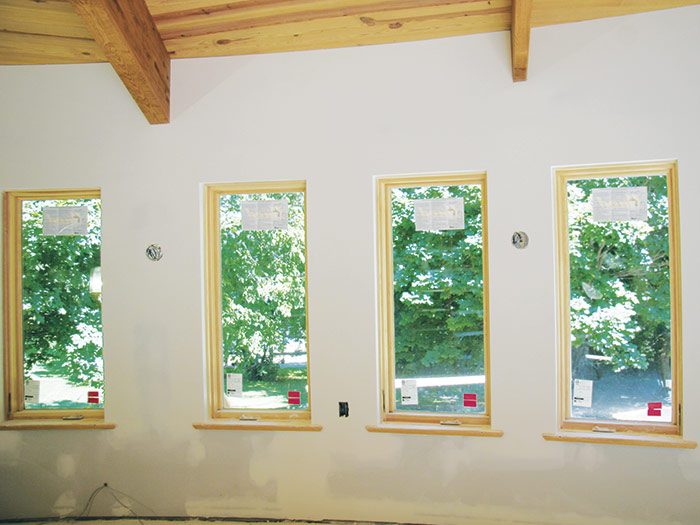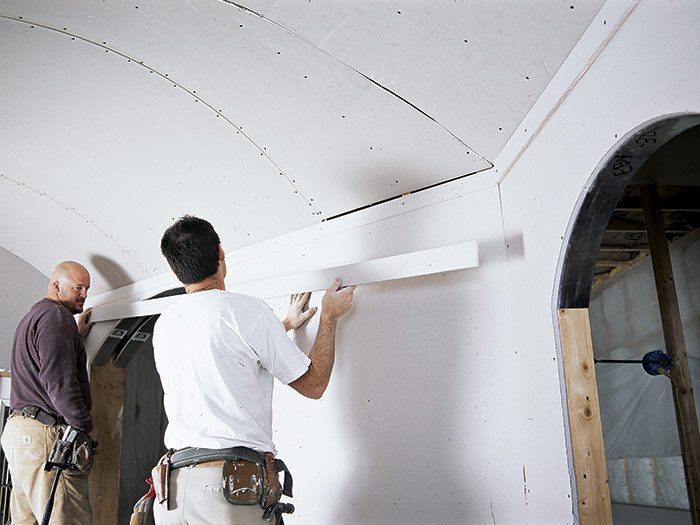 Previous:
Create Sleek Drywall Transitions With Reglet Trim
Next:
Drywalling an Archway