Drywall Spanning a Band Joist
Avoid cracking and hard-to-hide seams with smart panel placement and by using drywall adhesive instead of screws at the band joist.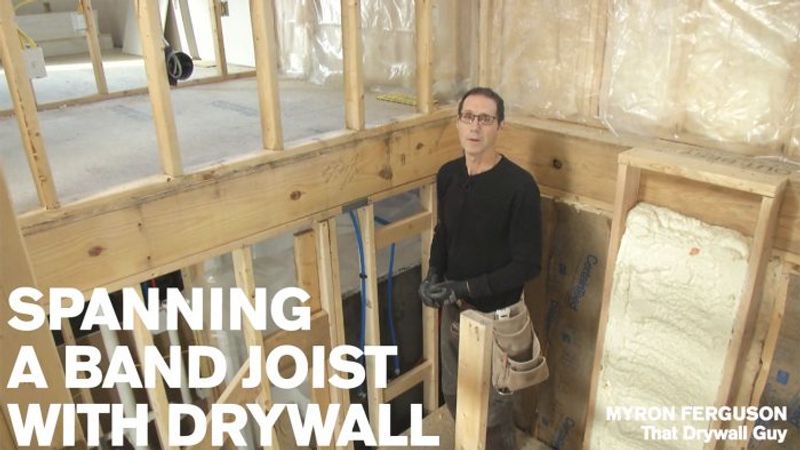 Whenever you have a two-story house, you always have a stairwell. Here, we have a band joist connecting the two levels, which quite often is a little bit out of plane from the other walls. As a result, we don't want to put a seam in this area. I'm going to do what I can to avoid a seam here.
A lot of people think this is a perfect place for a solid surface, but we want to avoid that because that's where it's most likely going to crack. When I hang this wall, I'm actually going to start with a 2-ft. rip on the top, coming down with a 4-ft.-high sheet. When we bridge this whole area, there won't be a seam. Instead of putting screws in here, which are very likely to pop because of the shrinking of the lumber and possible movement in this framing, I'm going to introduce drywall adhesive.
By bridging this, and not having a seam in this area, I'm eliminating the potential bump and problems with cracking. The screws will go along the top and bottom edge and down about 8 in., but nothing in the center area.
This technique is extremely important. When you do drywall work, it's not necessarily always about minimizing the seams—I'm more concerned about seam location. By not having the seam in a wrong spot, I've eliminated that problem. A year from now, I'm not worried about this seam cracking.
This video was filmed on-site at a Habitat for Humanity build, where Myron is construction manager. Learn more about Habitat's work building homes in communities.
Related Links:
Previous:
Metal Corner Bead Substitutes for Drywall Clips
Next:
How to Hang Drywall Solo