How-To
How to Build an Arched Pocket Door
An arched opening, door, and drywall make an elegant and space-saving transition.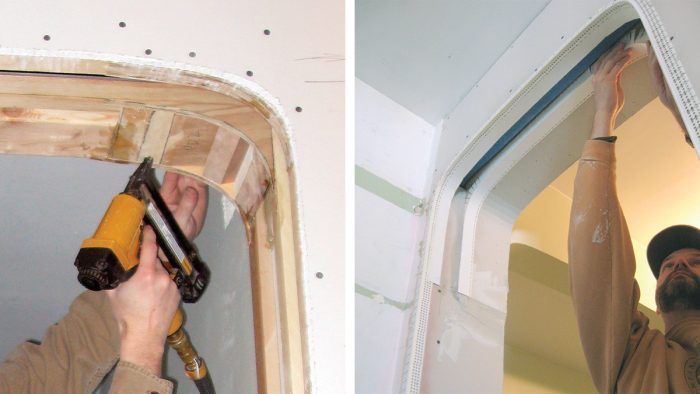 During a recent remodeling job, I had to reproduce several arched tops in plastered openings to match one existing opening. Each opening was slightly different. The arches' radii were tighter than any arch-forming product I could find, so I made my own arched corners. I was even able to integrate an arched top into a pocket door. Although I did my first arched pocket door trimmed with arched wood casing a few years ago, this one was almost all drywall.
The house was built in the 1920s. I thought I'd have to demolish and reframe a wall to install the pocket-door track, but I lucked out. I mounted the track to one side of an existing wall and covered it with a new wall that was blocked out 3-1/2 in. from the original. I made the corners for both sides of the arch, then bent a double layer of 1/4-in. drywall to the arch. The door had to be modified before I could hang it on the track, and I made sure I could access the trolley adjustments.
I cut plastic corner bead to conform to the arch, then taped and joined the entire doorway. I ripped and bent 3/32-in.-thick white-oak strips to act as stops on both sides of the door. After painting the jamb, I adjusted the door's hang and cut the door for the recessed pull so that its position would match the other door hardware in the room.
| | |
| --- | --- |
| Bent stops keep the door on track. After soaking 3/32-in.-thick strips of white oak in hot water, laminate two strips in place on each side of the door opening. Polyurethane glue works best with wet wood. A few finish nails keep the stops in place. | No right angles, please. To fit the opening, trim the door blank to fit the arch. Painter's tape keeps veneer splintering to a minimum. |
---
Tool Of The Trade
Holy Radius, Mudman
Even with laminated, scored drywall, when it comes time to apply joint compound, the surface tends to get lumpy when using a straight taping knife. The solution is to spend $20 online and get a Rubber Wipe-Down Knife, made by Marshalltown. Known as a "bat knife," the tool is perfect for curved corners.
Previous:
Drywalling an Archway
Next:
Bending Drywall for a Curved Wall