Flood-Ready Passive House
This deep-energy retrofit is the first certified Passive House and net-positive residence in Cold Spring, N.Y.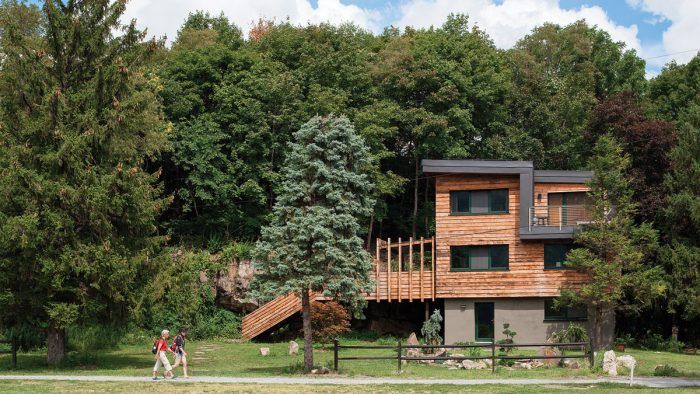 This deep-energy retrofit is the first certified Passive House and net-positive residence in Cold Spring, N.Y. The unique nature of the site—which includes an easement across the front of the property for pedestrian access to a nearby state park—and the condition of the existing one-and-a-half-story house made it an exceptional undertaking.
During Hurricane Sandy, the original home flooded with over a foot of river water, which ruined the uninsulated basement and boiler. The rest of the house had also seen better days. The plan was to build within the same footprint; salvage what was possible of the nontraditionally framed and poorly built structure; and improve energy performance, thermal comfort, and flood resilience.
Toward that end, the builders added 12 in. of recycled EPS rigid foam on top of the existing slab, added a vapor barrier, and poured 3 in. of new concrete on top of it. This sandwich-like assembly raised the floor above the flood line. Mechanicals were mounted 4 ft. above the floor, cementboard was used on the interior walls to ensure a more water-tolerable surface, and rigid-foam insulation was installed on the exterior of the original block foundation walls and given a stucco finish.
Of course, raising the slab reduced the basement height, but because the existing 2×4 wood frame was jacked up off the foundation, and 4 in. of Foamglas insulation was installed to create a thermal break between the stem wall and the framing, the studio has a comfortable 8-ft. ceiling height.
The majority of the existing framing and sheathing was retained, and the west-facing windows are all in the original locations. Larsen trusses were installed to the outside of the original frame and filled with dense-pack cellulose to meet Passive House−level energy performance.
The pre-patinaed zinc roof wraps down onto the wall on the south-side balcony, creating a waterfall effect; the material was chosen for its rich luster and because it facilitated easy installation of a 5kw solar array. An arbor was incorporated into the reframed deck for a semi-sheltered outdoor living space, and the locally sourced hemlock siding was given a light shou sugi ban finish.
On the interior, a new stair with black walnut slat screens organizes the compact floor plan—connecting all three floors, while allowing natural light to filter through the rooms. (Previously, the only connection between the floors was via rickety outdoor deck stairs.) The location of the existing center beam and new stair resulted in an asymmetrical layout, which means one of the two new bedrooms is much smaller than the other. It is just one of many restraints that give the house its quirky and endearing character.
Designer: River Architects, riverarchitects.com
Builder: Nugent CM, nugentcm.carbonmade.com
Location: Cold Spring, N.Y.
Photos: Brad Dickson, courtesy of River Architects ("Before" photo courtesy of River Architects)
From Fine Homebuilding #299
---
RELATED LINKS
Previous:
A Retrofit for the Future
Next:
The BS* + Beer Show: Two Deep-Energy Retrofits