How-To
21st-Century Timber Framing
A mix of modern and traditional methods of joinery and assembly creates an engineered timber frame that goes up fast.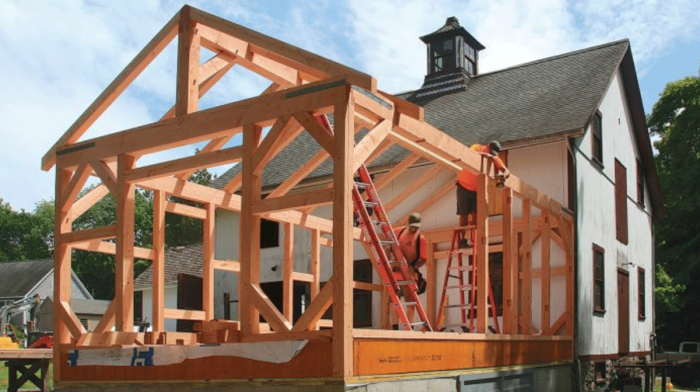 Synopsis: New machinery (such as the Hundegger K21 CNC multihead machine) can cut framing parts faster than ever, increasing productivity on the job. In this article, a series of photographs details a timber-frame addition in which a crew uses machine-made components and then fine-tunes the joinery before assembling the structure in the field.
---
In 1976 I worked on my first timber frame. We dismantled a prerevolutionary-era house frame, moved it to a new site, and reconstructed it into a new home. That project got me hooked on timber framing—four decades and more than 500 projects later, I still love it.
In the early days, we focused on moving and restoring old frames, but now the majority of our work is building new frames from scratch, using machinery that our timber-framing forbearers couldn't have imagined. The increase in productivity has allowed me to grow our company to 30 employees and build dozens of timber frames every year. Our automated methods also mean that our employees—who often have the bad knees and bad backs that come with a lifetime of construction work—can continue their careers much longer than if they were moving and assembling timbers without machinery.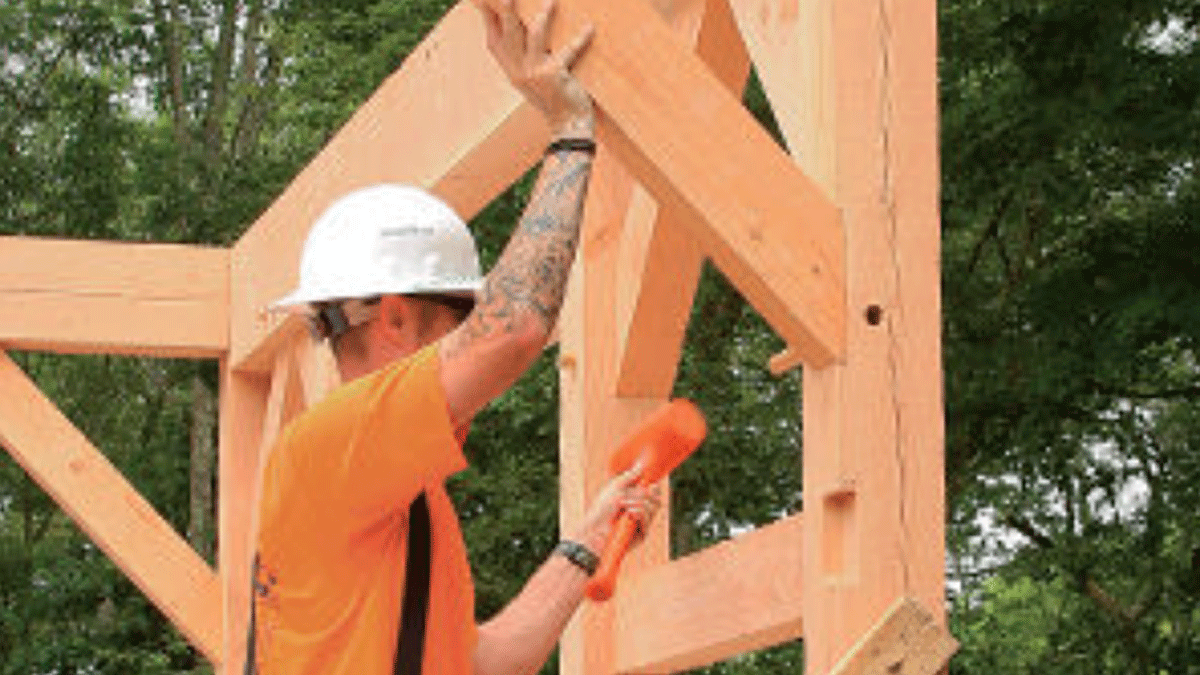 Our most powerful tool is a Hundegger K2i, a CNC multihead machine that cuts the timbers to length and does the majority of the joinery (see it in action). After our team designs the joinery and tells the machine how to make the cuts, we can put a timber in one end and a nearly complete piece of the frame comes out the other. But it can't do everything. At a minimum, the joints need to be cleaned up with hand tools; the machine also can't make large curved parts, because they don't fit inside. We make those and the other problem pieces with portable power tools and traditional mallets and chisels. Reclaimed timbers and frames are cut fully by hand.
The photos in this article show a frame we made and assembled for the historic B.F. Clyde's Cider Mill in Mystic, Conn. The 15-ft. by 24-ft. space, which will be covered with board siding to match the existing barn, is a cider storage room that will hold tanks of fermenting cider. The tanks' great weight is why the floor is framed with LVL joists. The building is also close to the coast, so it has additional bracing for wind loads. We can help engineers and other specifiers, who often have little experience with timber framing, design their timber-frame structures for almost any residential or commercial application. This frame, which has 115 pieces, took about five days to build in our shop. We delivered it to the job site on an equipment trailer early one weekday. With the help of a local crane operator, our three-person crew lifted the first pieces off the trailer around 9:30 a.m., and we finished assembly around 3 o'clock.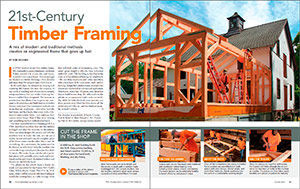 From Fine Homebuilding #283
Watch a video of the 90-ft. long joinery machine in action.
To view the entire article, please click the View PDF button below.
Learn more about timber-frame construction:
View PDF
Previous:
Build a Timber-Frame Shed
Next:
Timber Frame With Basic Tools