The Horizontal vs. Vertical Sheathing Debate
Does the direction you install plywood on a wood-framed wall affect how strong it is?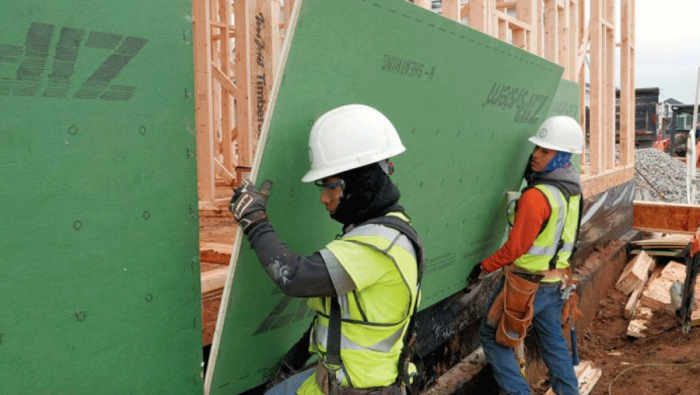 On an episode of the Fine Homebuilding Podcast, someone said that installing structural sheathing horizontally on walls is superior to vertical installation, but APA (the Engineered Wood Association) maintains both installations are equal provided the panels are attached to framing or blocking. Can you please cite a source that explains the case for horizontal sheathing being better, or at least clarify which, if either, orientation is superior?
—Kevin Brennan via email
Associate editor Matthew Millham responds: If all we're talking about is shear, where the load is parallel to the wall, you're right that there's no difference in performance between vertical sheathing and horizontal sheathing with the edges blocked. But that's just part of the story.
Structural sheathing panels have a "strength axis" that runs parallel with the panel's length unless marked otherwise. On roofs and floors, sheathing is installed perpendicular to supports because this is the orientation that results in the strongest roof or floor. Wind loads perpendicular to a wall are similar to floor and roof loads, and installing sheathing horizontally makes walls better at resisting wind pressure.
One place this issue shows up is in the American Wood council's Wood Frame Construction Manual (WFCM), where there's a table for wall-sheathing requirements for wind loads. Here, it's clear that horizontal sheathing outperforms vertical, especially at higher wind speeds. For example, in areas categorized as Exposure B— places where obstructions, such as suburban or wooded areas, temper the wind—a 3⁄8-in.-thick panel with a span rating of 24/0 (meaning it can be used on roofs with supports up to 24 in. on center, and not as floor sheathing) can handle three-second gusts up to 195 mph when installed horizontally on studs spaced 24 in. on center. Installed vertically, the same panel can only handle gusts up to 110 mph on the same stud spacing.
The IRC, meanwhile, allows you to orient the sheathing in either direction for wind loads, but includes an important exception: If you're using 3-ply plywood panels of any thickness on studs spaced greater than 16 in. on center, the IRC wants the panels installed with their strength axis perpendicular to supports (in other words, horizontally) to handle wind pressure. In those products, the grain of the face plies is typically oriented with the long axis of the panel (creating the strength axis), and the single alternate ply in the middle doesn't provide enough strength for it to handle wind pressure when the panel is installed vertically. And where designing for wind is required— mainly coastal areas of the southeast where hurricanes are common—the IRC points builders to the WFCM and other resources for guidance.
Photo: Tim Furlong Jr.
From Fine Homebuilding #283
Previous:
Efficient Methods for Installing Wall Sheathing
Next:
Working With ZIP R-Sheathing