How-To
Bay-Window-Roof: Final Installation
Once the bay window is in place, it's time to secure, insulate, and sheathe the roof unit.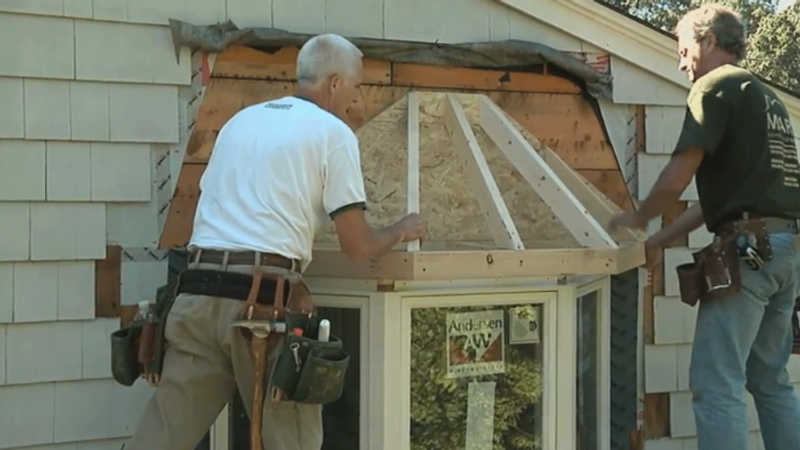 To prep the rough opening, the first thing we wanted to do was make sure the sill was straight and flat. The other thing was to put flashing tape around the bottom and the sides as well. We took the sash out of the window to make it lighter and easier to carry. If you spend a little extra time on the staging, the job goes easier. The goal was to get a couple of tiers here: one low so that we can step the window up, with the final top tier being even with the rough opening. Once the bay window is up on the top tier of the staging, we can slide it right into the rough opening without a problem. Because the top plank is going to bend a little bit with the weight, we have a couple of shims handy that we can shove right under there. Screws are temporary until we can get the sash back in place. Once the sash is in place, we level and plumb it, and put the permanent fasteners in place all the way around the inside.
All Videos in This Series
---
---
The insulation is very important-and it's very easy. Before we put the roof assembly down, we put 1 inch of rigid insulation. It acts as a good insulating barrier and thermal break. Just before we put the roof unit in place, it's critical to get the housewrap up and out of the roof area. The last thing we want is housewrap behind the roof we're putting on. We're measuring straight in-4½.
Now that we have the window in place, it's plumb, level, and square. Long ago, to keep it from sagging, we used to put giant brackets underneath to hold it in place. Instead of doing that, we now use a manufacturer's cable support system. The way it works is I'm going to feed this down through the top, and it's going to fasten underneath, at the bottom, at both outside points. The cables come up, and we're going to securely fasten them to the walls. This will keep the front end of the window from sagging over time. Now that the cable is in nice and tight, the next step is to insulate.
We tape the seams on the roof using a zip roof system. The nice thing about the system is that you don't need any underlayment. All you have to do is tape the seams all the way around, and once you do that, the thing is completely dried in.
Now that we're dried in for the night, we'll come back tomorrow morning to finish.
The outside is finished. A little trimwork on the inside, and I'm done.
Previous:
Bay-Window Roof: How to Install Sheathing