How-To
Bay-Window Roof: How to Install Sheathing
Cut and test-fit the three sheathing panels for the roof.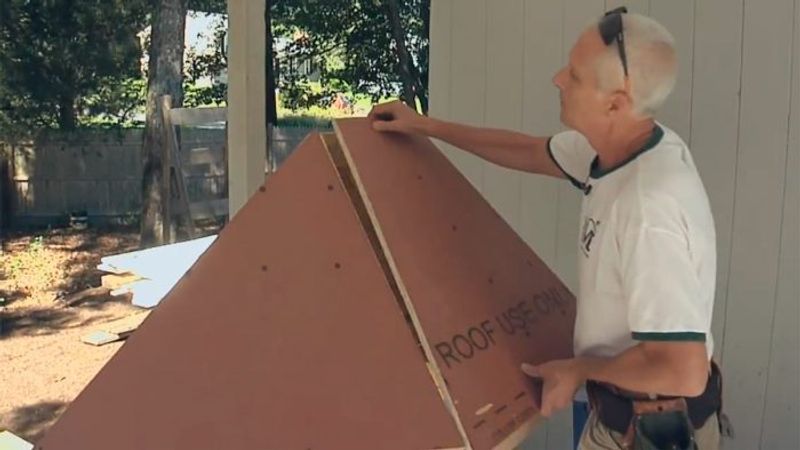 Now that the rafters are done, I'll take the measurements for the sheathing. I'll start with this triangle right here. First measurement is along the subfascia, point to point: 31 7/8. The next measurement is from the bottom of the subfascia right up to this point, but I want to extend the tape up, past the front point, to where it will eventually meet the building. That leaves us with 33 inches. The final measurement is along the back here. I'll do the same thing along the top and extend the tape about ½ inch for the same reason; now I've got 39 inches. Now that I've got all three measurements, I'll transfer them to the sheathing.
All Videos in This Series
---
---
When transferring the measurements to the sheathing, it really doesn't matter which one you start with. I'll randomly pick the subfascia measurement. Start along here-31 7/8. The next one is the 39-inch measurement. I'll pivot on the small arc here. The third measurement is 33; make another arc. Where these two arcs intersect is the point at which I'll draw a line to the other two points, creating a triangle for the roof.
Before I make a duplicate, I'm going to make sure this thing fits. It's perfect, so I'll cut the other one.
For the center section, I need three measurements. The bottom, which is 30 inches; the top, from point to point, 11¾; and the distance between the two, which is 31 inches.  I'll take these measurements and transfer them to the sheet. I'll start with the fascia measurement, which is 30 inches. I make a perpendicular line 31 inches away. Then I find the center of this line and transfer it up there. This was 30 inches, so 15 is the center. Now from that, I'll call this the center of the top piece, which was 11¾ inches. I'll connect these two points. At the top, I extend it up just about an inch or so to account for the thickness of the cleat. I'm going to go up an extra ¾ inch; you don't have to be exact. And there's the piece.
I'm just going to hold these in place to make sure they fit properly, but I can't fasten them permanently until the roof assembly goes on the bay window. I'm going to install that right now.
Previous:
Bay-Window Roof: How to Cut and Fit Rafters
Next:
Bay-Window-Roof: Final Installation