How-To
Framing a Strong Garage-Door Opening
Site-built shear walls help a building with large openings to stand up to high winds.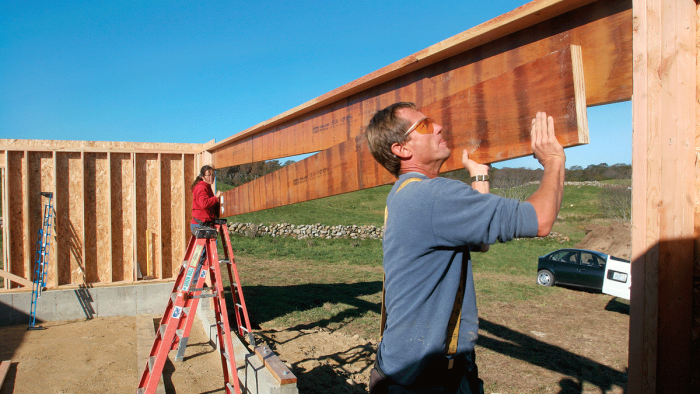 Synopsis: With their open floor plans, tall and narrow walls, and large door openings, garages are prime candidates for structural failure, especially when subjected to shear forces from high winds. Rhode Island builder John Spier has come up with a better way to frame garage-door openings to make them able to withstand intense shear forces. Specialized hardware, laminated veneer lumber, and a little know-how from the Wood Frame Construction Manual allow Spier to build these strong garage walls.
---
Images of collapsed buildings are pretty familiar these days, thanks to a number of severe windstorms in recent years. Among the most common of these catastrophic failures are the front walls of garages. A big storm blows in, the building racks to one side, and the entire roof drops to ground level in one swift motion. More than other structures or parts of a house, garages are prone to these failures because of their open floor plans, tall and narrow walls, and large door openings. The good news is that building codes and construction practices are responding to the problem with engineered solutions such as shear walls that can make these critical areas in a garage as strong as any other walls in a house.
Shear walls fight wind
Shear walls are made by gluing and nailing sheathing to hardware-reinforced framing. They resist diagonal forces such as gale-force winds and seismic shifts. In general, walls' most common weak spots include narrow, tall spaces like those found around garage doors, and areas with numerous window and door openings. In the days before plywood, carpenters stiffened narrow spaces with diagonal wooden braces or metal bracing. Plywood exterior sheathing solved most shear-loading issues, with the occasional addition of a sheathed interior wall, but as house plans have become more complicated, weak areas have become more common.
In today's world of engineered solutions, builders often can rely on quantifiable specifications like the ones found in the Wood Frame Construction Manual to build their own site-made shear walls. The manual details everything from nailing patterns to stud and plate layouts.

The shear walls are built in place
Much of this wall system is easiest to build in place, especially because building on stem walls with no slab in place means there isn't a flat space big enough to assemble a whole wall. But even if your site has a flat spot large enough to frame the walls on the ground, don't sheathe them until they are up and braced plumb, with the hold-down hardware bolted tightly to the studs. Each of the Simpson Strong-Tie HDU4 connectors used on this project requires 10 SDS screws, and tightening the hardware after the sheathing is applied is a sure fire way to pull things out of square and plumb.
Save time and improve strength with a continuous header
The header above a garage door is a critical structural element, especially in the project shown here: a freestanding 1-1 /2-story two car garage with dormers and living space above.  I relied on TrusJoist to engineer the flooring system for this detached garage, and as part of that service, the company also specified the use of double LVL headers over each garage-door opening. Because I was able to satisfy the shear wall requirements for this project without using the center divider between garage door openings, I chose to span both openings with one built-up LVL header. This decision freed me to frame a non-shear and non-load bearing center wall.
Once assembled, this shear-wall-reinforced garage frame should be strong enough to withstand any wind that comes along, and even an occasional earthquake. But it probably will get its ultimate test when my clients' teenager is learning to put the car back in the garage.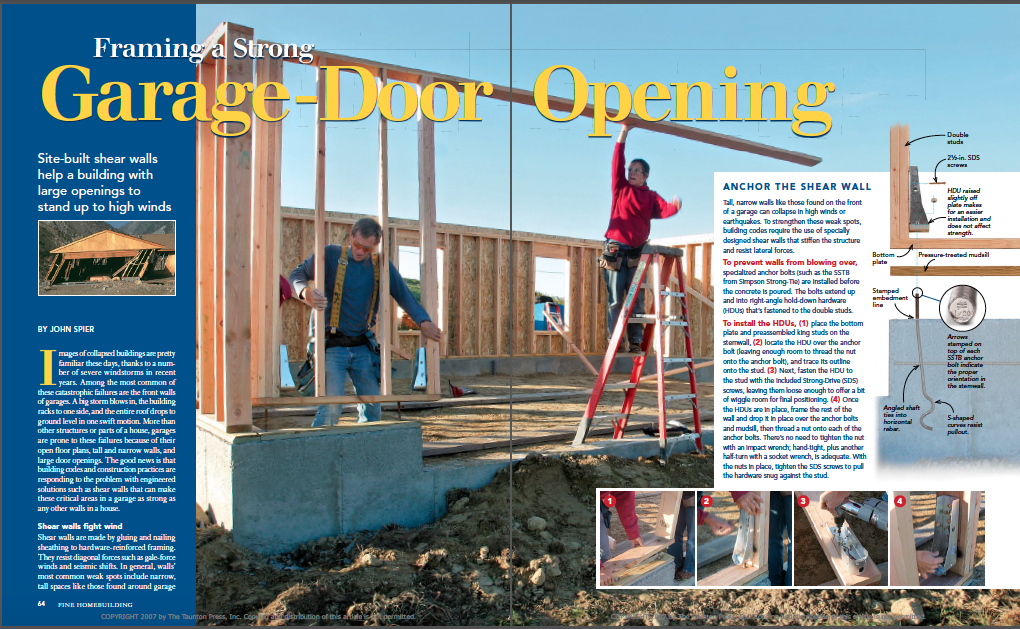 For more photos and information on how to anchor a shear wall, click the View PDF button below. 
From Fine Homebuilding #188
View PDF
Previous:
The Right Header for Every Wall
Next:
How to Draw An Arc When Framing an Arched Doorway