Framing Basics: 6 Tips for Spreading Wall Plates on a Subfloor
A systematic process for getting all the wall plates in place makes wall assembly a whole lot easier and more efficient.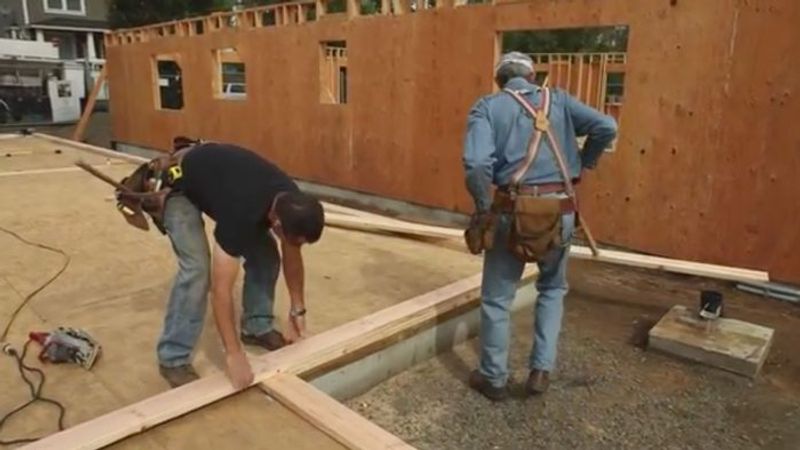 Framers Larry Haun and Scott Grice demonstrate how to efficiently lay down, cut to length, and tack down wall plates before assembling new walls
1) Plan which walls will butt to which
A predictable plan for joining walls can make mistakes less likely. We laid this house out so all of the through walls run all the way through the house, parallel to the longer outside walls. Butt walls will butt to the through walls, perpendicular to the outside walls.
2) Spread all the plates before you assemble a single wall
To spread the wall plates, put down two plates on every line all through building. Put down bottom then top plates for each wall. Laying walls back in this way makes framing easier.
3) Tack the plates down so they stay put while you mark them
Scatter all the plates and nail them down with 8d nails so that they will stay in place. Using short 8d nails makes it easy to pull the plates back up in order to frame the wall. Make sure to lay the first plate right on the line. Watch for any plumbing or other obstacles and trim the plates around them accordingly.
4) Break plates at least 4 ft. from intersecting walls
Top plates have to break at least 4 ft. away from any intersecting wall to maintain the wall's strength. Stagger double top plates at least 4 ft., for the same reason.
5) Plan ahead at intersecting walls
At intersecting walls you need to make sure the wall is right on the line because another wall butt it. Also, keep the 8d tacks away from the intersection or it will get it the way of a stud or wall buck later on.
6) Cut plates in place to save time
Cutting in place is faster than measuring, marking, cutting and carrying the cut board to where you want it. Mark the final cut with a square or simply cut it by eye. To cut the plate by eye, you need to square the saw to the board. To do this, make sure that the front edge of the saw is parallel with the edge of the board and the cut will be square.
---
Watch Scott and Larry's previous video on wall framing:
Other related links:

Previous:
Framing Walls with Larry Haun
Next:
Framing Walls with 8-ft. Studs