Tools & Materials
High-Tech Timber-Frame Joinery Machine
Watch a 90-ft.-long custom CNC machine make all the precise cuts for a timber rafter.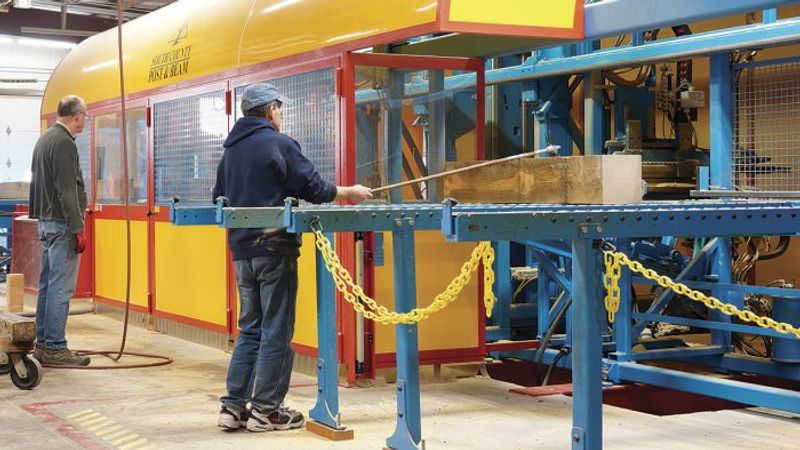 The most powerful tool in our timber-framing shop is a Hundegger K2i, a CNC multihead machine that cuts the timbers to length and does the majority of the joinery. After our team designs the joinery and tells the machine how to make the cuts, we can put a timber in one end and a nearly complete piece of the frame comes out the other. But it can't do everything. At a minimum, the joints need to be cleaned up with hand tools; the machine also can't make large curved parts, because they don't fit inside. We make those and the other problem pieces with portable power tools and traditional mallets and chisels. Reclaimed timbers and frames are cut fully by hand.
Cutting a frame in the shop
A 6000-sq.-ft. steel building holds the 90-ft.-long joinery machine, and there's another 13,000 sq. ft. of shop space for hand work, finishing, and dry fitting.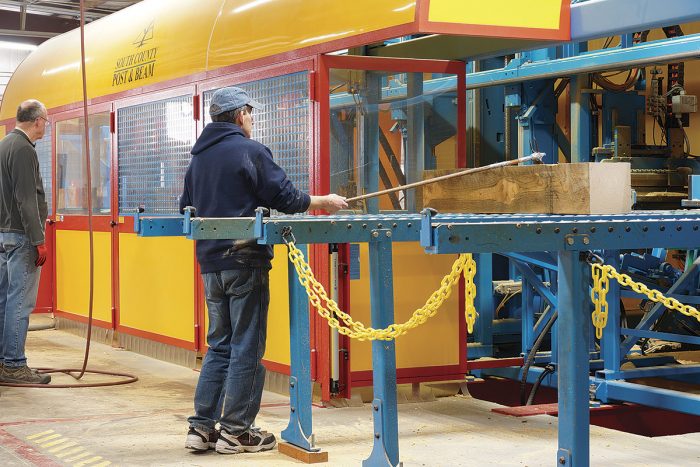 MACHINE MADE COMPONENTS: Most frame parts are cut to length and the joinery is made with a German-made Hundegger K2i CNC joinery machine, but the machine-cut joints often need corners squared and stray wood fibers trimmed.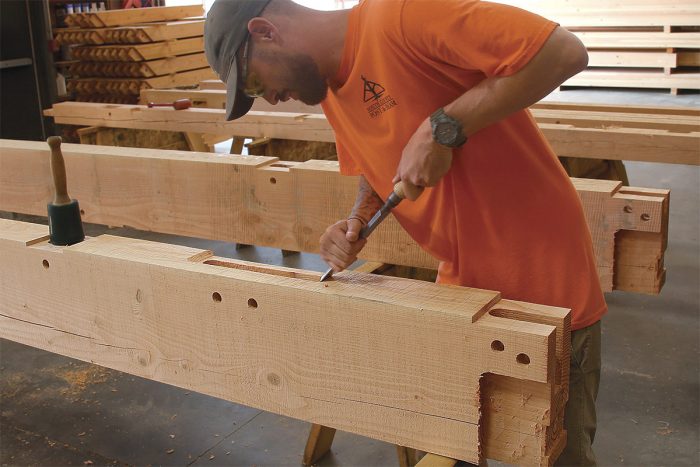 FINE-TUNE THE JOINERY: Joinery and cuts are fine-tuned and chamfered with traditional timber-framing tools, including block planes, chisels, and mallets. The heavy timbers are handled with forklifts to boost efficiency and prevent injury.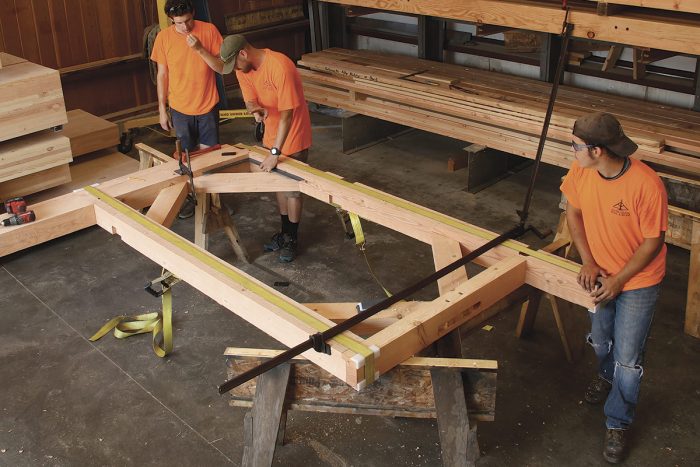 DRY-FIT THE PARTS: Once all the components are ready, individual frame sections are assembled and made square with pipe clamps, ratchet straps, and dead-blow hammers. Sturdy sawhorses put the parts at a comfortable working height.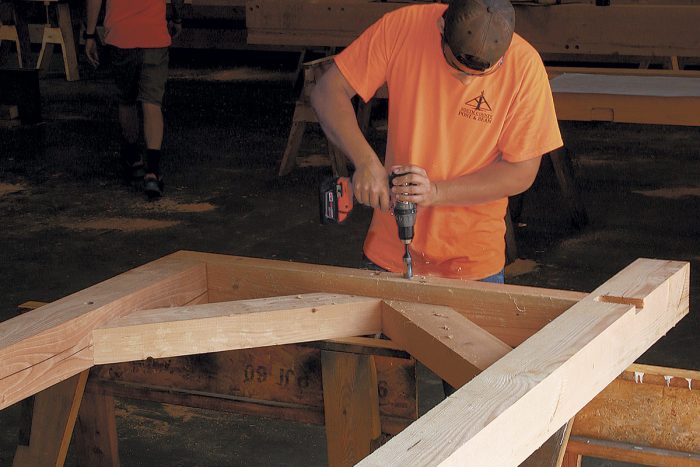 DRILL THE TENONS: Once the pieces are together and square, the framers drill holes through the tenons using the machine-cut holes in the mortises as a guide. The pieces are then taken apart, banded, and placed on pallets for delivery.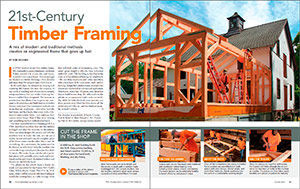 From Fine Homebuilding #283
See the entire article: 21st-Century Timber Frame
Learn more about timber-frame construction:
Previous:
Hybrid Timber Frame
Next:
Quick Connectors for Timber Framing