Tools & Materials
Hitachi's NR83A5 Framing Nailer
This battle-tested nailer still nails it.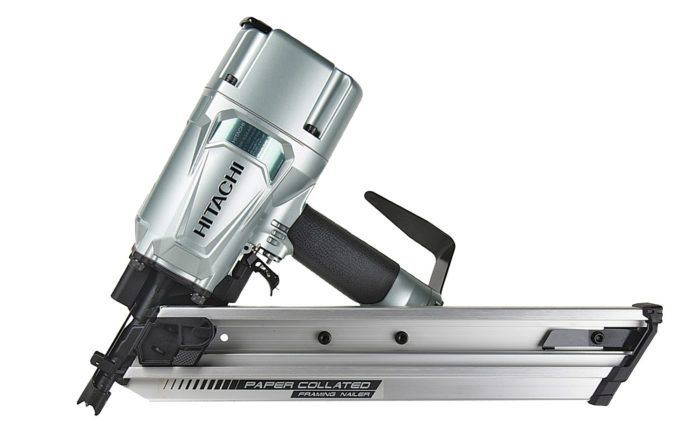 Note: Hitachi Tools is now called Metabo HPT, but you can still buy many of the same great tools now under the new name, including the framing nailer reviewed in this article.
I have framed dozens and dozens of homes in conditions ranging from blistering heat to subzero cold with Hitachi's classic NR83 framing nailer. But when I got the latest version, the NR83A5, I noticed some changes. The first and most obvious is the shape of the tool itself. It's sleeker and a little better balanced. This is still a heavy tool (9.1 lb.), especially if you've gotten used to working with a lighter framing nailer. But in my experience, that heft translates to durability.
Along with its sleeker body, there are other upgrades, including a new selectable trigger that switches between sequential and bump-fire modes without tools. I don't find this to be much of an advantage, as I generally set it to bump-fire and never look back, but others may disagree. Hitachi also added a thick rubber grip. It might not sound like a big deal, but leave your metal nailer in the sun on a summer day and you will quickly understand why it's appreciated.
The A5 is also equipped with Hitachi's excellent adjustable depth-of-drive mechanism located right on the nose of the nailer. It's easily accessible, durable, and can be operated even with gloves on.
Unfortunately, not all is perfect. The newest NR83, like its predecessors, still struggles to bury 3-1⁄4-in. by 0.131-in. nails into an LVL, so they have to be finished off with a hammer. It also has the same metal magazine that bends too easily when it takes a blow from a falling 2×4. Hitachi finally added a belt hook, but unfortunately the flimsy piece of metal is a complete fail. Hang the tool from your bags and its weight alone is enough to bend the hook wide open, rendering it useless. I wouldn't consider giving my crew a nailer without a hook, so I tossed the Hitachi hook and installed a high-quality foldaway hook from Toolhangers Unlimited that I bought on Amazon.
Even though I wish it had a little more power and its new belt hook is a joke, at its heart this tool is the same battle-tested beast that framers have been trusting for decades, especially when it comes to longevity and reliability. If you're looking to outfit a crew for production framing, you'd be hard-pressed to make a better choice than the NR83A5.
Hitachi's NR83A5 Framing Nailer specs
Nail length: 2 in. to 3-1⁄4 in.
Nail diameter: 0.113 in. to 0.131 in.
Price: $300
From Fine Homebuilding #277
Previous:
Choosing the Right Framing Nailer
Next:
Pneumatic Framing Nailers: Why Choose Coil over Stick?