Simple Steps for Window- and Door-Framing Layout
Learn a few measuring shortcuts that make accurate rough-opening layouts a snap.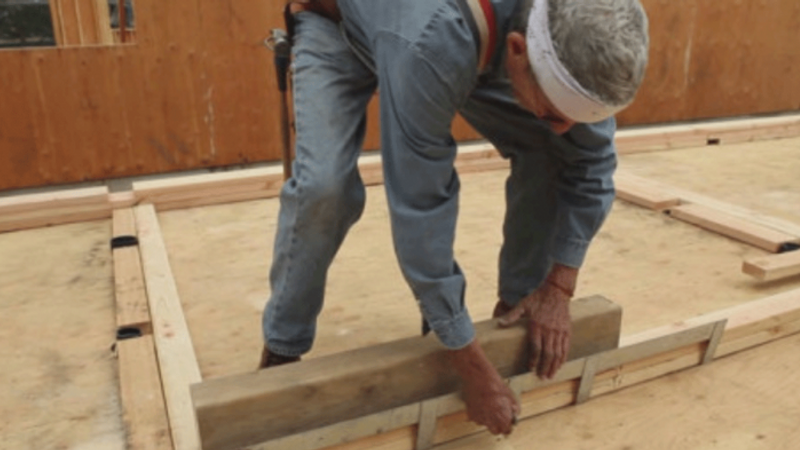 Synopsis: Professional framer Larry Haun shares a few measuring shortcuts that make accurate rough-opening layouts a snap.
---
A faster way to center a window on a wall
When you need to layout a window that centers on an interior wall, you could do a lot of measuring both ways to find the center and then find the edges of the rough opening, but there's an easier way: Put the header tight to one inside corner, and measure the remaining length of the wall from the other end of the header to the opposite end of the wall. Then, divide that measurement in half. The number you get will be the distance from each end of the wall to the corresponding side of the window rough opening. This method save a lot of time, and it's accurate.
Mark the layout for a window and adjacent studs
Once you mark the location and width of the rough opening on the wall plates, it's time to continue the wall layout. First, draw an X to the outside of the rough-opening marks and a horizontal line to the inside of the marks. Then, with the header sitting on top of the plates, take your tape-measure or stud-layout tool and continue your stud layout through the window location, including marking the layout of cripples on header. be sure to extend these marks onto the bottom plate and top plates.
Rules of thumb for locating a door in a corner
How far you come out from a corner depends on how wide your door casings will be. If you have simple 2-1/2-in. trim like the Habitat for Humanity house in this video, a single stud in the corner will bring the rough opening out far enough to fit the casing. If you're building a house with more elaborate trim work, the edge of the rough opening might come out 5 inches or more from the corner to leave room for the casing.
Lay down the header and mark similar to a window rough opening
Because we're laying out a door on an small interior wall, the layout can just start at the corner of the wall. Also, you don't need to mark stud locations on the bottom wall plate because cripple studs will only go over the header above the door rough opening. Other than that, just use your tape measure or layout guide to mark studs, as you would for a window.
Watch Larry Haun and Scott Grice's previous videos on wall framing:
Further Resources
Previous:
How to Lay Out and Frame a Rough Opening for a Door
Next:
How to Frame a Door Opening