How-To
Types of Roof Trusses
Architect Rob Thallon outlines the six most common roof truss types.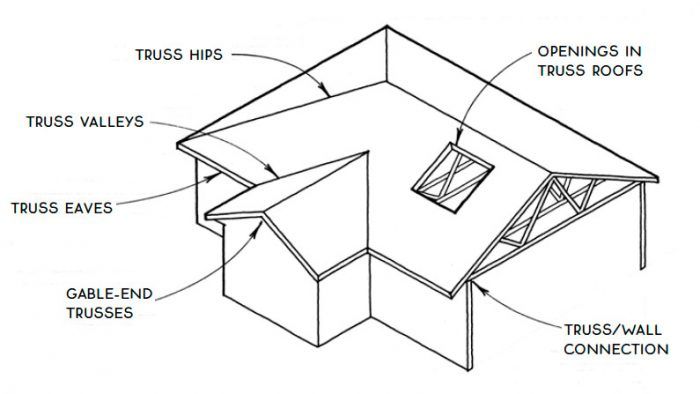 Roof trusses, like floor trusses, are a framework of small members (usually 2x4s) that are connected so that they act like a single large member. They are always engineered by the manufacturer.
Engineered roof trusses can span much greater distances than the stick-framed rafter-and-tie system. Long spans (over 40 ft.) are possible with simple trusses so that large open rooms may be designed with roof loads bearing only on the perimeter walls. Interior walls may simply be partition walls and may be repositioned without compromising the roof structure.
A second advantage of roof trusses is the reduction in roof framing labor. Trusses are typically set in place by the delivery truck and may be positioned and fastened in a fraction of the time it would take to frame with rafters and ties. Trusses are also more precise than stick framing, and, with the advent of computerized manufacturing, they can be made to conform to virtually any complex combination of roof forms.
Trusses are not without their disadvantages, however. The webs of the truss occupy space that could be available for storage or as a full-size attic. Furthermore, these webs cannot be cut for any future remodeling purposes.
Six common roof truss types are shown in the drawings below.
Previous:
Introduction to Roof Trusses
Next:
Truss Options