How-To
Valley Framing: Calculating the Jack-Rafter Assignment
With the run measurements made from the site conditions, Warwick CTC students calculated the diagonals and made templates.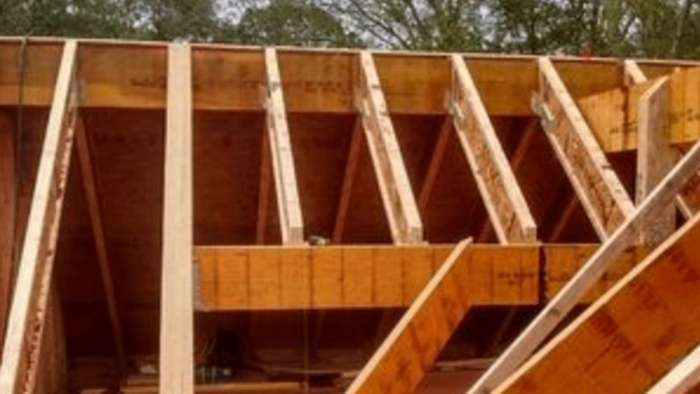 The valley between the north and east roofs is a common valley, with the intersecting roofs at the same 10-in-12 pitch.  The challenging part is that the sub-ridge brakes the valley line into two sections. The lower section is a true valley, with a valley rafter between a rafter beam and the sub-ridge, and the upper part is a layover valley. I couldn't figure out a simple way to pinpoint the center of the valley line between the rafter beam and the cross-gable ridge. I ended up extending the plane of the cross-gable rafters to locate where it met the main roof plane on the rafter beam. At the cross-gable ridge, I located the point where the main rafter plane met the edge of the ridge board. I ran a string between the points. The string pinpointed the position of the valley rafter between the sub-ridge and the rafter beam.
From there I could calculate and cut the valley to length.
Ordinarily a ridge-to-plate valley rafter has a top plumb cut with single or double bevels, and a seat cut. On this one, the top and bottom cuts are plumb cuts with single bevels.
I didn't have time to calculate the valley jack rafters when working on the weekend, and Monday it's supposed to rain. So here is a plan view with measurements that the students at Warwick CTC used to calculate the jacks.
The valley jack layout has three jacks. I marked measurements on the plan. The measurements are all runs (horizontal measurements). They are not diagonal measurements.
Here's what the students came up with for the diagonal lengths for each rafter:
The hangers used to mount the valley jacks to the valley rafter are skewable. An unskewed one is lying flat on the floor beneath one I bent and tack-nailed to the side of the valley rafter. Using the skewable hanger eliminates the need to make an angle cut on the valley jacks. They can just be square-cut to the short-point measurement.
Previous:
A No-Math Approach to Valley Plates
Next:
Introduction to Roof Trusses