Design
Build a Dry, Risk-Free Finished Basement
Capturing this additional living space correctly and confidently requires a careful approach to the site and foundation.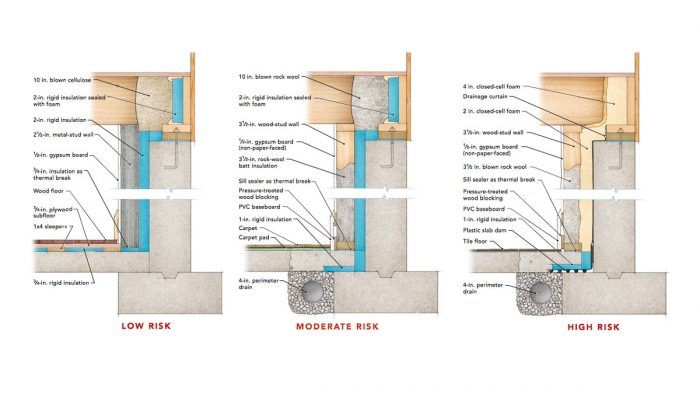 Synopsis: It's no surprise that finishing a basement is a popular project. It can add living space to a house at far less cost and complexity than building an addition. At the same time, because of the heightened threat from water and moisture, a basement remodel can create problems if it's not done correctly. With that in mind, architect Steve Baczek shares his approach to finishing basements, which begins with an assessment of the risk from water and moisture. Drawings demonstrate typical strategies for detailing basements with low, medium, and high levels of risk, and a sidebar discusses code considerations. Through a drawing of the exterior of a house and its site, Baczek shows the steps to take for managing water before even beginning work on the basement.
---
Finishing a basement can create extra living space with far less cost and complexity than an addition that expands the home's footprint. Perhaps for that reason alone, finishing a basement is a popular project for many homeowners. But a well-designed basement remodel is much more than an assembly of studs and drywall thrown up over a foundation wall, then trimmed and painted. Understanding and managing the risk of moisture and bulk water are imperative to developing a successful basement design, as is getting the insulation and air-sealing details right.
By assessing your site and basement accurately, and detailing your foundation floor and walls appropriately, not only can you improve the comfort, health, and efficiency of your home, but you can tackle the fit and finish of your basement with complete confidence in its durability and longevity.
Economics of performance
As with all construction projects, risk and performance in a basement remodel exist on a sliding rule of cost. Minimizing risk, providing durability, and ensuring proper performance come with a price. But when is good enough really good enough? It is easy to think of a basement as "cheap" space, but if the remodel is not well planned, it could easily be an inexpensive project that leads to expensive problems down the road. Improper water management can lead to health and durability risks; improper thermal management can lead to comfort risks. When it comes to considering the budget for a basement remodel, it's helpful to follow the general guideline that as cost decreases, risk increases. The challenge is to find a suitable balance between cost and risk.
Rating the conditions
Because of the below-grade location of most basements, the existence of water is generally the measuring stick of risk. I typically rate existing foundations as having low, moderate, or high levels of risk. To me, low-risk foundations are not challenged at all by water infiltration. They are most often located in a high, well-drained area, and they have no evidence of water problems from the walls or the slab. Remodels should still be detailed carefully, though, since dramatic weather-related water events could occur at any time. I have also seen basements compromised because site conditions changed naturally, or more frequently, because neighboring properties were developed.
A basement with a moderate risk level has seasonal challenges. In colder climates, water from the spring thaw can saturate the ground. In warmer climates, water might become a problem during the rainy season. Regardless of the source, a moderate-risk scenario has water issues for up to half of the year. If you've lived in the house for a period of time, you certainly know if and when water issues are a problem. If you're working on a home without historical context, look for evidence of bulk water in the basement in the form of staining on the slab and/or mineral streaks along the foundation walls. Your new neighbors might also be able to provide some insight into existing conditions, but keep in mind that every property is unique. Just because your neighbor's basement is dry doesn't mean yours is.
For more photos and details, click the View PDF button below:
---
RELATED LINKS
View PDF
Previous:
How to Patch Holes in Housewrap
Next:
Dampproofing and Waterproofing for Foundation Walls