Tools & Materials
Cellulose: The Perfect Insulation
Cost-effective, versatile, and green, cellulose may be the hardest-working insulation available.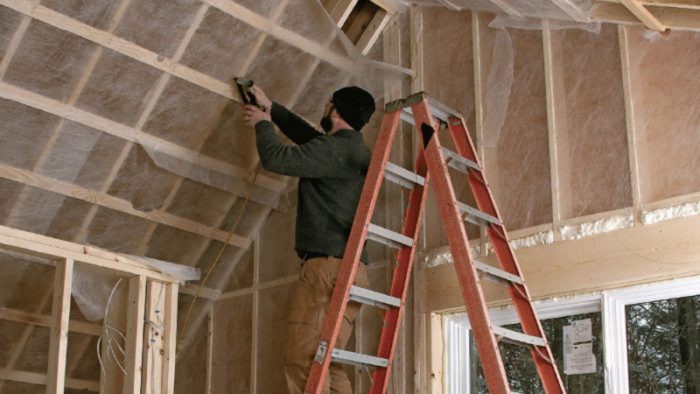 Synopsis: In this article, Michael Maines gives an in-depth look at cellulose insulation. He describes the paper material and boron compounds that make up cellulose insulation, and gives information about the R-values, fire resistance, water resistance, mold and fungus resistance, sound control capabilities, and positive environmental impact of cellulose insulation. Maines also describes the three common methods of installing cellulose: loose-fill, dense-pack, and damp-spray. The article includes an estimate of the cost of each type of installation per sq. ft. along with drawings of each type of assembly, and includes air-sealing and setup tips to remember during installation.
---
No other insulation takes less energy to produce, uses more recycled content, or is less toxic to humans than cellulose. It has respectable R-values, resists air movement, absorbs sound, and is highly resistant to fire, pests, and moisture. No insulation is perfect for every situation, but my first choice whenever it will do the job is cellulose.
A lot of older attics feature a thin layer of flaky, dusty cellulose, blown in sometime between the 1950s and 1970s, but cellulose didn't really take off until the 1990s, when high-powered blowers, insulation netting, borate treatment, and fiberizing combined to create an insulation product that was costeffective and versatile with three common methods of installation: loose-fill, densepack, and damp-spray.
The installation cost of loose-fill, which is most common on attic floors, starts at $1.30 to $2 per sq. ft. of floor. This assumes you're working with a reasonably accessible attic and an insulation layer from R-38 to R-60. Expect to pay several hundred dollars more for setup, breakdown, and air-sealing measures.
The cost of dense-pack installation, which is used in both new construction and remodeling, starts at about $2 per sq. ft. of wall area. Projects with difficult access and those requiring scaffolding or extension ladders will cost more, as will air-sealing measures. Double-stud walls and extra-deep ceiling cavities also cost more (in the $3 to $4 per sq. ft. range), and are best done by creating "cells" with scraps of netting, as large cavities don't allow for consistent packing.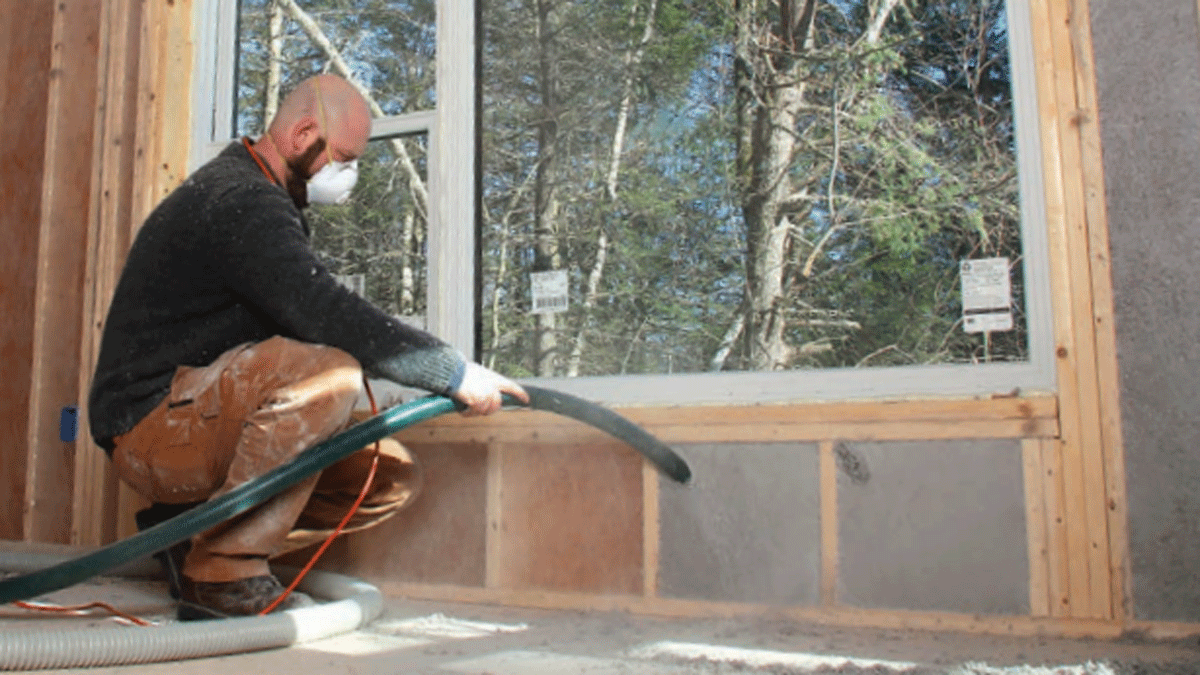 I'm not aware of any damp-spray installers here in Maine where I work, but I'm told it works out to $1.25 per sq. ft. for 2×4 walls and $1.75 per sq. ft. for 2×6 walls.
In addition to the bagged product used in the three installation methods described above, one company, Cellulose Material Solutions (cmsgreen.com), makes cellulose batts and blankets. The batts are meant to replace fiberglass or mineral-wool batts and the blankets give fans of cellulose a replacement for rigid foam and semirigid mineral-wool insulation.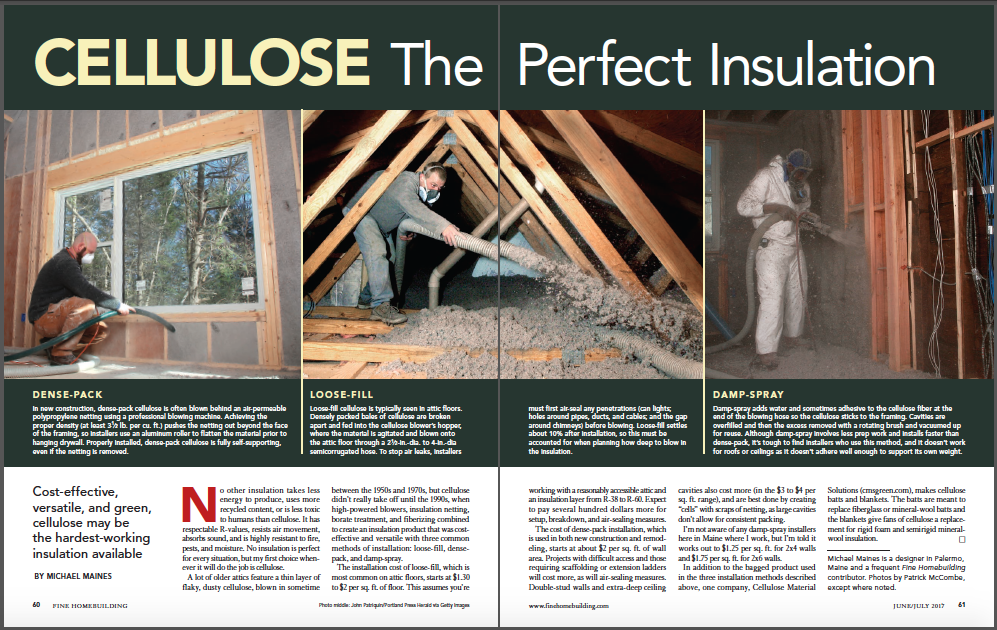 From Fine Homebuilding #268
For more photos and details, click the View PDF button below:
View PDF
Previous:
What to Consider When Choosing Insulation
Next:
Dense-Pack Cellulose Coverage Chart