Tools & Materials
Choosing the Right Thickness of Exterior Foam
Rigid foam must be thick enough to prevent condensation on the roof sheathing.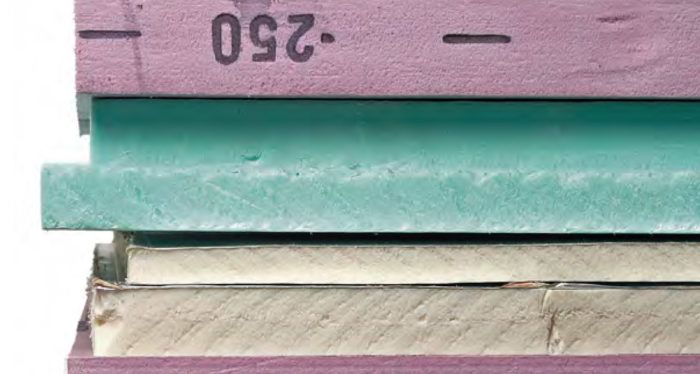 When combining exterior foam insulation with fiberglass, cellulose, or mineral-wool roof insulation, the foam layer must be thick enough to keep the sheathing temperature above the dew point. Otherwise, water vapor can condense on the back side of the sheathing, elevating the moisture content of the materials and possibly resulting in mold and rot. The problem is compounded because the exterior foam layer and most common roofing materials prevent drying to the exterior. To prevent wet sheathing, the IRC requires builders to use Table R806.5 to determine the foam thickness to prevent condensation. Warmer climates require less foam. Colder climates need a thicker layer. See the table below, and read more about choosing the right type of exterior foam in Michael Maines' article, "Get the Right Rigid Foam," in FHB #273.
TABLE R806.5
Climate Zone
Minimum Rigid Board on Air-Impermeable Insulation R-Value
2B and 3B tile roof only
0 (none required)
1, 2A, 2B, 3A, 3B, 3C
R-5
4C
R-10
4A, 4B
R-15
5
R-20
6
R-25
7
R-30
8
R-35
For more information about why thickness matters when choosing rigid-foam insulation, read Martin Holladay's article, Calculating the Minimum Thickness of Rigid Foam Sheathing at GreenBuildingAdvisor.com.
From Fine Homebuilding #273
Previous:
Insulating Unvented Roof Assemblies
Next:
Insulating Tight Spaces at the Eaves