Design
A Bolder Backsplash
Back-painted glass offers a colorful, durable option for kitchen (and bathroom) walls.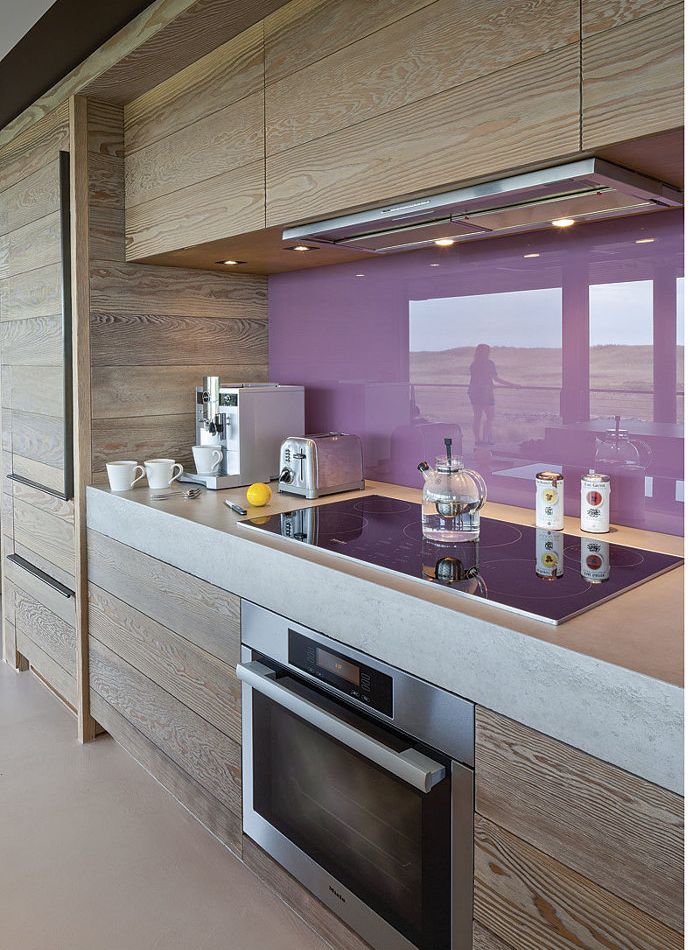 Synopsis: Back-painted glass is an increasingly popular surface material because it looks great and provides an easy-to-clean surface that's nearly seamless. The material starts out as normal tempered glass that is then painted on its back side. The color choices are almost limitless, and the glass surface can be smooth or textured. This article explains the surface prep and describes the installation process. Good-looking examples of applications are featured in both bathroom and kitchen settings, which are the two most popular locations for back-painted glass. Designers, installers, and general contractors provide tips on how to get a flawless installation.
---
For a sleek, contemporary look in kitchens and bathrooms, back-painted glass has become a popular alternative to tile or synthetic solid-surface materials. The appeal is easy to understand: Back-painted glass is available in practically any color, is easy to clean, is durable, and can cover large surfaces without seams or grout lines. Best of all, its subtle, reflective surface brings a dramatic splash to any room.
Back-painted glass costs more than midrange ceramic tile but is on par with upper-end materials once all costs are figured. The biggest downside is availability: Not all small glass companies handle it. You'll likely have to find a large glass company, and you'll have more companies to choose from in larger metropolitan areas. Additionally, the substrate, usually drywall, must be absolutely flat in order for the glass to be installed securely.
What is back-painted glass?
The process of painting glass goes back to the 1950s, but it was less than 10 years ago that the material became popular in residential and commercial design, primarily for backsplashes and walls but also for countertops and even tabletops.
The glass used has to have a low iron content and so have only a minimal green tint. The paint, unique for this application, is typically applied in two layers, with an additional sealer coat applied to the back side of the glass at a special facility. Then the glass is baked to harden the coatings.
The glass used may be regular (polished surface), matte, sandblasted, or etched with a pattern. Size limits depend on the vendor you are working with, but standard sheets measuring 84 in. by 130 in. are common. That makes it possible to do an average bath surround with just three pieces of glass.
Back-painted glass, which is typically tempered, is available in thicknesses ranging from 1⁄8in. to 1 in. Thickness varies by application, but 1⁄4in. is typical for backsplashes. The glass can be drilled, notched, or even bent to suit many architectural situations. Pricing varies based on thickness, cutouts, and other factors, but figure on about $60 per sq. ft. for 1⁄4-in.-thick tempered glass. While that may seem high, the installation, assuming a flat wall, takes very little time compared to tile, which requires lots of cutting, setting, and grouting.
Where can you use it?
Kitchens and bathrooms are the most common places to install back-painted glass, but that's just a start. Architect Liesl Geiger-Kincade, who operates Studio Geiger Architecture in New York City, has used back-painted glass for 10 years for kitchen backsplashes, as tub surrounds in bathrooms, and even on the doors of an armoire cabinet. She loves how the material transforms a room. "Back-painted glass adds an ephemeral layer of light to a room," she says. "It is a continuously changing surface. Sometimes the surface is color, sometimes glowing light, sometimes reflection."
Geiger-Kincade has a suggestion for working with back-painted glass: "To get the color you'd like, be sure to ask for some samples. You need to specify the exact type and brand of glass you will use in order to control the color of the final installation. Typically, we ask for samples on regular glass and low-iron glass such as Starphire. Regular glass has green in it, and Starphire is more clear, but it can also have a blue edge."
For more photos and details, click the View PDF button below:
View PDF
Previous:
How to Cut a Laminate Countertop for a Sink
Next:
Guide to Countertops: Natural Stone