The Open-Plan Kitchen: Is It Right for You?
Designer John Kelsey explores the open-concept kitchen and weighs in on the important considerations to make when crafting a design plan.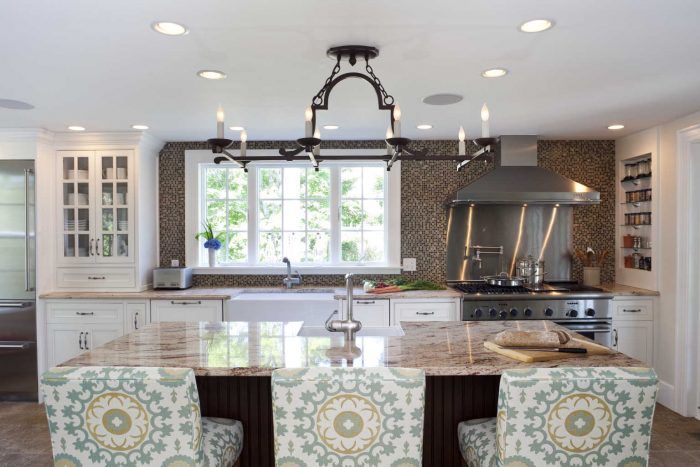 Editor's Note: I've known about John Kelsey and Sally Wilson's work since my days at Northshore HOME magazine. Their firm, Wilson Kelsey Design, is well regarded on Boston's North Shore, and while I've always appreciated their aesthetic and approach, I've been equally impressed with how John regularly documents their design process and generously shares practical information for homeowners. He's a great blogger because he talks about topics that consistently interest people—plus it's evergreen content, meaning it continues to remain relevant. The guest post below is a good example. Replete with a brief history lesson; before and after floor plans; and lots of problems, solutions, questions, and answers, John delves into the open-concept kitchen design trend, pointing out the pros and cons along the way. This is John's second contribution as a guest blogger (see Kitchen Renovation: From Concept to Completion), and I am grateful he is willing to share his insights as a seasoned designer with an informed point of view.
---
The open plan kitchen seems to be an integral part of everyone's dream home. Real estate brokers will tell you it's always on their client's must have list. In new homes, they are looking for kitchen, dining and living spaces combined into one large contiguous room.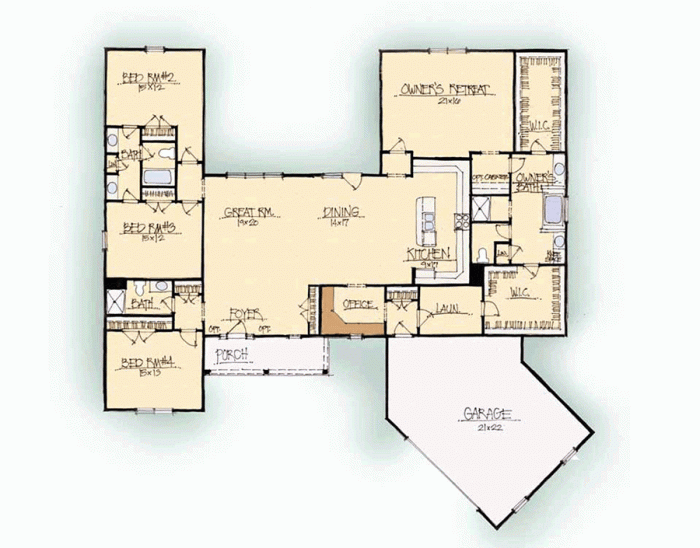 In existing homes, they want to see the kitchen and dining room combined or they will ask if the wall between the kitchen and dining room can be taken down.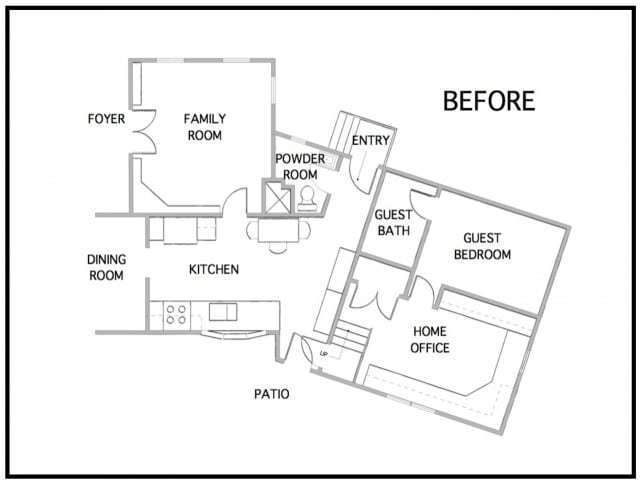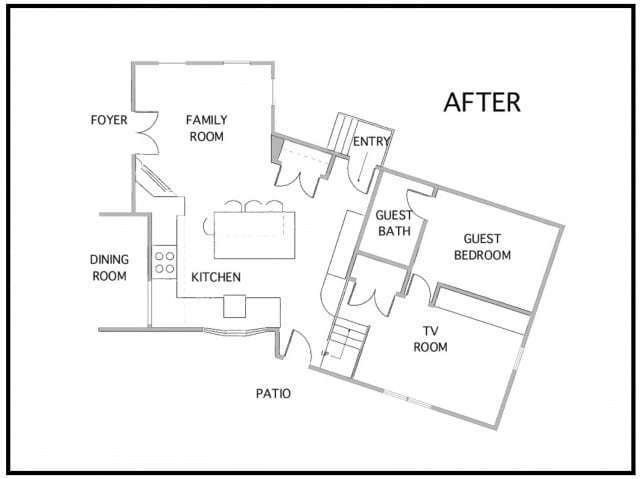 The notion of open concept living has been in evidence for quite some time. Frank Lloyd Wright introduced the concept of combined living spaces as early as 1901 as seen in this brief article published in Ladies Home Journal.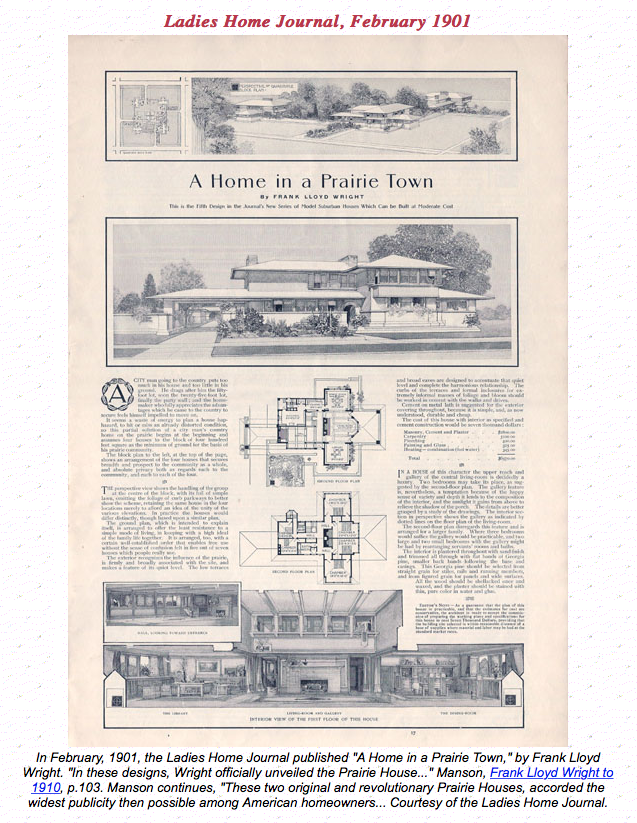 If combined living spaces is what you want, be my guest. However, if you yearn for a more curated look, consider combining an open plan kitchen with a more conventional floor plan. Shortly, you will see several projects that illustrate how you end up with the best of both worlds.
The Open Plan Kitchen: Its Challenges and Pitfalls
Today, the kitchen is called the Heart of the Home – where everything happens. We entertain, do homework, kids and friends hang out, watch TV, talk on the phone, dine, etc. We even prepare meals there. Yes, pretty much everything. But perhaps, all those activities occur in the kitchen because it's the only clearly defined space in that combined kitchen/dining/living space. It has a suggestion of place.
No wonder the bedroom and bathroom have become such havens and sanctuaries.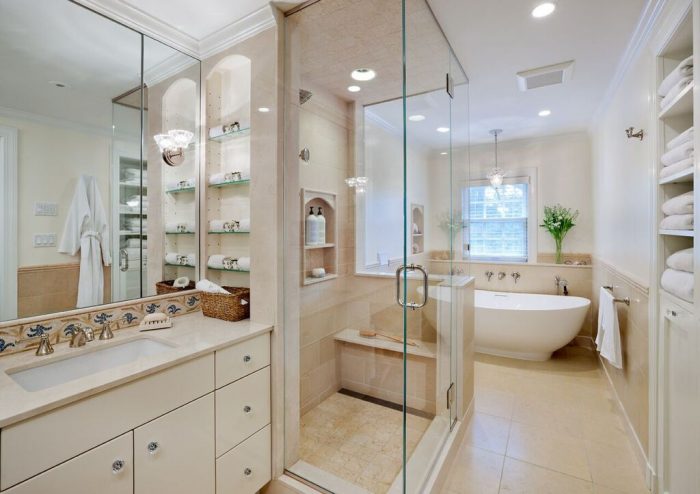 Tech has become an enabler. Improvements in construction technology and techniques allow for greater spans. Air conditioning and today's appliances have allowed us to move the hot, humid kitchen out from between four walls. The work triangle has evolved into activity centers with sinks and or faucets at each location – prep, wash and cooking, enabling us to be more efficient. Sounds wonderful, doesn't it?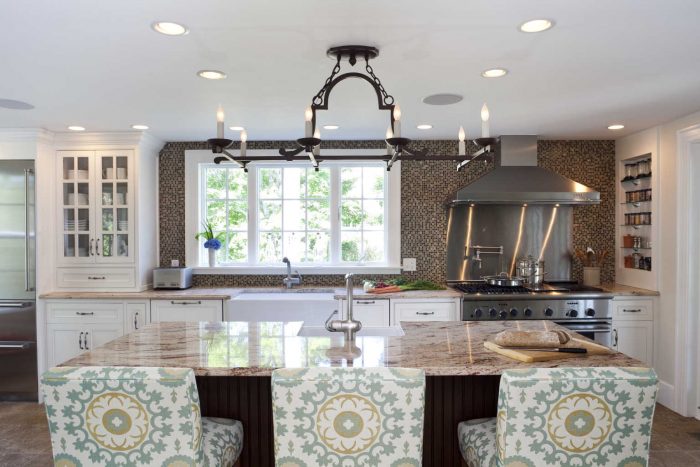 However, if we drill a little deeper, we being to find chinks in the  armor of the open plan kitchen and open concept home. In a recent Boston Globe article, owners of open concept homes report they feel like they have too much togetherness. There's too much noise and no privacy. It's hard to separate adult time for kid time. They can't hide the mess of the kitchen and always feel pressure to clean up. Smells permeate the house and food finds its way to and on/in unlikely places. The home owners are putting up walls again.
The Open Plan Kitchen: The Neat Kitchen/Messy Kitchen Solution
In response to their client's input, Schumacher Homes is now offering open concept homes with two kitchens – a neat kitchen and a "messy kitchen".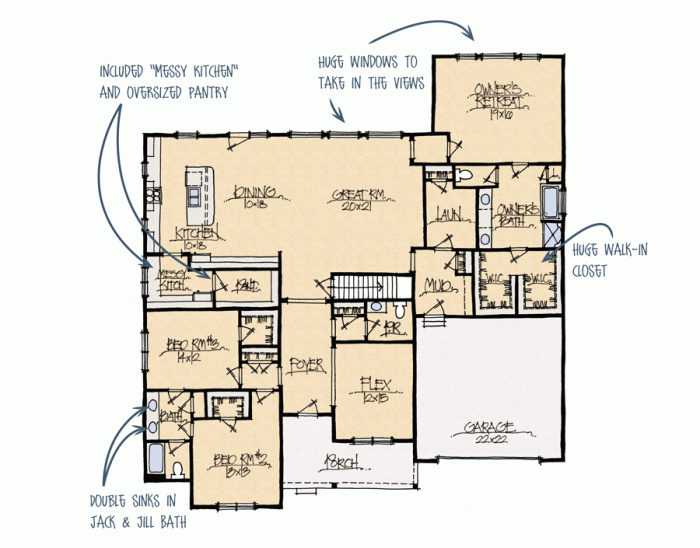 The neat kitchen is part of a large open kitchen/dining/entertaining/living area with a range top, oven, exhaust hood, micro wave and sink.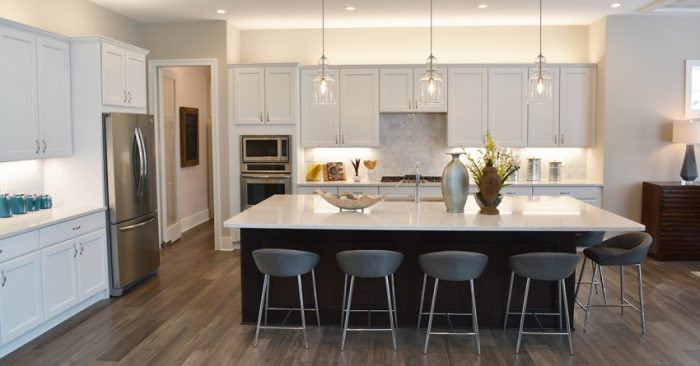 Immediately adjacent to the neat kitchen is an enclosed "messy kitchen" with fridge, sink, dish washer, pantry and open shelves. Prep and clean up is done in the messy kitchen, while cooking, eating and visiting/entertaining occur in the neat kitchen.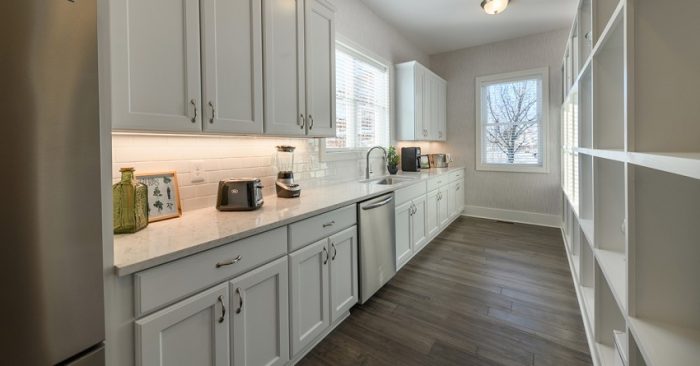 The messy kitchen sounds remarkably similar to Frank Lloyd Wright's early designs and the more familiar classic kitchen/pantry/dining layout.
My take away from both of these examples is walls are being built in order to address problems and meet needs. Perhaps the pendulum is starting to swing?
The Open Kitchen Plan: Case Study 1, our own home…
While I'm not advocating reverting to a home with fully enclosed rooms, I do think we need to consider the introduction of strategically placed walls, openings and doors creating opportunities for a more curated esthetic.
When Sally and I designed the addition to our house, we renovated our kitchen as well. We thought long and hard about demolishing the wall between the kitchen and dining room. (Our pre-addition house footprint is below.)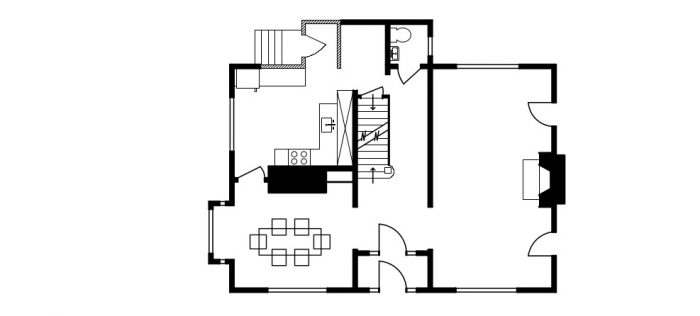 Ultimately we decided not to. Here's why. Some reasons were functional. Others were esthetic.
We can hide the mess if we choose to.
The actual kitchen layout would have had to been larger because of lack of wall space.
Did we really need two informal dining areas?
Smells are managed by the separation of kitchen from the rest of the house. The range exhaust fan is used frequently to remove cooking odors.
Noise from the rest of the house has a hard time filtering into the kitchen. If it get's too bad, we can close doors. Sally plays the piano. As much as I love her playing, there are times when she is playing I need a quiet space. The kitchen is perfect because I can close the doors.
We were able to give the kitchen it's own heating zone. If we ever do AC, we can do the same.
The house is a classic center entrance Dutch Gambrel whose internal symmetry we find very appealing. Removing the wall between the kitchen and dining room, the sense of entry would be out of balance.
We like the separation of public and private space. We invite people to join us in the kitchen, where the atmosphere is very informal. We have the option of entertaining informally or formally.
The experience of progressively revealed space is so much more satisfying – visually and emotionally.
Rather, we chose to bump out the back the house to include a garage, mud room and an expanded open plan kitchen with casual dining and storage.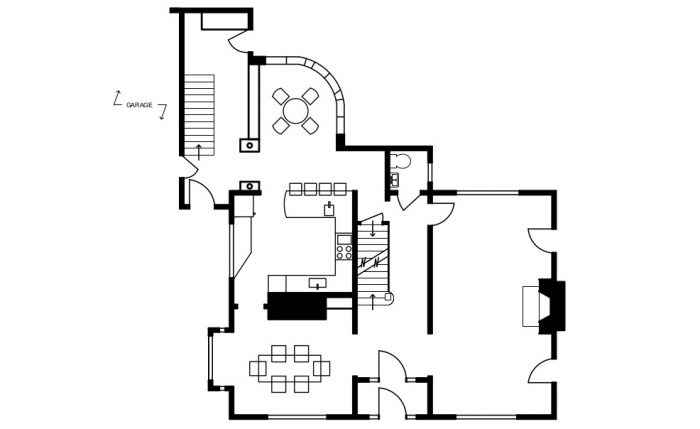 The kitchen was designed as a working kitchen and has the following in just under 180 square feet.
Small work triangle. Everything is within a few steps of each other.
Maximized storage on three walls. Every drawer and cabinet's contents were planned prior to construction.
Two sinks – prep and wash.
36″ range.
24″ floor to ceiling pantry.
30″ fridge/freezer.
Fabulous lighting, but it probably wouldn't go with the dining room's crystal chandelier.
There's room for two people working in the kitchen at the same time.
The "L" seats four people and keeps them out of the cook's area. And there's room for more in the casual dining area. We usually set up the bar in our foyer, forcing guests to get out of the kitchen and circulate.
The openings to the adjacent rooms suggest and invite. 
Oh, the parties we've had here… (If these photos look a little staged, that's because they are. We're in the process of downsizing and are selling our home of 36 years.)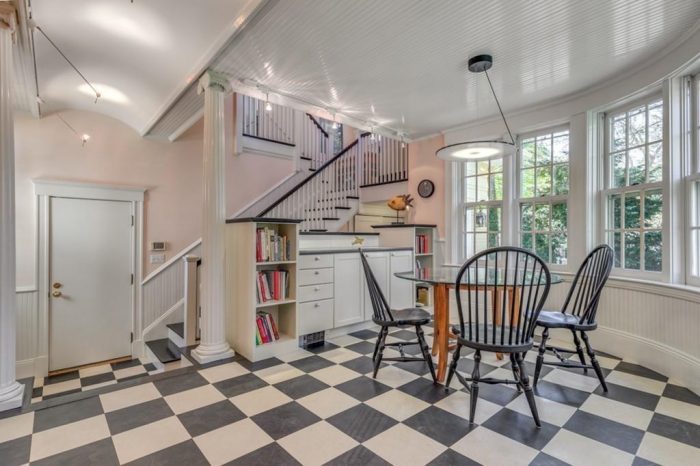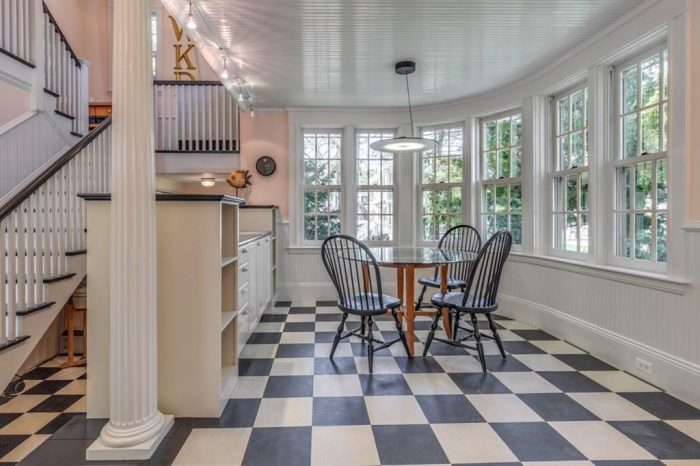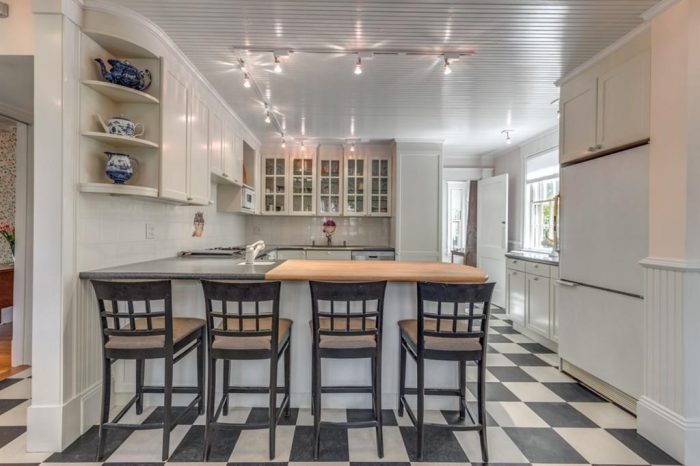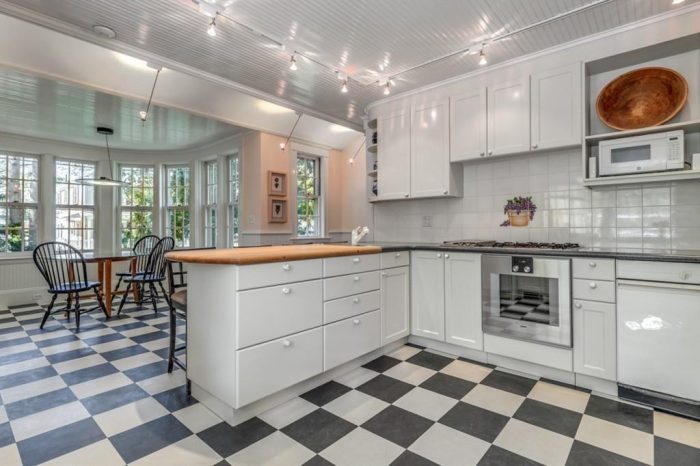 Did you know years ago, "open plan" meant walls with openings in them?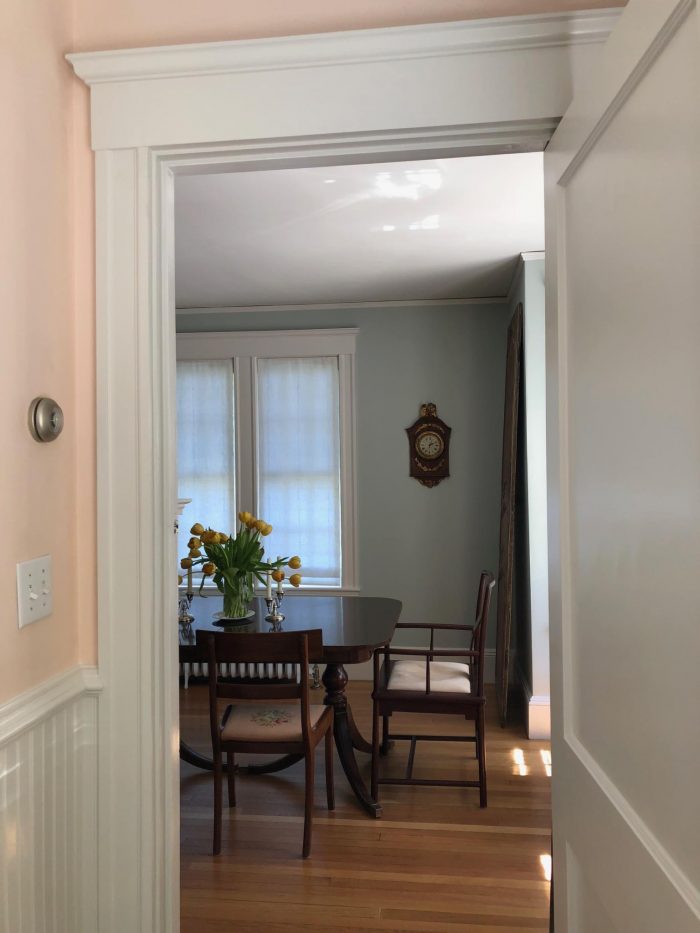 The Open Plan Kitchen: Case Study 2
Let's circle back to the French Country the kitchen in last week's post. Part of a whole house renovation, we had the opportunity to take down walls throughout the residence, but we chose not to.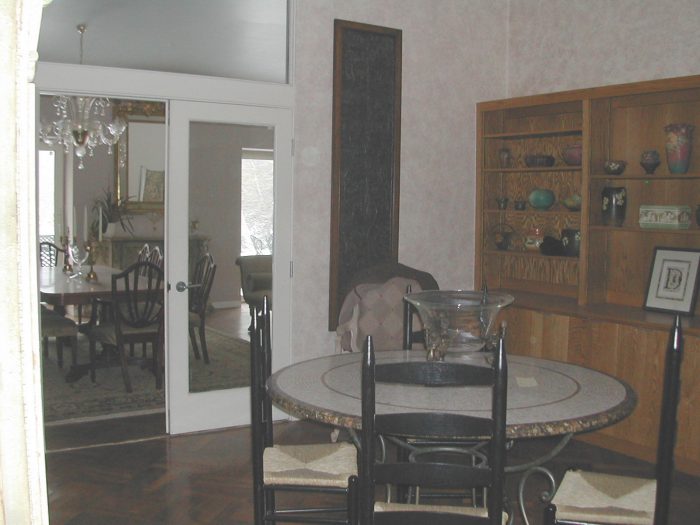 For example, we reframed the existing modern opening in the wall between the kitchen and dining area, to better compose and mange the view room to room.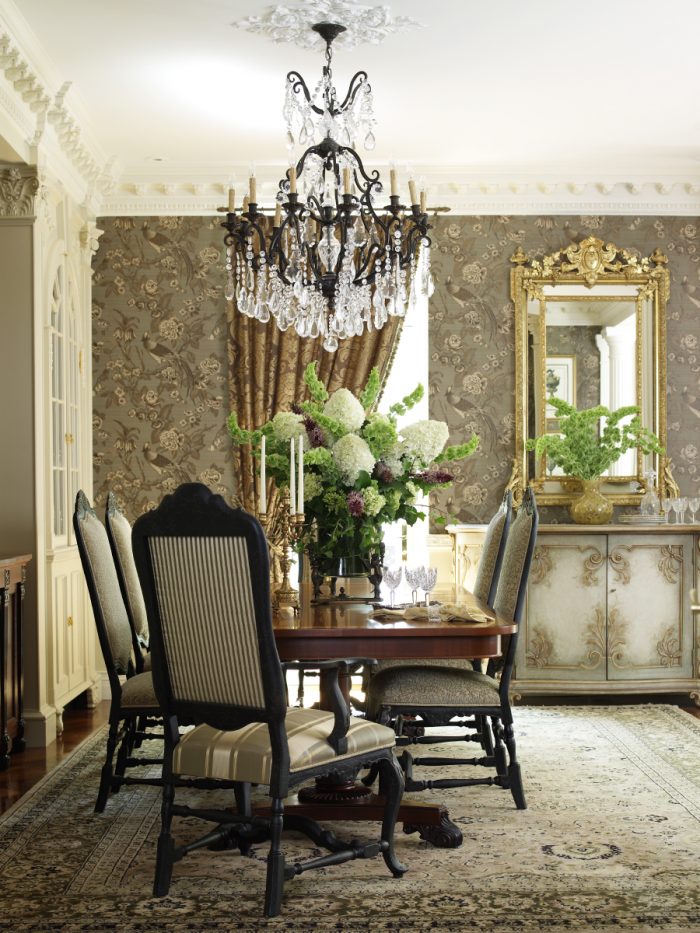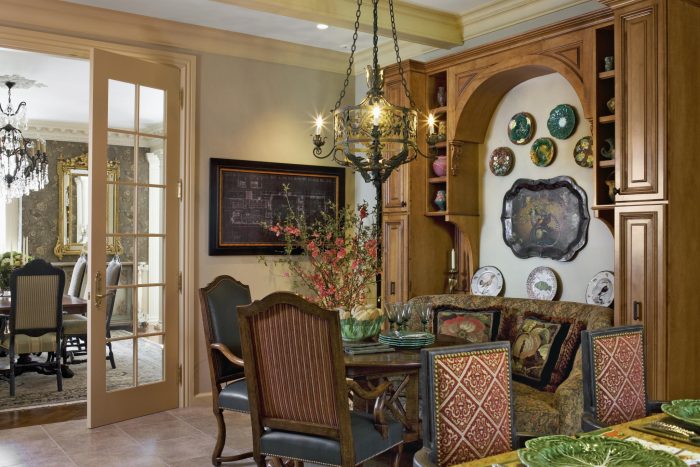 The Open Plan Kitchen: Case Studies 3 & 4
In last week's post, I shared  two kitchens designed by my friend Greet Lefevre. Let's take  a quick look at the adjoining rooms in those two projects.
In Greet's first project, we transition from an elegant, casual kitchen thru a pair of doors into a delicious deep red intimate formal dining room. This simply could not have been done in the today's open concept floor plans. There are floor material changes, moulding and trim changes. How would you handle the transition from white in the kitchen to red in the dining room? Look closely at the the thickness of the wall the doors sit in. The thickness acts as a threshold, transitioning  you from one room to the other.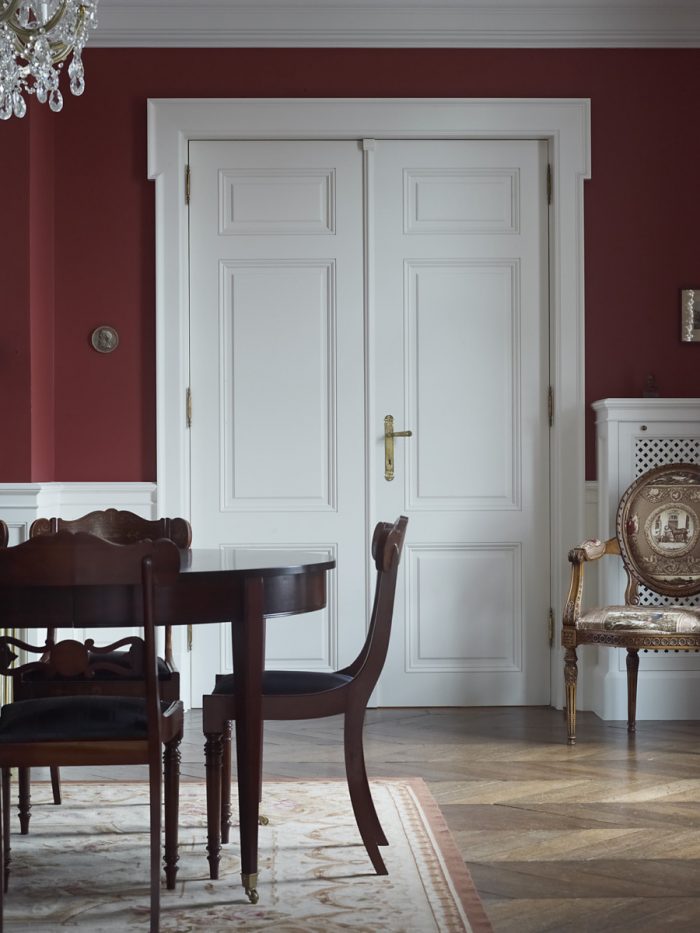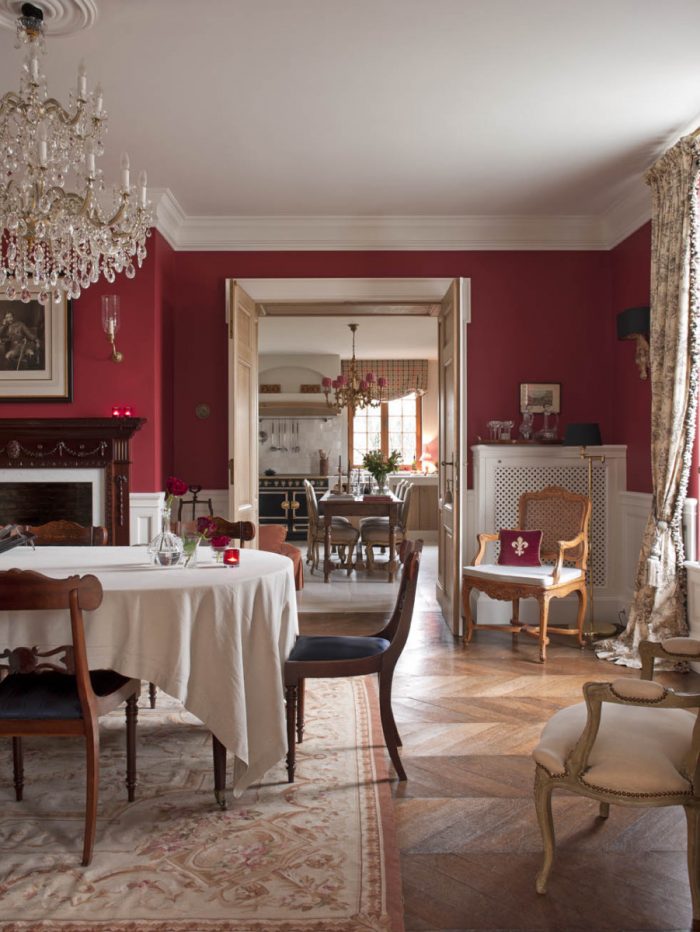 In Greet's second kitchen, the adjoining spaces are less formal, but can you imagine them as one contiguous space?  Although the walls are the same finish, from a construction/detailing perspective, there would be major ceiling and flooring transition issues. Something would have to give, lessening the effect of the overall design. The sense of coziness would be entirely lost.The French doors offer you connectivity open or closed, as well as borrowed dayight. Yet, there's a very clearly defined separation  the two rooms. Easy access back and forth. Have a glass of wine. Hang out in the kitchen during meal prep. Then close the doors to the mess and smells as you sit down for dinner. I rather like it. Don't you?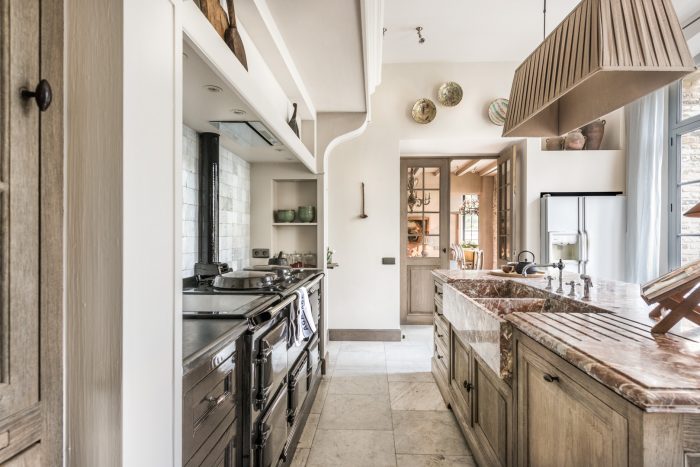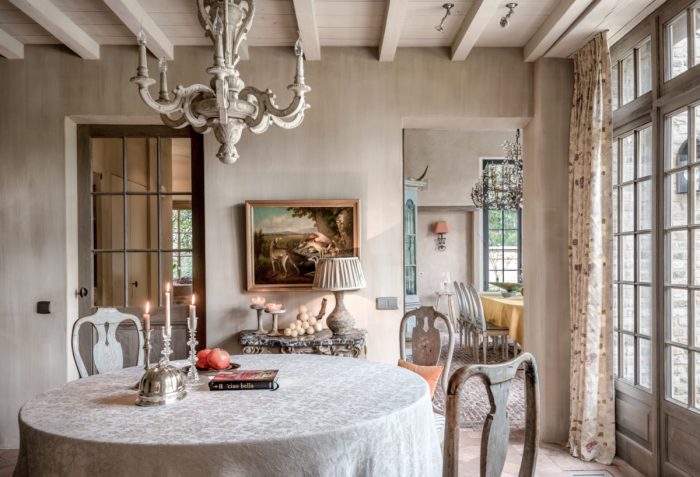 The Open Plan Kitchen – 10 Take Aways…
I will preface this by saying I have no skin in the game one way or another. Sally and I love our open plan kitchen precisely because it's not open to the adjacent rooms. In an open concept floor plan, the open kitchen is combined with dining and living space in one continuous space. Having said that, let's make a list and check it twice.
First ask yourself why your feel you need/want an open plan kitchen. make a list.
Open plan kitchens are great for entertaining or just hanging out. How often do you entertain? How large is the typical group? If it's only a few times a year, an open plan kitchen as part of an open concept plan may be overkill.
Are you a neat-nick? Will it bother you to sit down to dinner with your guests while the kitchen mess looms over you shoulders? If it does, perhaps you need a dining room.
Consider the strategic placement of walls, doors and openings in walls to control heating and air conditioning, sound and cooking smells.
Planned properly within the larger context of the home, the open plan kitchen offers the opportunity for privacy.
Resist the temptation to expand the footprint of the kitchen's work triangle. Keep the actual working kitchen area compact with all you need at your finger tips or a few steps away. (In Boston, two more linear feet of upper and lower cabinets with counter top could exceed an additional $3,000.)
Don't over plumb. Do you really need that pot filler? With the correct large main sink a few steps away, it's a waste of money. (Last tine we priced adding pot filler to a kitchen, the cost was over $2,000.)
Do you like cozy and intimate? Think very carefully before knocking down the walls surrounding your kitchen.
Combining an open plan kitchen with a more conventional floor plan allows you to create public and private space. You control who sees and has access to rooms in your house. We do want our home to be a place of sanctuary, right?
Combining an open plan kitchen with a more conventional floor plan allows you to create a far more curated esthetic. Casual can exist next to formal. Modern can mix with traditional. Finish and detail can very from room to room.
---
– John Kelsey is one of the faces behind Wilson Kelsey Design. He is a renowned architectural interior designer known for his commercial and residential design and construction project management. You can find out more about his work on his website and @wilsonkelseydesign on Instagram.
Previous:
The Kitchen: Designing the Hardest-Working Room in the House
Next:
Kitchen-Remodel Reality Check