Understated Modern Pendant Light
The Ginger pendant by Marset is a practical hanging lamp with a sleek profile that would look great above a kitchen island or dining table.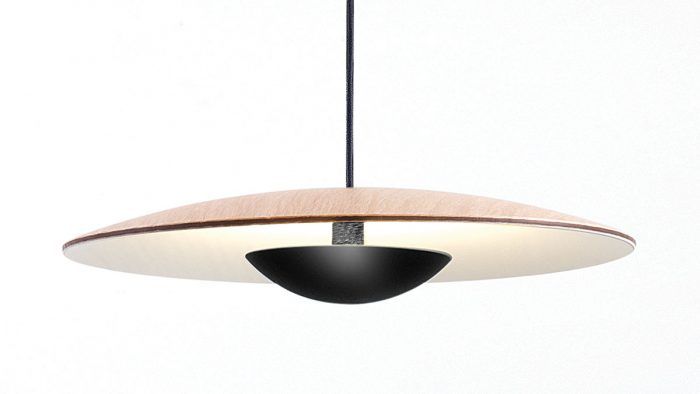 Choosing the perfect lighting for a kitchen island or dining table can be a daunting task. The ideal lamps need to strike a balance between practicality and ambiance, and the fixtures must be front and center without being visually overbearing. The elegant and simple Ginger pendant collection from Marset checks all of those boxes. Suspended from an inconspicuous black cord are two slender components: a wide, shallow-domed shade above, made of a paper, resin, and wood-veneer composite; and a smaller aluminum dissipater below, which conceals an energy-efficient warm white LED bulb. The Ginger pendant is available in either a light oak or dark wenge finish, with a choice of a white reflective surface or a matching veneer on the inside of the shade. Shades come in four diameters: 23.6 in., 16 1/2 in., 12.6 in., and 7.6 in. All but the smallest are dimmable. Prices range from $500 to $1430.
—Rob Wotzak, digital brand manager
From Fine Homebuilding #288
More lighting inspiration:
Lighting for the Long Term: A Detailed Illustration of Ideal Kitchen Lighting – Lighting designer David K. Warfel explains how to choose the right lights and lighting controls to create a safe, practical, comfortable, and healthy kitchen.
LEDs Offer Flexibility for Home Lighting Design – Strip tape is revolutionizing the way designers light countertops, built-ins, and architectural details.
Haiku Premier Ceiling Lights — Multiple Functionality – From white to warm and dim to bright, these lights suit many scenarios
Previous:
Elegantly Simple Illumination
Next:
Undercabinet Lighting Is Better Than Ever