Tools & Materials
Dust-Free Paint Scraper
Despite its hollow plastic construction, this scraper is hefty enough to bite into layers of old paint and has a built-in vacuum attachment for easy cleanup.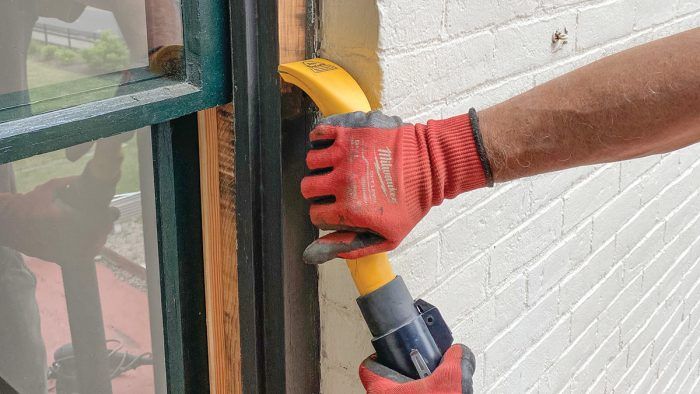 It's easy to look at the Proscraper and dismiss it as a gimmick tool—I did at first. The hollow plastic construction seems cheap compared to wood and metal scrapers, and the yellow plastic color doesn't exactly scream "pro grade." But when I tried it, that gimmick idea went right out the window.
Not only does the thick tungsten carbide blade remove paint easily, it removes it from sight completely thanks to the ability to connect a vacuum hose. As you pull the scraper toward you, the paint chips are sucked through a slot behind the blade and into the vacuum, leaving very little clean up, if any. The tool has a curved shape that makes it easy to apply strong downward pressure when using a two-hand grip, which is essential for biting into layers of old paint and leaves a surface ready for final sanding. The blades hold up well during use, but when they do begin to dull, 10-packs of replacement blades are available for about $55.
Justin Fink, a restoration carpenter in Plainville, Conn.
From Fine Homebuilding #310
---
RELATED STORIES
Previous:
Exterior Masking
Next:
A Checklist for Exterior Painting