Heat-Pump Water Heaters
Higher efficiencies than electric-resistance heaters will save money, but upfront costs are higher.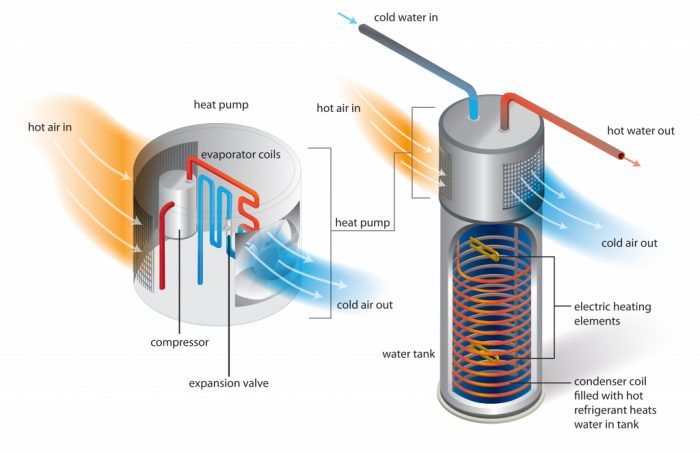 High-performance heat pumps are finding their way into more homes these days as low-temperature performance improves and interest grows in all-electric households that use no fossil fuels.
So it shouldn't be a surprise that heat-pump technology also can be used for domestic hot water. Heat-pump water heaters are really a variation on the familiar electric tank-style heater. But instead of heating water with submerged resistance elements, these heaters use a heat pump to do the same work with less electricity. They have a compressor mounted on top of the tank that transfers heat from the room where it's installed to the water.
Improved operating efficiencies
The wonder of a heat pump is that it transfers more energy than is needed to operate it. A conventional resistance heater is 100% efficient, but a heat-pump water heater has an efficiency of as much as 250%. This may seem counter-intuitive, but it's what makes air-source heat pumps such an attractive heat source.
Energy efficiency remains the big advantage that heat-pump water heaters have over their conventional counterparts. Eliminating a source of greenhouse gas emissions is another advantage for homeowners and builders who want to lower their carbon impact.
But there are a few caveats to keep in mind:
Heat-pump water heaters are more expensive. The least expensive model on the market, according to a survey in 2018 by senior editor Martin Holladay, was a 50-gal. model made by A.O. Smith with a price tag of $949. A 58-gal. model from the German manufacturer Stiebel Eltron costs $2498. Models sold under other brand names fall somewhere in the middle. (By comparison, The Home Depot sells a Rheem 50-gal. electric water heater for less than $450.)
Because of the compressor mounted on top of the tank, heat-pump water heaters are taller than conventional tank heaters.
The compressor makes more noise than an electric-resistance heater.
Heat-pump water heaters cool off the room where they are installed because they transfer heat from the room to the water. This is something to keep in mind when you live in a cold climate and you're trying to decide where to put one. Also, a heat-pump water heater needs a room of at least 1000 cu. ft., so a closet won't work.
Heat-pump water heaters are slower to heat up water than electric-resistance heaters. Electric elements kick in when the demand for hot water exceeds the capacity of the heater.
Measuring heater efficiency
If energy-efficiency is the main objective, shoppers should be interested in the Uniform Energy Factor. The higher the number, the more efficient the device. This metric replaced the Energy Factor that the government used for many years to rate the efficiency of water heaters.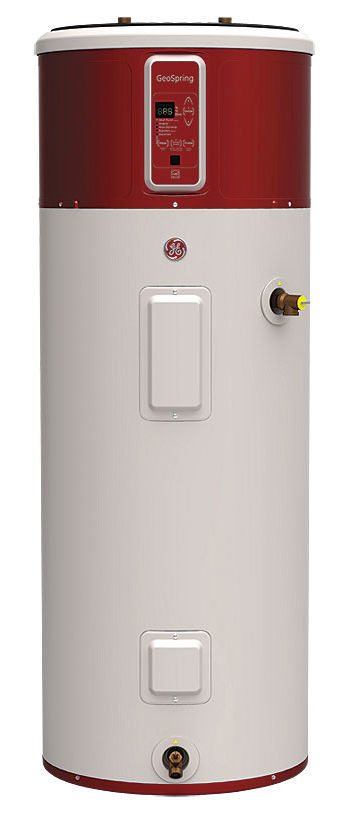 The system was adopted on orders from Congress, but the labeling guidelines are complex. The yellow Energy Guide attached to the appliance does include important information, such as actual storage capacity, how much hot water a consumer can expect to get in the first hour, and an estimated yearly energy cost.
But the Federal Trade Commission decided not to display the UEF. The FTC promised to revisit the issue, so the UEF may one day be more easily available. In the meantime, the rating should be available from the manufacturer. If you want to learn more about the UEF, Rheem provides this explanation on its website.
The split-system alternative
Although most heat-pump water heaters on the market attach the compressor and related equipment to the storage tank, the Japanese manufacturer Sanden offers a split-system water heater that puts the compressor outside. Daikin Altherma also offers one.
This design keeps the noise outdoors. More important, the water heaters don't lower the temperature of the room in which they are installed.
Cost is one drawback of these systems. Sanden's water heaters cost between $3600 and $5900.
Who makes them?
Today, it may be more to the point to ask, "Who doesn't make a heat-pump water heater?" In 2012, Holladay could only find five manufacturers (AirGenerate, General Electric, Stiebel Eltron, A.O. Smith, and Rheem). When he revisited that question six years later, the manufacturers' list had become a labyrinth of branding and re-branding. There are even more new models today.
A.O. Smith, for example, sold its Voltex water heater under the A.O. Smith label but also sold re-labeled heat-pump water heaters under nine other brand names. Rheem had three sizes to offer under its own label, but also sold heat-pump water heaters under two other labels, Ruud and Richmond.
For more guidance, consumers can check the Energy Star list of approved heat-pump water heaters.
---
More about water heaters:
Previous:
Choosing an Efficient Water Heater
Next:
Plumbing Upgrade for Faster Hot Water