Tools & Materials
Renew your Existing Tub—with Caution
Understand the pros and cons of bathtub-refinishing services.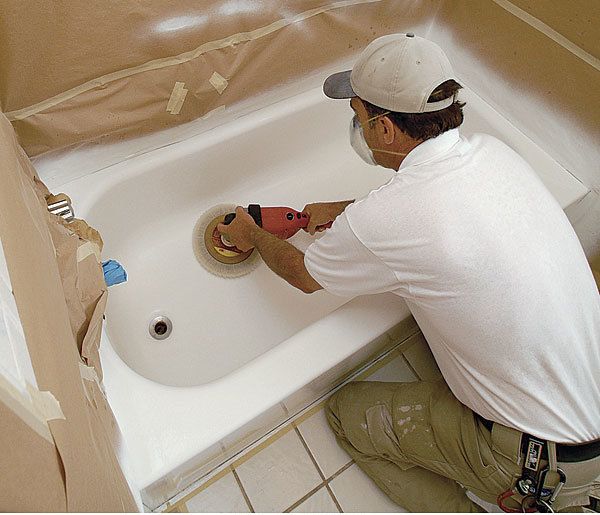 Your vintage house may have an existing small bathroom with a tiny tub tucked away in a corner. The problem is that many an older tub looks as though it has been used as a place to clean auto parts. Harsh, abrasive cleaning products can wear through porcelain coatings; then it's not long before mineral-rich water leaves copper-blue or rust-red stains.
Bathtub refinishing, also known as resurfacing or by the misnomer reglazing, is a process of deep-cleaning the surface of an old tub, then applying a finish-bonding solution, then one or more coats of a new finish. The new finish is paint, good paint in varying degrees, but it is not reglazing in the same sense that the original surface on a cast-iron tub is porcelain, which is baked onto the metal in a high-temperature oven.
Contractors and companies will come into your house and charge you upward of $600 to refinish your tub. Google the phrase "tub refinishing horror stories," however, and you'll get about 84,000 hits.
Several manufacturers, including Rust-Oleum and Sherwin-Williams, sell DIY tub-refinishing kits (which should convince you that tub refinishing means tub painting) that apply the finish coats with a roller. Your results may vary, but don't expect these fixes to last more than a few years. A comment on the popular website ApartmentTherapy.com said it best: "Don't dye your own hair, don't pull your own teeth, don't reglaze your own tub."
Don Dominick, who works for Miracle Method, the country's largest tub-refinishing company, with more than 120 franchises nationwide, agrees: "If you'd be happy with the look you'd get if you painted your car with a roller, go ahead and refinish your own bathtub."
Similar to refinishing an automobile or a piece of furniture, the quality of the results depends heavily on the quality of the prep work. All tub refinishing starts with a thorough cleaning to remove dirt and soap scum. The next step is preparing the surface with a bonding agent—some companies use acid, but Miracle Method's is nonacidic—that etches the old finish and gives it tooth for the primer and finish coats. Miracle Method technicians then apply a two-part epoxy primer and two or three coats of acrylic urethane that contains the color, white being the most popular.
After 24 hours, the tub is buffed and checked for imperfections. "It feels like porcelain when we're finished," says Dominick.
Refinishing warranties vary among companies; Miracle Method's is for five years against adhesion failure. So while the surface of a refinished tub may (or may not) last as long as the original, the cost is attractive. "Refinishing saves up to 75% of the cost of replacing a tub," Dominick says. Not a bad deal when you think about it.
Previous:
Drum Traps: Old-School Plumbing Traps
Next:
Replace a Shower Mixing Valve