Soldering Copper Pipe
Learn how to safely and efficiently cut, clean, and properly apply heat when connecting copper water lines.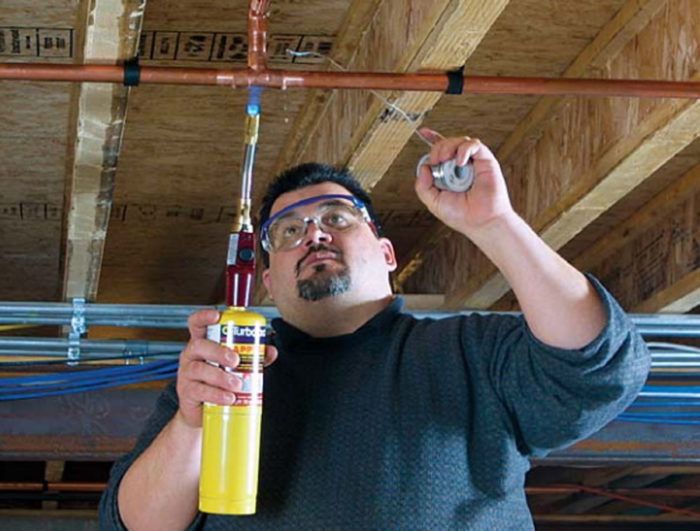 Working with a lighted torch and molten solder can make anyone a bit nervous, and it should. The consequences of a soldering mistake can range from a leaky pipe to a house fire. As with most craft skills, however, the keys to success are practice and planning.
Even for small projects, draw up a plan that minimizes the number of fittings; don't just stick pipes together willynilly. Pre-assemble and solder as many sections as possible on a workbench. And make sure that every fitting that has to be soldered in place will be easily accessible.
To prevent burns, always wear safety glasses, and never solder directly overhead. To prevent fires, use a proper heat shield (not just a scrap of sheet metal) whenever you have to solder close to combustibles, and always keep a working fire extinguisher close by.
The tools needed for this job are all available at any hardware store:
Tubing cutter with attached pipe reamer
Wire-bristle fitting brush (sized for 1⁄2-in. or 3⁄4-in. fittings).
Plumber's emery screen
Small can of flux and a disposable acid brush.
Torch
Roll of lead-free solder.
A powerful, safe torch
Today's lead-free solder requires a higher temperature than a propane fueled torch can deliver. Professional plumbers rely on powerful acetylene rigs that cost hundreds of dollars and are highly explosive. For occasional users, the best alternative is MAPP gas. MAPP (a combination of acetylene and propane) burns hot enough to solder 3 ⁄4-in. pipes, and it's widely available in disposable cylinders like those used for propane. For safety and convenience, attach the MAPP cylinder to a high-quality, self-igniting torch such as this Sure Fire T655. A push of a button lights the flame, and it extinguishes just as easily. With no need to switch hands to reach for a spark igniter or fiddle with the gas, you can work faster and, most important, safer. The entire setup costs less than $70.
For photos and step by step instructions for soldering copper pipe, click the View PDF button below. 
View PDF
Previous:
Sweating Copper Pipe
Next:
Build Your Own PEX Manifold