Can I Reroof My Own House With Asphalt Shingles?
Roofing can be dirty, tough work, but it's something most people can do themselves.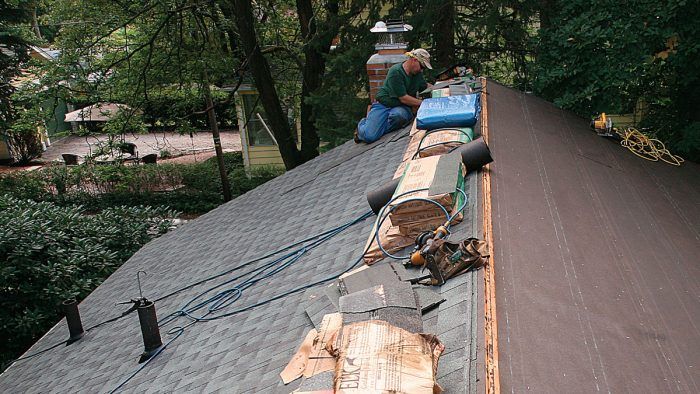 I am asked this question regularly from ambitious Fine Homebuilding readers who tackle small to medium renovation and maintenance projects around their house. Some are ready to tackle a reroof project and are looking for someone to confirm they aren't crazy. Others are testing the idea of reroofing on their own and exploring what's involved, but haven't made concrete plans. Whether a person is ready to go or just kicking around the idea, they flood my inbox with a long list of follow-up questions:
Can I reroof the house alone or do I need to round up a bunch of other people?
Can I put new shingles over the old ones or should I remove the old shingles first? What's the best way to remove the old shingles?
How can I work safely on the roof?
How many bundles of shingles and hip and ridge shingles do I need?
What should I look for in an asphalt shingle?
Can shingles be installed in the winter?
My roof is sheathed with wood planks. Can I install shingles on them or do I need to put plywood down first?
Where should I order shingles from—a big box store, a lumber yard, or a roofing supply company?
Do I need to install underlayment (tar paper), or can I just install the shingles over the roof sheathing?
Is it okay to apply peel-and-stick ice and water membrane over the whole roof? Some people told me doing so can cause the roof sheathing to rot.
How much money can I save by reroofing my house myself?
What tools are needed to shingle a roof?
Can I reuse the existing flashings or do I need to replace them?
My friends think I'm nuts for considering reroofing my house—am I?
And the questions keep coming.
The people I've coached through reroofing projects have different reasons for taking on the work. Some like working around the house and a new roof is next on the to-do list. Others want to save money—plain and simple. Several have heard horror stories from friends of the poor work roofers did on their homes and haven't found a roofer they trust, so they want to do it themselves. Many can't get a return phone call from the roofers they've called and are getting desperate. A few are young contractors looking to expand their skills and reroofing their own homes (or one for a friend or family member) will be a good learning experience. For most people, it's a combination of reasons.
The short answer to the basic question is yes, you can reroof your house. Stripping the old shingles; preparing the roof with underlayment, drip edge, and flashing; and installing new shingles is fairly simple. You don't need a lot of tools and probably have most of what you'll need already. The work can be tough and dirty. It can also be rewarding to stand back and look at your newly shingled roof.
I'm planning to write a regular blog on reroofing with asphalt shingles that will follow the sequence of the project and answer the common questions people with little or no experience have. If you have a question, ask it in the comments. I'll try to answer directly or point you to resources where the answer can be found.
---
RELATED LINKS
Photo: Daniel S. Morrison
Previous:
Reroofing Over Zip System Sheathing
Next:
Planning a Reroof Project