Does Applying Roof Underlaymet Cause Rot?
Mike Guertin answers questions about whether or not applying peel-and-stick to the entire house causes rot as well as what's required for the eave edge of a roof.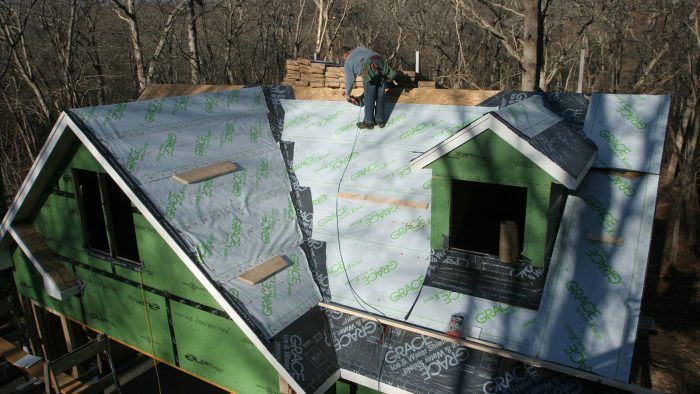 In this series on reroofing, Mike Guertin digs deep into common questions about using peel-and-stick underlayment. Check out the "Related Links" below for more information on this topic.

Can I apply peel-and-stick over the entire roof or will it cause the sheathing to rot?
Yes, you can apply peel-and-stick over the entire roof and no, it won't cause the roof sheathing to rot. Some roofing materials—tile and composite panels—and some local building codes may require that a waterproof layer be applied over the sheathing before the roofing is installed. As peel-and-stick membranes are commonly used under those systems, completely covering the roof sheathing with peel-and-stick is done regularly.
In order for the roof sheathing to rot, there has to be water on the sheathing. Water can come from a leak in the roof or moisture from inside the house. House moisture can reach the attic in a few different ways. It can piggyback on air from inside leaking into the attic, it can come through joints in HVAC ductwork that leak air into the attic, and/or it can come from exhaust fans from the kitchen or bathrooms that vent into the attic instead of through a duct to the exterior. The moisture can condense on the roof sheathing and lead to rot. The fact that there's peel-and-stick on top of the sheathing isn't the cause of the rot; the moisture is. Fix the air leak and there won't be any moisture to condense and rot the sheathing.
Is peel-and-stick required along the eave edge of the roof?
The IRC requires that an ice-barrier membrane be installed along the eave edge in areas prone to ice dams. The IRC gives us a couple options for what we can install as an ice barrier, but peel-and-stick membrane is probably the simplest to use.
If you do need to install an ice barrier, it needs to be applied from the bottom edge of the roof up to a line 2 ft. inside the exterior wall.
---
RELATED LINKS:
Previous:
Preparing the Valley of a Roof for Shingling
Next:
Types of Peel-and-Stick Roof Membranes