Tools & Materials
RN46 Roofing Nailer Review
Despite its light weight, this coil roofing nailer from Bostitch is a powerful tool that consistently sets nails flush through thick cap shingles.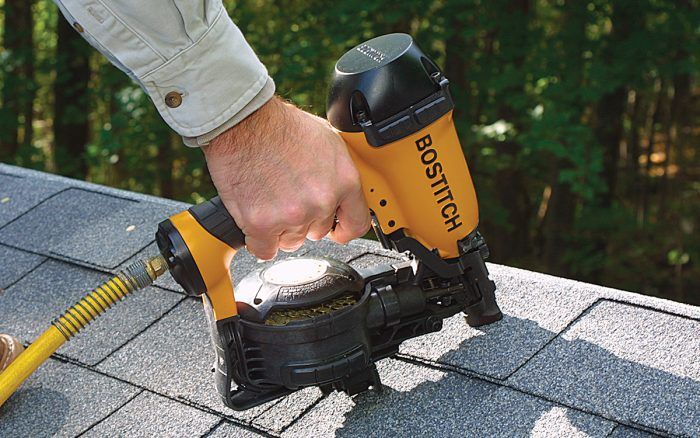 Lightweight and powerful: I like that in a roofing nailer. Bostitch's magnesium-body RN46 is that and more. At first, I was worried that at only 4 lb. 13 oz., the nailer would recoil when driving nails and have trouble sinking longer ones. Instead, it had less recoil than my regular roofing nailers.
The real power test came, however, when I had to drive 1-3/4-in. nails through cap shingles, then into dense sheathing. The Bostitch RN46 set nearly every nail flush, even if I occasionally held the nailer at a slight angle. The tool has a lot more going for it than power, though. It has a lockout feature that prevents the gun from firing when the magazine is empty, which avoids the divots created by an empty nailer. The shingle-exposure gauge with detents spaced 1/4 in. apart was another nice feature; squeezing a spring-loaded button (no tools required) allowed me to set the shingle exposure from 5 in. to 8 in. quickly.
Editor's Note:  The RN46 has been updated with the RN46-1  The specs and features are the same as the original model.
Previous:
Using Pneumatic Nailers
Next:
It's Time to Switch to Cap Fasteners