Roof Venting Doesn't Affect Cooling Loads
Can you measure cooling energy savings that might be attributed to the existence of a ventilation channel? Nope.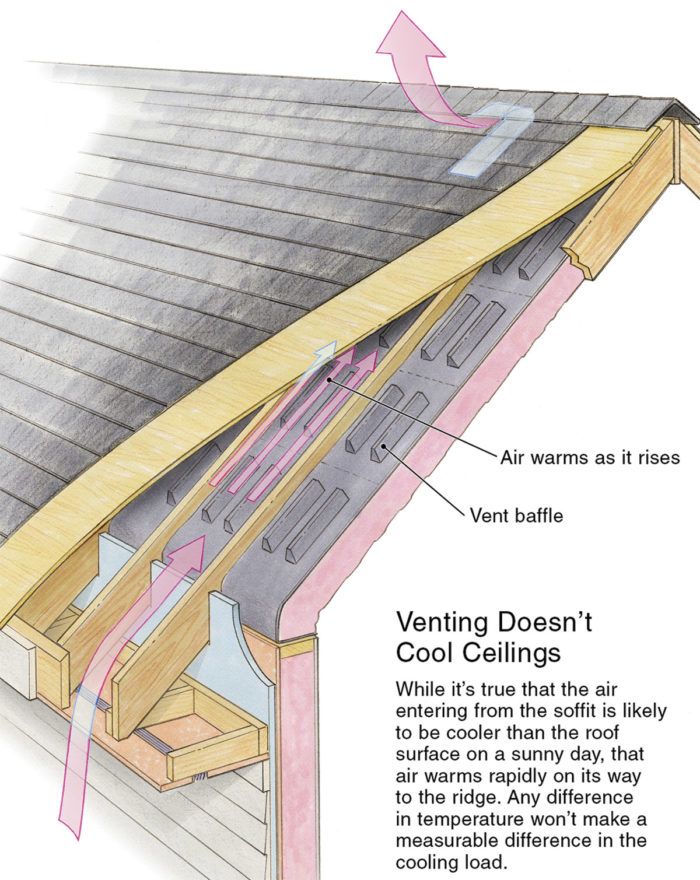 Q:
In Martin Holladay's article, "How to Build an Insulated Cathedral Ceiling," he says, "During the summer, roof ventilation does not significantly lower the temperature of asphalt shingles or other types of roofing." This statement seems to indicate that there isn't a shingle-temperature benefit to venting, but what about reducing cooling loads in the summer? A roof can easily reach 140°F during a sunny day. Suppose the cathedral ceilings are insulated with spray foam with no venting. That means the temperature gradient from one side of the insulation to the other is 70°F (140°F – 70°F). Heat will move through that insulation as a function of its R-value and the temperature difference. Now suppose we add soffit vents in order to displace the 140°F air on the back of the sheathing with the 90°F air from outside. Now we have just a 20°F temperature gradient (90°F – 70°F) across our insulated ceiling, which should reduce the cooling load. Of course, the actual air temperature in the vent channels will be higher than the outdoor air temperature, but you see my point. It should mean huge savings during cooling months, but I don't see anyone discussing this benefit.
— Christopher Hansen, via email
A:
Martin Holladay: Several researchers, including William Rose and Jeff Gordon, have tried in vain to measure cooling energy savings that might be attributed to the existence of a ventilation channel. No researcher has ever succeeded in measuring such savings, because they don't occur.
In a vented cathedral ceiling, the air entering the soffits is, as you guessed, at the outdoor air temperature. But by the time the air is one-third of the way up the roof, the temperature of the air in the ventilation channel is much higher than the outdoor air. The conclusion: Ventilation doesn't result in significant cooling of the roofing or of the roof sheathing.
A ventilation channel won't significantly change the temperature gradient across an insulated ceiling, either. Even if it did, you won't have any significant energy savings if the roof assembly has code-minimum levels of insulation. (In most U.S. regions, building codes require a minimum of either R-38 or R-49.) Once you install that much insulation, the heat flow through the assembly is already quite small.
Previous:
Vented and Unvented Roofs
Next:
Understanding Types of Roof Vents