How-To
Simple, Elegant Trim for a Shed
Although clean and unadorned, this revival of a Shaker exterior trim package is more complex than it appears.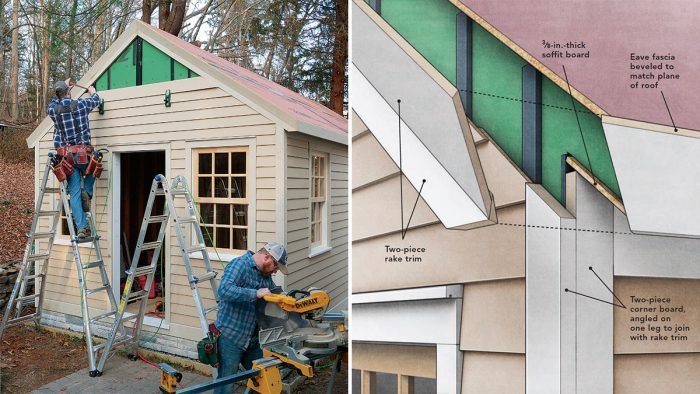 Synopsis: This Shaker shed is an updated and modernized homage to a similar-style outbuilding at the Hancock Shaker Village in Massachusetts. Built with Boral TruExterior trim and LP SmartSide clapboards over a Cor-a-Vent Sturdi-Strips rainscreen and Zip System sheathing, most of the shed came together easily with power tools. The roof trim, however, was more complex, and required a set of mockups to keep track of the bevel and miter angles and orientation of the stock. The article includes step-by-step assembly details, which result in a stylish shed with a deceptively simple-looking trim package.
---
I'm a big fan of the beauty and simplicity of Shaker- style furniture and buildings, so when a client approached me wanting to build a small backyard workshop inspired by one of the outbuildings at Hancock Shaker Village in Massachusetts, I not only happily agreed, but already knew the exact building he was in love with from my own past visit to that museum.
The structure, originally built in 1922 as a screened summer house, later became a ticket booth for the museum, and then was at some point converted into a garden-tool shed, with aesthetic changes along the way. Although we don't know who designed and completed the latest "remodel" that brought the structure to its current version, it is itself possibly a tribute to the earlier Shaker-style forms.
The first priority was deciding on materials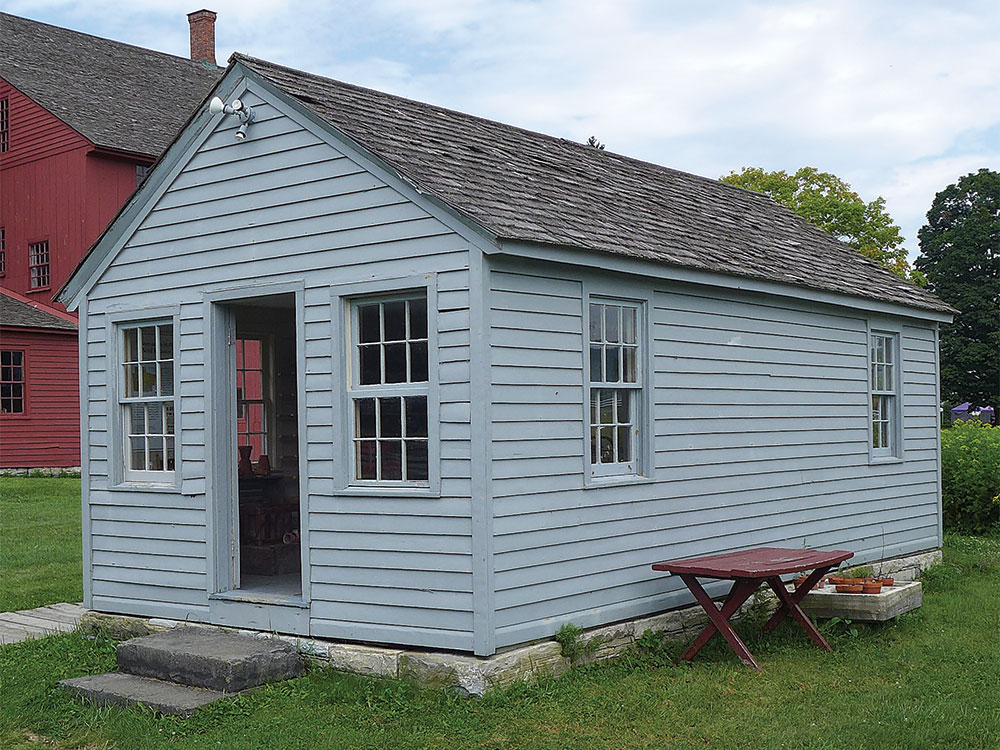 We agreed up front that we wouldn't be building a replica of the original building—in terms of actual measurements, materials, or assemblies—but rather an homage, updated and modernized with regard to materials, durability, assembly techniques, and size.
Unconditioned and exposed to the New England elements for nearly a hundred years, the all-wood shed showed signs of deterioration. Part of my plan was to make sure this didn't happen to the new version we were building, and that mostly comes down to a matter of managing moisture. So, other than the pine window sash protected by primer and paint, our version has no solid wood anywhere on the outside. We chose Boral TruExterior trim, a fly-ash-based product that is impervious to water, is extremely stable, and works a lot like wood. For siding, we used LP SmartSide clapboards, chosen for their crisp lines and inherent durability. All of these finishes were installed over a ventilated rainscreen assembly, created with Cor-a-Vent Sturdi-Strips applied over Zip System sheathing.

Watch the companion video: Installing Shaker-style Roof Trim
Plus, you can download the SketchUp model of the shed in the SketchUp 3D Warehouse.
More about roof trim:
Boxed-eave Gable-end Returns – How to take cues from classical architecture to design roof trim that matches your traditional home.
PVC Roof Trim – A coastal builder's technique for durable and weathertight fascias and soffits is based on years of experience with plastic trim.
Elegant Eaves for a Truss Roof – Cedar rafter tails and trim add a handsome touch to this roofline.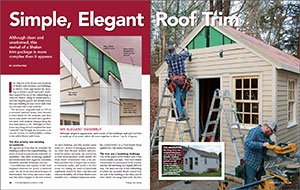 From FineHomebuilding #290
To read the entire article, please click the View PDF button below.
View PDF
Previous:
Installing Shaker-Style Roof Trim
Next:
Gable-End Eave Design