Slate Roof Repair
This technique for replacing a broken tile leaves no wire exposed.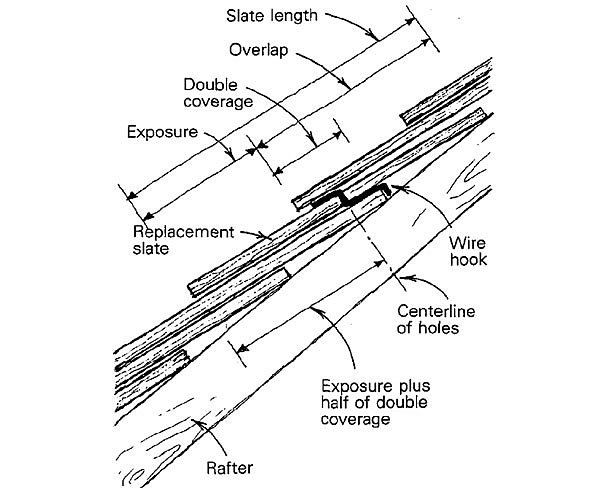 The drawing above shows my method for replacing a broken roof slate. Unlike the traditional repair method that is usually performed in our part of the country, this technique leaves no wire exposed to view or to the weather.
After removing the broken slate and finding a suitable replacement, I drill a pair of holes in the new slate. As shown in the drawing, the distance from the bottom edge of the slate to the centerline of the holes is equal to the exposure of the slate plus half its double coverage (that portion of the course where three slates overlap one another). The bent ends of a 10-ga. copper-wire hook pass through the holes. The rest of the wire hook passes under the replacement slate and hangs on the top edge of the slate directly beneath it.
—Randy E. Medlin, Laurinburg, NC
Edited and illustrated by Charles Miller
From Fine Homebuilding #61
Previous:
Slate Roofing and Repair Techniques
Next:
Fixing Common Gutter Blunders