Using Pneumatic Nailers
Follow these field-tested tips to nail down asphalt shingles safely and effectively.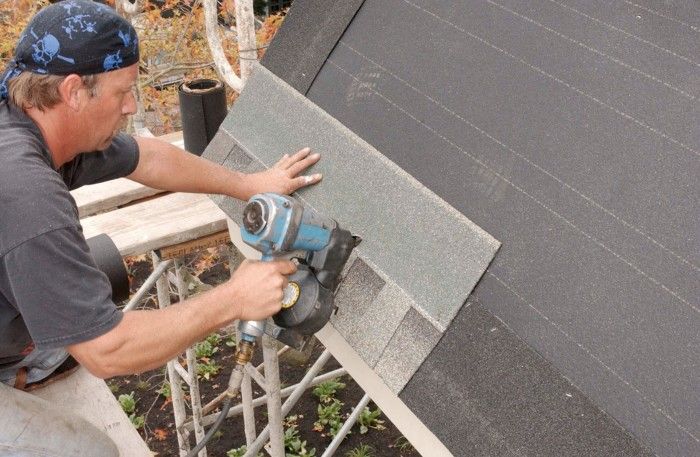 Because pneumatic nailers can easily blow nails through composition shingles, always test-fire and adjust nail depth before you start a job. (For this reason, some codes specify hand nailing.) As a safety measure, many pros prefer to hand nail the first five or six courses along the eaves, where stepping on a pneumatic hose could roll you right off the roof.
Those concerns noted, pneumatic nailers are great tools if used correctly. Here's how:
Don't bounce-fire a nailer till you're skilled with it. (To bounce-fire, you hold the trigger down and press the nailer's nose to the roof to fire the nail.) Shingles must be nailed within a small zone–below the sealer strip but above the cutouts, if any–and it's hard to hit that zone if the nailer is bouncing around. Instead, position the nailer nose where you want it, and then pull the trigger.
Trigger-fire the first nail of every shingle. Do this to keep shingles from slipping, even if you're skilled with pneumatic nailers. Once the first nail is in, you can bounce-fire the remaining ones.
Hold the nailer perpendicular to the roof so nails go in straight, and keep an eye on nail depth as the day wears on. Nail heads should be flush to the shingle; if they're underdriven or overdriven, adjust the nailer pressure.
Follow a standard nailing schedule of four nails per shingle or six nails for high-wind areas. Trimmed-down shingles must have at least two nails. Place the first and last nails in from the edges at least 1 in. All nails must be covered by the shingle above.
—
This tip is just one of the thousands of field-tested tips and techniques that you'll find in Renovation 5th Edition. New from Taunton Press, R5's 656 pages include 250+ technical drawings, 1,000 photos selected from the 40,000 that I've taken over the years, and lifetimes of experience that builders shared with me. I hope you find it useful. -Mike
© Michael Litchfield 2013
Previous:
Easy Shingle Cutting With a Pneumatic Cutter
Next:
RN46 Roofing Nailer Review