Fiber-Cement Siding: An Attractive Alternative to Wood
This manufactured siding material is more rot resistant and holds paint better than wood siding, but installing it requires a bit more effort.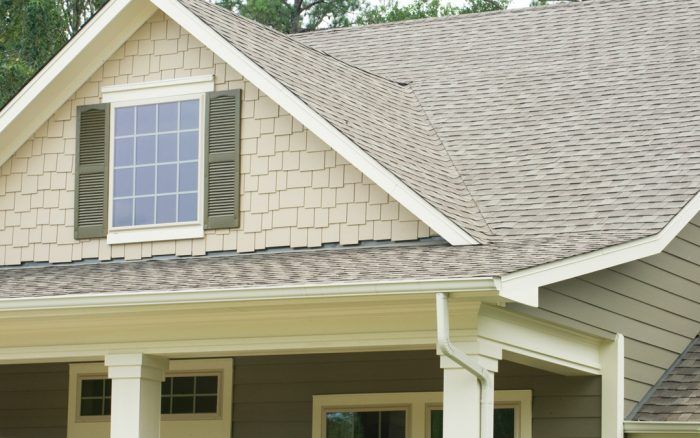 Higher prices and the shrinking availability of high-quality lumber have made fiber-cement siding attractive to many builders and homeowners who don't want to go the vinyl route. Although it is not the easiest material in the world to work with, fiber cement outperforms wood in several ways and it's available in forms suitable for both historic and contemporary architecture.
Fiber-cement siding is a mix of cellulose, water, portland cement, and either sand or fly ash, a byproduct of burning coal. It's produced by several manufacturers. The best known is probably James Hardie Building Products, the eponymous creation of a Scottish immigrant who settled in Melbourne, Australia, toward the end of the 19th century. Hardie got his start as a merchant in oil and hide-tanning products, and it wasn't until the 1980s that the company he founded branched into fiber-cement technology. The corporation is now global in reach and makes a variety of fiber-cement products.
Other producers of fiber-cement siding include GAF, Nichiha, Woodtone, American Fiber Cement Corporation, Finex, and Allura. CertainTeed, which settled a class action lawsuit in 2013 by agreeing to pay $103.9 million, subsequently dropped out of the business.
Fiber cement dates much further back than the 1980s. The material was first developed by an Austrian inventor named Ludwig Hatschek who in 1901 patented a process for making a fiber-cement sheet reinforced with asbestos. It was called "Eternit," from a Latin word meaning everlasting. Eternit is now a registered trademark of a Belgian company called Etex, which produces a number of fiber-cement building materials.
At the start, asbestos was a principal ingredient in fiber-cement siding and roofing, as it was in many other building products. But as its health risks became more widely known, asbestos was replaced by safer alternatives. In the case of fiber-cement siding, that was cellulose. Swapping out asbestos for cellulose was a big step, but some versions of fiber-cement siding (including those produced by James Hardie) contain silica in the form of sand, which can pose serious health risks when inhaled as dust. Some manufacturers use fly ash instead of sand.
Why builders like it, and why they don't

Fiber-cement siding looks a lot like wood—wood shingles, wood clapboards, or wood board and batten, for example. But it has few of wood's performance shortcomings, which have become more pronounced as the quality of lumber declines. Unlike wood, fiber cement won't be attacked by wood-boring insects like ants or termites. It won't rot. It's resistant to fire, and it comes with warranties as long as 50 years. Fiber-cement siding holds paint well, and it doesn't need much maintenance.
Lap siding can be ordered with a smooth or textured surface. Shingles come  individually or in panelized form, and panels are available in sizes up to 4 ft. by 10 ft. Some manufacturers make panels that look like brick or stone. Siding can be ordered unprimed, primed, or with a factory-applied finish.
So what's not to like? A couple of things: it's brittle and heavy, and there are health risks unless installers take steps to control dust as they cut it (this is not an issue that affects homeowners who live in houses sided with fiber cement). A 4-ft by 8-ft. panel weighs more than 70 lb., for example, and to avoid cracking, long pieces of lap siding should be carried by two people. Because of its weight, installing fiber-cement lap siding solo can be difficult. This tip may help.
One thing to keep in mind is that fiber cement, like other types of siding, should be installed over a vented rainscreen. This means that the siding is nailed to vertical furring strips applied over the water-resistive barrier, not to the WRB itself. The air gap provides a variety of benefits, and it will help the paint on the siding last longer.
Watch the dust when you cut
When inhaled, airborne silica dust can lead to a serious, progressive lung disease called silicosis. Tradespeople who work with stone, engineered quartz countertops, fiber cement, and other materials that contain silica should take steps to protect themselves from any dust that's created when cutting or shaping.
If you're using a circular saw, get a blade designed for the job and make sure to don a respirator to protect your lungs. If you have a crew working around the cutting station, they also should be equipped with respirators. Rhode Island builder and FHB editorial adviser Mike Guertin explains his method for cutting fiber cement in this video. There also are specialty tools designed just for this purpose, such as the Ridgid R3400 Fuego saw that comes with its own dust-collection system (you can learn more about this tool here). Specialty saws also are available from other manufacturers.
Another option is to use shears designed for the siding. Unlike a chop saw or circular saw, shears create very little dust as they do their work. There are a couple of different kinds, as Mike explains in this FHB video.
If you want to learn more about reducing dust exposure when cutting fiber-cement siding, take a look at these suggestions from the National Institute for Occupational Safety and Health.
Previous:
Siding and Trim with Modern Materials
Next:
Takeaways After Trying Out a New Siding and Trim Material