Re-side Over Lead-tainted Siding
Covering old siding may be the simplest way to deal with toxic paint–plus it could be an opportunity to add exterior insulation.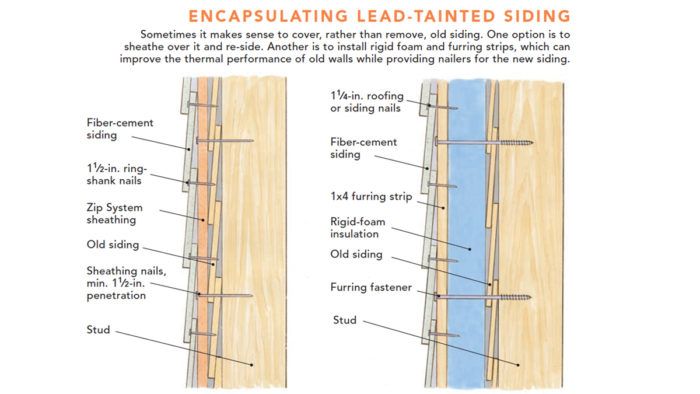 We just bought an 1880s farmhouse in the Catskills and are about to start major renovations. It's a wood-frame house with traditional clapboard siding and no sheathing or insulation. The siding tested positive for lead paint in a couple of spots, and we'd rather not disturb it if we don't have to. We'd like to re-side with fiber cement. We know you can't just install fiber cement over old siding, but can you sheathe (we'd use Zip System) over the existing siding and then install the fiber cement? We are going to gut the inside as well, so we'll be able to add insulation when we do that. It will save us a huge chunk of money if we don't need to remove the old siding (and lead paint).
—ELLE, via email
Builder and editorial adviser Mike Guertin replies: Generally you can encapsulate old siding under a new skin of sheathing and install siding over it, but check with your local or state authorities governing exterior lead paint to make sure you can cover it. In some places you have to remove lead paint before re-siding. Assuming you can encapsulate it, you have a few options.
If you're just worried about looks, the simplest and least expensive solution is to fasten 1×4 furring strips vertically over the existing siding and into the studs, and attach the new siding to those with 1 1⁄4-in. roofing or siding nails. Besides providing a flat surface to nail to, the furring strips create a rainscreen space behind the new siding, which is a great installation practice for all cladding.
It's unlikely that there's a water-resistive barrier behind the old siding, and if it were my house, I would install #15 ASTM D-226 tar paper over the old siding before adding the furring strips. The tar paper is economical and will help shed water if any of the clapboards are cracked enough to leak. Tar paper also lets moisture vapor diffuse from the inside through to the rainscreen cavity.
If you want to improve your air barrier, a layer of Zip System sheathing and tape— the option you suggested—should do that while also providing a nail base. When you install the new sheathing, use nails long enough to penetrate through the old siding and into the studs by at least 11⁄2 in. Then the fiber-cement siding can be installed with nails or screws. In the Catskills, you should only need 11⁄2-in. ring-shank nails to attach the siding to the new sheathing. Installations in high-wind and coastal areas, however, should follow special fastener measures outlined in the manufacturer's ICC-ES Report. For best performance, seal the sheathing to the foundation at the bottom and to the wall plate along the top. Zip System tape should be sufficient to make the seal, but you can also use one-part spray foam or a tube of sealant.
If you want to improve the thermal performance of your walls, consider installing insulating sheathing such as rigid-foam panels over the old siding. Exterior insulation can be combined with fiber insulation in the stud cavities for better energy efficiency. If you are considering spray-foam insulation on the inside, do some research to make sure that the insulation sandwich won't cause problems with the old siding in your climate zone.
James Hardie has a technical bulletin that outlines methods for installing its fibercement plank siding over rigid foam, but only one of these methods works if you leave the existing siding in place—furring strips over the foam. You could add up to 4 in. of rigid foam (minus the thickness of your siding, which counts as a nonnailable surface) to the outside of the house, then attach 1×4 furring strips and install the siding just as you would with furring alone.
Also consider Zip-R panels. The sheathing is bonded to polyiso insulation, and it can be nailed over the old siding and into the studs. You can then install the siding the same as if you were attaching to standard Zip System sheathing.
Drawings: Dan Thornton
More about old homes:
Previous:
Keep Siding Dry With a Vented Rain Screen
Next:
How to Install Clapboard Siding